By Nancy Chuda founder and Editor- in-Chief of LuxEcoLiving and co-founder of Healthy Child Healthy World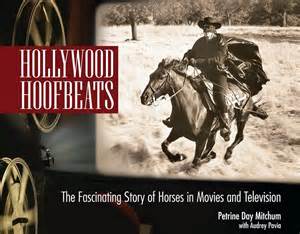 Petrine Day Mitchum grew up in what is considered the best of Hollywood's Golden Age. Her father was screen legend Robert Mitchum. But her world now is centered on her love of animals. And in particular the celebratory history of leading horses that brought more than the sound of hoofbeats to celluloid.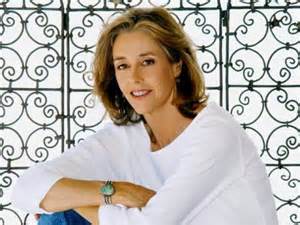 Petrine Mitchum/LuxEcoLiving
In her new book, Hollywood Hoofbeats, a second-edition release,  she explores the most complete collection of stories and and photos documenting the history of horses in American cinema. Petrine comments, " In fact,  the movies might not exist at all since the entire motion picture industry evolved from an experiment with a camera and horse.
" We learn that in 1878, a horse named Abe Edgington, pulling a small carriage, provided the first "motion picture" the world had ever seen. Known as the "Twelve Frames that Changed the World," it was only fitting for Petrine to set her goal, an enormous one for sure, and document fascinating behind-the-scenes stories, first- account narratives, rarely-seen photographs, stemming from countless hours of movie watching from multiple genres. Petrine states, " I began to realize that the movies as we know them would be vastly different  without horses."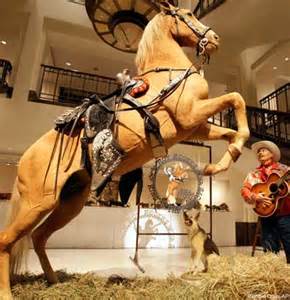 Roy Rogers Archives/Trigger
Thinking ahead in how to compile this extensive volume of famous horse history with thought provoking and compelling narration was no easy task. Every horse's story is told in a mini-biographical style giving readers a complete understanding of the lives of these remarkable four-legged friends whose spotlights sometimes stole the picture both in front of and behind the camera.
A dog may be considered mans best friend but a horse carries his soul. When you think about the relationships shared between famous horses in films and television  including Trigger, Champion, Silver, Mr. Ed, Seabiscuit, Secretariat,  and the co-stars whose lives became more famous as a result; Tom Mix, Roy Rogers, Clint Eastwood, Robert Redford, Elizabeth Taylor, Mickey Rooney, Kelly Reno, Jeff Bridges, Diane Lane, John Malkovich and the list goes on. My husband reminded me not to forget Red Rider.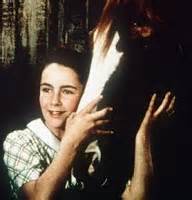 Elizabeth Taylor and Pi from National Velvet/Internet Archive
There would be no Westerns- no cowboys, no John Wayne. No Gone with the Wind, Ben Hur, or my all time favorite, Dances with Wolves. To understand the impact the horse has made on humankind one has to note that horses aside from their theatrical roles in cinema and television, paid an enormous price throughout history as warm blooded  warriors.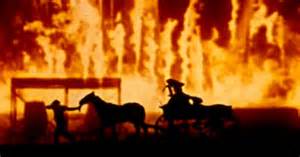 Gone with the Wind

Kelly Reno with "The Black Stallion"
Eight Million Horses and Donkeys Died in World War 1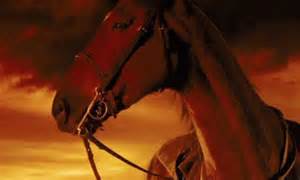 Ellen Battersby's brilliant article about the genesis of Steven Spielberg's War Horse reveals that "Warrior, went to war in 1914 with his owner, a British general named Jack Seely. Both survived, defying even the horrors of the Somme. Warrior was celebrated as a hero and died in 1941, in the middle of another war, a few weeks short of his 33rd birthday. Although revered, he was not buried with the expected pomp and ceremony. Instead his body was donated to the war effort and used for meat."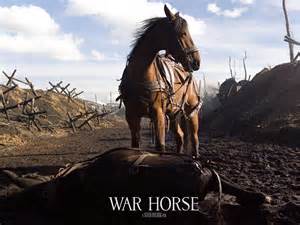 "More then 5,000 years have passed since man first began riding horses. For much of that time the animal, now mostly associated with sport, was involved in war and military campaigns. Archaeological evidence confirms that the use of a bit began somewhere in what is now Russia. The invention of the wheel led to the introduction of the chariot, a vehicle that carried two men, one controlling the horse that pulled it, the other, an archer, fighting from a moving platform."
Although nervous by nature, the horse made warfare faster. A mounted warrior had a huge advantage, giving riders the element of surprise. Horses also helped in reconnaissance and in making swift getaways after attacking settlements under siege. Through sheer size and an ability to kick and trample, the animals also intimidated anyone on the ground. Greek armies made use of horses, and the first manual on horsemanship was written by a cavalry officer, Xenophon. Trench warfare, gas attacks, barbed wire, machine guns and, from 1917 onwards, tanks would change the nature of war, but not before eight million horses, donkeys and mules had died.
Hollywood's horses were heroes. They performed stunts that demanded scrutiny and produced harrowing acts and flesh wounded sacrifices to embolden the images of many macho men whose winning of the west, township, or marshal law paved an idiosyncratic  yet desperately needed series of laws for the humane treatment of  working horses and other animals. What opens the door to a real Pandora's Box is the way Mitchum handles and chronicles  those times in stark detail.
My favorite: Dances with Wolves
Hollywood Hoofbeats is more than just another coffee table addition… it's the reason why we pay tribute to the most noble of animals on earth. Without the horse there will never be a famous rider and the rider owes his or her everything to the horse. Petrine Mitchum, an avid horsewoman herself provides not only hoofbeats of Hollywood's history with horses… but her own trademark well worth collecting and passing along to friends for any occasion.