Carmel California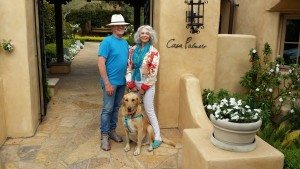 LuxEcoLiving photo credits
If your like me, especially with the drought we have been experiencing in Santa Ynez and other parts of the state, any opportunity to travel along the California coast is a welcomed change. Not just for scenery but for moisture in the air.
The famous 17- mile drive along the coastline, beginning in Carmel, transitions along a beautiful seascape and winding road that fulfills the longing for trees, some so majestic and primitive. The Cypress trees lay their evergreen branches across walls, down craggy cliffs, some even cling to the earth in repose looking even more ancient and relaxed then the passengers who drive, ever so slowly to witness them and the sometimes seen frontage of large ocean villas, reminiscent of the Italian coast. You can smell the Eucalyptus in the air and see the smoke waft from river rock citadels, chimneys so well designed that they become eclectic architecture.


If you are not a golfer and I am not,  then perhaps you wouldn't even entertain the idea of entering the Pebble Beach Resort. But I am a history buff and I love visiting places where people will tell you all the wonderful pastimes about persons who have visited and stayed in this magical place.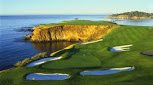 The Lodge at Pebble Beach staked Stillwater Cove as its point of conception in 1919
But that was then but here's whats going on now. Are you also longing for an intimate night in front of a roaring fireplace, a laid back evening in an exquisite suite with a complimentary bottle of Napa red wine, a delicious cheese plate with fresh organic fruit,  a private hot tub on your own terrace where the dress code is NADA?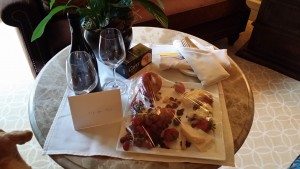 If so, you are going to forget the caddy and the clubs, instead, pack something comfy and cozy, for even more fireside time and BOOK NOW  for  a winter escape… (love that idea) for a limited time to receive a "$300 Spa Credit."
While others are tearing up the greens, you will be laying face down on a warmed massage table having lavender scented oil rubbed on your back… you will feel the stress melt AWAY and following your treatment you can linger in the steam or sauna or just relax knowing that there is nothing, at all, no text, Instagram or Facebook follower that wouldn't envy YOUR TIME OUT.
"I love packages! Especially ones that say Chanel." But instead, consider this wonderful opportunity for you and your husband or how about a girls getaway? This is what Casa Palmero at Pebble Beach is offering right now. (Packages are valid November 22, 2015 – February 3, 2016) and includes:
One night stay in a luxurious Estate Room at Casa Palmero
Continental breakfast delivered to your guest room
Evening cordials and hors d'oeuvres
$300 spa credit per room, per night
But there other great reasons to splurge!
The Stillwater Bar and Grill has to be one of the most romantic spots on this earth. The cuisine is insanely great! I mean if you love fish, and I love fish, this is an experience you do not want to miss.
We were treated to the culinary talents of a genius! We had literally just returned from the land of Alain Ducasse, Provence France, where we had been seated for an array of tasting menus, literally, for days and nights,  by his top chefs… our taste buds had been spoiled fresh until we met chef Jeremy Tummel… my oh my!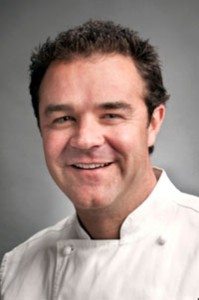 After teaching at the Santa Barbara City College Culinary Academy, Jeremy helped open the Bacara Resort and Spa in Santa Barbara. After serving two years as the Executive Chef, he accepted the same role in Kevin Costner's restaurant, Epiphany. Since then, he has spent time at the highly acclaimed Wine Cask Restaurant and Susan Feniger's Ciudad restaurant in Los Angeles.
Chef Tummel was recently featured at the Four Seasons Tokyo in Japan as an ambassador of Central Coast food and wine pairings. He has a strong bond with the ocean, the land and the ingredients they provide, and with proper technique, Jeremy has developed a very unique and distinguished style that embeds itself perfectly in the world-class dining across the landscape of Pebble Beach Resorts.
And here is what we were served.
Imaginative, delectable, and sustainable. Three adjectives that perfectly describe Stillwater Bar & Grill at The Lodge at Pebble Beach.
Stillwater Bar & Grill prides itself in offering the freshest and most flavorful in sustainable seafood and organic produce. Whether it's breakfast, lunch or dinner – or the Stillwater fabulous and famous Sunday Brunch – the menus are sure to delight and amaze. Shellfish lovers will marvel at the bountiful seafood bar and many choices of fresh oysters, clams, scallops, prawns, abalone and lobster. For those who prefer turf to surf there is the mouth-watering filet mignon and savory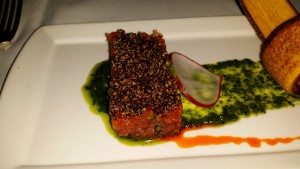 rack of lamb.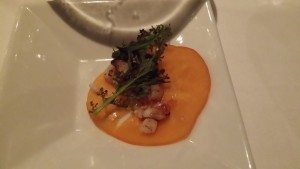 But for our tasting menu we sat under a full moon overlooking the famous 18th hole and couldn't get enough of Jeremy's artistic creations… we took our time, savored every morsel… the delicacy of the freshly farmed abalone, the slightly seared wild caught scallops, the sweet and swollen lobster claws dipped not in butter but some wondrous other sauce completely complimenting the succulence and never ending feeling for more… just one more bite. PLEASE!
We closed the place with our service dog Journey, who by the way slept quietly under the table on our feet warming my cold toes.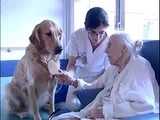 No! It wasn't time to leave even though all the white linen table cloths had been gently lifted off of their domain positions. It was time for one more course. A fresh organic strawberry Panna Cotta. Why not leave some room I thought to myself when I first sat down to dine.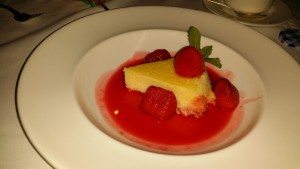 FABULOUS BEYOND DESCRIPTION OR WORDS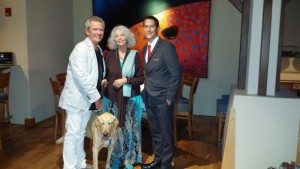 The Chuda's and Journey with Daniel Shields Assistant Manager at Stillwater Bar and Grill
We awoke the next morning and did our usual floor mat Pilates and stretched in our private suite. The white robes and slippers were still outside our private patio door getting wet from a LIGHT RAIN. YAY!  IT WAS RAINING!!!
The spa beckoned me to enter one more time. I grabbed my jogging clothes and headed to the sauna. A lovely way to greet the morning without having to worry about being seen on the green. In fact, I had the entire spa to myself until the ladies from Austin arrived. Each was with a golfing hubby on holiday. And boy, they were smart enough to leave the sunblock and their clubs at home and instead spend the entire day in the spa. Seriously, you need to come here!
The Spa at Pebble Beach, one of only 48 spas in the world to receive the coveted Forbes Five-Star Award, celebrates this combination with signature services that incorporate the healing properties of plants, herbs and minerals indigenous to California's Monterey Peninsula. The scent of these wild crafted herbs are so aromatic that the feeling of relaxation begins when you first walk into the 22,000 square-foot, full-service spa and salon nestled in the heart of Del Monte Forest, adjacent to Casa Palmero and near The Lodge at Pebble Beach.


I wanted to personally thank Jenny, a massage therapist, for one of the best treatments I have ever had. 
You can choose from a variety of spa services designed to reduce stress and enhance balance including massages, body scrubs and wraps, water treatments, skin care, nail care and hair care. I was amazed to see that the newest addition was the welcoming of the California Skin Institute which offers clients the opportunity for more in depth treatments like Botox and other cosmetic enhancers.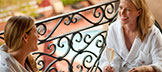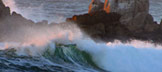 Following a swim in the beautiful and private pool designated only for guests at Casa Palmero, breakfast was a delight served in our room… but lunch was even more sinful.
We headed down to the Gallery Cafe for yet another insanely great meal… I often think of my calorie hunter colleague, Anthony Bourdain, whose Parts Unknown, his CNN international table fest and television program often influences me to put down the cutlery from all the 3 star Michelin meals I have survived and do what he does.. eat the local food with the locavores. Hey! I love anything between two slices of bread except mustard and pickles.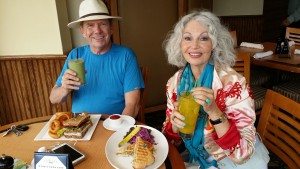 A very special thanks to sous chef Paco Rivera (filling in for chef Thomas Basgood) for his delicious meal and incredible plated presentations.
I was dying to taste this Cuban masterpiece for years. Known as the Cubano or Cuban sandwhich, which actually is a variation of a ham and cheese sandwich that was often made in cafes catering to Cuban workers in the early Cuban immigrant communities of Florida: Key West and Ybor City, Tampa. But our chef Paco at the Gallery Cafe inspired my NEW need to CRAVE mustard and pickles for life. I was craving that sandwich all they way home.. and THAT SLAW… so delicious with red cabbage for a change. And Jim, God only knows how much I love him for his love of sweets. He got his 17th hole view and chocolate pancakes. WOW!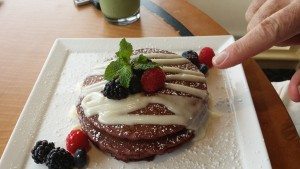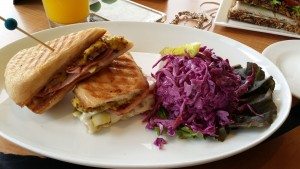 And now you're probably wondering did they save room for desert? You betcha!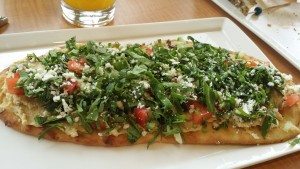 A Hummus and kale flatbread pizza that just melted in our mouths.
Editor's Notes: A very special thanks to Katie Denbo!
17-Mile Drive, Pebble Beach, California 93953
(800)654-9300