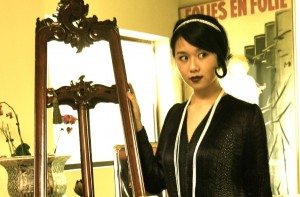 By Nancy Chuda, Founder and Editor-in-Chief of LuxEcoLiving and Healthy Child Healthy World
I took a break over the holidays and went to Florida to visit family and friends. I packed light. And I was glad I did, having discovered a true treasure: A prestigious consignment store called Circa Vintage in Tequesta, Florida (near Jupiter) in The Village Shops on U.S. Highway 1. It's an upscale, glamorous consignment boutique of current designer and vintage fashions – and shoppers are flocking to it! If you're in the area you won't want miss it. Fortunately, you don't have to fly all the way to Jupiter — you can shop here online.
Owner Carol Wright was just twelve when she recognized that collecting old dresses could someday bring in green – which in the world of high-end vintage means big money.
Fortunately, Wright's South Florida location is a consignment gold mine. She explains: "Many of my clients are celebrities who want to keep their identities secret. They give me barely-worn clothes from public appearances and films. Since many of them are based in Palm Beach, I do house calls on request." I can just imagine the size of the U-Haul that Carol must drive to visit her clients in West Palm and Palm Beach.
Circa Vintage is decorated in bright lavender and orange with a leopard-patterned carpet. In it, you'll find authentic designer handbags, hats, home décor and signed costume jewelry plus designer shoes, boots, ball gowns, costumes, wigs, gifts and much more. "We carry vintage and vintage-inspired everything. If we don't have it, we'll hunt it down for you," Wright said. "Circa Vintage is where everything old is new again!"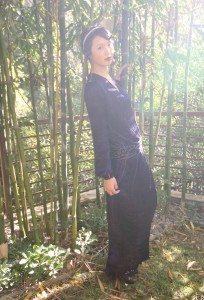 Not everything in the store is old, however. You can also find custom jewelry made by local artists. "One of my designers, Meg Fromhold from Orange City, Florida creates vintage-style clothing out of vintage fabrics. I can't keep her pieces in the store. She also takes the vintage fabric and decorates custom lampshades, handbags and other items. They are really beautiful." Wright herself designs big, fancy picture hats. In fact, seven of her creations will appear at this year's Kentucky Derby. In addition to the many gift items she features – hand-painted note cards, a vintage lunch-box collection and wonderful jewelry, there also a unique bust of Elvis Presley, which Wright purchased online, that talks and sings forty songs. (It's for sale, but only if the buyer comes up with a tidy sum.)
Circa Vintage's inventory contains over 2,000 items. "All our consignment clothes must be authentic. We don't accept counterfeit (knockoff) pieces," said Wright. There are no H&M rebrands or musty old clothes worn by long-dead debutantes and heiresses. Many are designer originals by Emilio Pucci, Oleg Cassini, Oscar De La Renta and others. Other labels include Nicole Miller, Prada, Cavalli, St. John, Stuart Weitzman, Valentino, Vera Wang, Versace, Gucci, Yves Saint Laurent, Dior and Chanel. Then there's the prize dress that I found — a custom-made 1920's jewel by Patricia and Charles Lester of Wales. (More about that dress in a moment.)
Some items are even historic — relics from the 1700s, shown privately to collectors. There's also a small section of vintage men's clothing, hats, shoes, belts and ties that's constantly expanding, including some barely-worn Western-style boots that are priced well and go out as fast as they come in.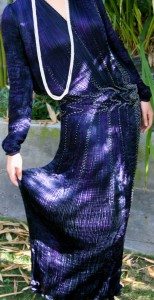 Now, about that 1920's dress: Once I laid eyes on this confection, I couldn't take them off it. I clung to its hanger for dear life while juggling a huge load of other outfits over my free arm. Once in the dressing room I was reminded, painfully, that mirrors don't lie. Needless to say, this couture classic was meant to hang on the body of a pencil-thin Roaring Twenties flapper with no hips. Enter Dow !!! She is the remarkably beautiful, young, Editorial Assistant who just… makes this dress work. Did that stop me from buying it? Nope. I was in denial. Again.
What's a Boomer to do? I bargained with myself: "I'll only wear it while I watch Boardwalk Empire. No more fine wines, carbs or sweets. No – even better, I'll start the Cabbage Soup Diet immediately!" I had a real challenge ahead, knowing I would be covering the prestigious Los Angeles Art Show in just two weeks' time. I just had to fit into that dress.
The dress has a history as rich as the desserts I planned to deny myself. Charles and Patricia Lester have established an international reputation for their textile designs and romantic couture gowns, daywear and evening dresses. Their collection is produced one at a time in their studios in Wales. All the fabrics they use are hand-dyed, hand-painted or hand-printed. My dress featured hundreds of tiny pleats, which I discovered are also hand-done by a secret process exclusive to the Lesters. Just imagine the time it takes to produce these one-of-a-kind garments, from the first painting layers of color onto the fabric to the finished product.
After I returned home, I did some research, and discovered that my exquisite dress had also been an exquisite bargain. Let's just say that I could have paid much more than I did.
I asked Wright about LuxEcoLiving's mission of helping people navigate through the Green (R)evolution and learn about ways to repurpose heirlooms, clothing, jewelry and home accessories. "We believe in "going green," Wright chuckled. "We say, bring in your high-end designer items to sell and we'll put the 'green' in your pockets." And if you happen to buy any of those items, you'll be saving green as well.
You can reach Circa Vintage at (561) 741-1616, or www.circavintageshoppe.com.
[imagebrowser id=22]