By Nancy Chuda founder and Editor-in-Chief of LuxEcoLiving and co-founder of Healthy Child Healthy World
When she picked up the phone and heard these words…. "we want you to paint a portrait of Bruce Springsteen for the upcoming MusiCares gala" she knew this would be one of the greatest challenges of her artistic career.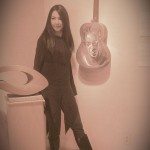 Zhenya Gershman Set to Be Featured Artist at Grammy's MusiCares Gala
Portrait artist Zhenya Gershman has been chosen to be featured at the annual MusiCares pre-Grammy gala. This annual event is one of the most prestigious ceremonies held during Grammy Week. Zhenya has been honored with the opportunity to be part of this historic celebration and invited to paint a portrait of a rock icon…Bruce Springsteen.
WATCH: Zhenya's Inspiration

This year's MusiCares event honors Bruce Springsteen and takes place on Friday February 8th.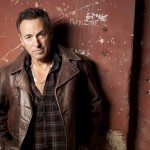 In addition to host Jon Stewart and special guests, acclaimed musicians and singers will perform to pay tribute to Bruce Springsteen. The list includes Jackson Browne, Kenny Chesney, Emmylou Harris, Faith Hill, Jim James, Elton John, Juanes, John Legend, Natalie Maines, Tim McGraw, Tom Morello, Mumford & Sons, Patti Smith, Sting, Eddie Vedder, and Neil Young.
The annual MusiCares event features different concepts. Zhenya explains, "Last year they had a Peter Max painted piano autographed by Peter, Ringo Star, Barbara Bach, and Paul Mc Cartney for an event honoring Sir Paul." She continues, "This year's unique concept is to create a life size oil portrait of an honored musician. The painting will be the center piece at the Convention Center Gala Exhibition."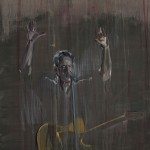 Zhenya's approach to portraits is to capture the true essence of her subjects. She became consumed with Springsteen's multifaceted personality and compelling life story.
From the start she grappled with a decision…. Which "Springsteen" should she paint? There are so many images of this legendary rock icon….and everyone has a picture already formed in their mind. She was inspired to create several new works of the superstar that reflect her search, which she calls her "Bruce Springsteen Series."
One of the Gershman's portraits of Springsteen is currently on view at Leslie Sacks Fine Art, Brentwood in a group exhibition benefitting "Women's Voices Now," which runs through February 24th. Zhenya muses, "Bruce is a symbol for the voice of truth – I chose to paint his portrait on a back of a guitar, an instrument of his trade. It became a literal instrument to be heard in the world."