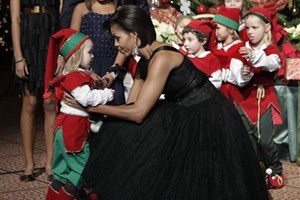 First Lady Michelle Obama scored a fashion first by choosing a vintage black dress — with a Green message
by Mary Elizabeth Williams-Villano, LuxEco Editorial Assistant for the Resplendent Repurposing series
First Lady Michelle Obama must have been dreaming of a Green Christmas. If you watched the December 17, 2010 broadcast of TNT's Christmas in Washington, you'd have seen her decked out in an exquisite 1950's frock by the great American designer Norman Norell. She is most likely the first of all First Ladies to have worn Resplendently Repurposed vintage fashion while currently occupying the White House.
We shouldn't be surprised. Even her husband's staunchest political opponents must concede that the First Lady has a great sense of style. From her days on the campaign trail to the Democratic Convention, Inaugural Ball and beyond, she's been bold and daring — at least in comparison to most of the previous ones. Not since Jackie Kennedy's era has the White House seen such a style-setter in residence.
But there's a larger point here. Mrs. Obama is a dedicated environmentalist. We all know about the organic garden she installed on the White House grounds. In donning this well-preserved classic dress, I believe the First Lady was not merely paying homage to a long-forgotten American designer — she accessorized the exquisite black lace cocktail dress with an understated Green brooch.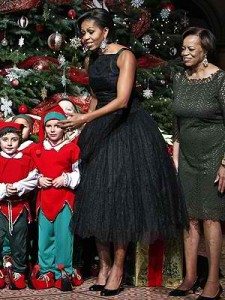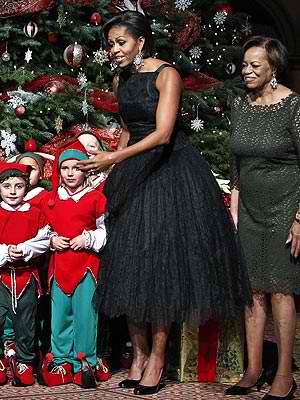 The dress came from a Manhattan boutique called New York Vintage. This Chelsea shop is a kind of museum of design, with a collection of couture clothing dating back to the early 1800s. Besides Chanels and Schiaparellis, their stock of vintage fashion includes many American designers: Halston, Mainbocher and Galanos among them. These archival dresses are available for rental only — another great eco-friendly fashion concept.
From the Huffington Post:
"[This is] truly an historic event, as this may be the first time a First Lady has worn a vintage dress," said New York Vintage co-owner Jon Schneck. "Other dresses from the archive have been scheduled for use by the First Lady later this year. We are truly honored that the First Lady has chosen a gown from New York Vintage as her first venture into vintage couture."
Sounds like we can look forward to more repurposed fashion statements from Mrs. Obama that are not just about fashion — but about sustainable style and luxurious, eco-friendly elegance. We welcome her leadership.