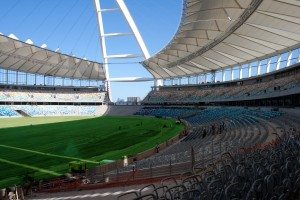 By: Molly Rovero, LuxEco Editorial Assistant
Football, or soccer as we know it in America, really is the sport of the world. World cup matches kicked off this weekend and they are happening in newly designed Green stadiums across South Africa. Connotations of Green design leave images of solar panels and wind turbines, but tend to leave out the broader scope of the term. "Green" in relation to the stadiums mainly consists of a revamping movement for ones that were pre-existing, instead of tearing down the old and starting from scratch, as was a previous trend.
In the past when stadiums became outdated clubs would pursue bigger, better, and more modern stadiums. Soccer is not the only sport guilty of this waste of resources. With the exception of Boston's Fenway Park, which has been around since the beginning of the sport, baseball parks follow the same pattern (though not every team has fans who would riot over the destruction of their home field). A newly built Yankee stadium opened just last year to usurp its predecessor, boasting more space and a greater number of amenities.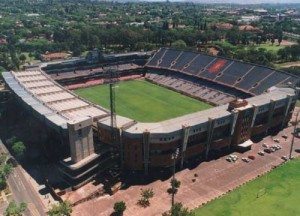 Two of the stadiums being used for the 2010 World Cup, Loftus Versfeld Stadium and Free State Stadium, increased their seating capacity while still using existing structure. They get gold stars for their renovations of preexisting stadiums. Since they were built in the late 20's and early 50's respectively, these two stadiums have undergone renovations to allow for a greater occupancy. The venues have not only preserved resources over the years of growth but have also preserved history leaving South Africa with some of its classic architecture.
The ultimate winner for renovations is Johannesburg's Soccer City Complex, which is to host this years World Cup Finals. Meaning is key to this redesign with Africa playing the leading role. Populous, the stadiums designers, says it is a Calabash or the melting pot of African Cultures.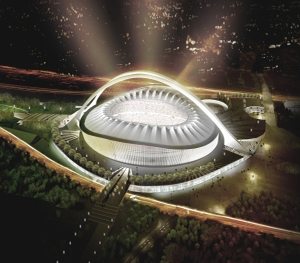 The Moses Mabhid Stadium is highlighted as home to one of the semi-final matches and includes an array of sustainable features. High on the list is the use of materials from the previous stadium, including 1060 cubic feet of concrete (30,000 cubic meters). Other materials, such as bricks and old seats, were recycled by donation to local homes and schools. Energy efficiency was a top priority here with a special roof reducing solar heat gain while still allowing sunlight to enter. This roof "membrane" is coated with Polytetrafluoroethylene or PTFE, commonly used to make non-stick pans.  (However, worthy of note is that while PTFE  allows for 50% less sunlight it possibly contains PFOA, which has been listed as a toxic chemical.) The Moses Mabhid stadium was built to high standards in the hope of hosting the Olympic games sometime in the near future.
Water conservation features are included throughout every aspect of the stadiums design. From the public restrooms to athletes private showers low flow water saving devices are used. Cutting edge technology was used for the pitch (field) including a hybrid of grass and synthetic materials, a rainwater system to catch water and use for irrigation, and an intelligent irrigation system.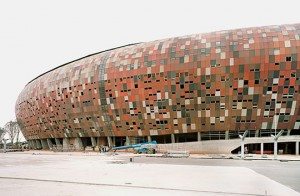 Sporting venues across the globe should follow South Africa's efforts in sustainable design.No effort to "Green" earth is too small. Even though the Moses Mabhid stadium was rebuilt, recycling materials from the previous one was crucial to the process. Loftus Versfeld Stadium, Free State Stadium, and Soccer City Complex lead the world into the future of Green design with their retrofits and renovations.
For further reading visit Inhabitat's "World Cup 2010: South Africa's Top 5 Stunning Green Stadiums"