By Nancy and James Chuda founders of LuxEcoLiving and Healthy Child Healthy World
 Gainey Winery Santa Ynez California
It was truly a gift of nature! Standing in the beautiful vines overlooking Santa Ynez Valley at Sunset.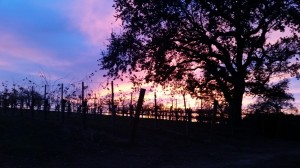 LuxEcoLiving photo credits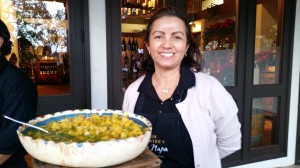 We were there to sample edible treasures and enjoy recipe's from Hugh Carpenter's new cookbook, Mexican Flavors-Contemporary Recipes from Camp San Miguel, prepared by Industrial Eats chef Jeff Olsson.  The flavors were sensational. A soup made with guajillo chili's which are thin, deep-red flesh and have a green tea flavor with berry overtones. Its small amount of heat is only (rating 2,500 to 5,000 on the Scoville scale) but rich in flavor and intensity
Mexican Flavors-Contemporary Recipes from Camp San Miguel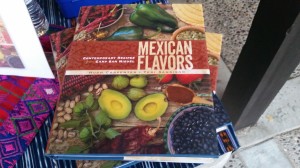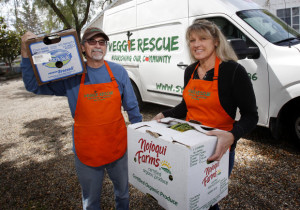 LuxEcoLiving
LuxEcoLiving/Photo Credit Daniel Freifuss Staff

Terry and Holly Delaney have more than just "green thumbs," they have big hearts. After years of getting their hands dirty and growing gardens for themselves, family and friends, they decided to turn their soil and influence others to do the same, to feed the those less fortunate.

Nutrition and kids are a big subject. Just ask Michelle Obama how important real unprocessed food is to the diet of the American school child and you will benefit from her tireless dedication to changing the way kids eat. Not just at school but at home too.
And thanks to organizations, Environmental Working Group and Healthy Child Healthy World parents are getting the valuable information they need about the truth behind foods being labeled as non-GMO's. We've come a long way from the seed to the supermarket but moms everywhere in America know the importance of finding foods that are not grown with pesticides and other harmful chemicals. Go to Food Scores and find out what's really in the foods you are buying everyday.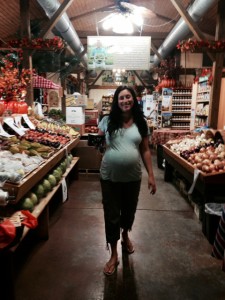 Lynne Gaynor Schiller, Delray Beach Florida shops for EWG/HCHW recommended fruits and veggies/LuxEcoLiving
The Delaney's are on a mission to help change a very broken system of food distribution. Each year millions of pounds of edible vegetables and fruits are left to rot in soil or on trees. Large growers employ workers to pick, sort, and box food for distribution which entails shipping produce long distances to various depot stations and ultimately markets nationwide. But if you have ever observed a large parcel of land where food is grown commercially you will be surprised to see the vast amount of leftovers. Sadly, that surplus has not been taken into consideration for consumption. Instead, it is tilled back into the soil wasting valuable nutrients that could feed those who need it most.
"The idea of taking excess produce from farmers and giving it to organizations who know what to do with them just appeared before us, and Veggie Rescue, was born," Terry Delaney said.
They started the nonprofit Veggie Rescue — the full name is Santa Ynez Valley Fruit and Veggie Rescue — in 2010 in the back of their pickup. The organization has grown with the help of about 25 volunteers and average 90,000 pounds of food a year.
As word spread Veggie Rescue started helping more local organizations such as the Buellton and Solvang Senior Centers, Recovery Ranch, Santa Ynez Charter School and Solvang Elementary School.
Staying true to mother nature's track gives Chef Bethany Markee the privilege and the pleasure of getting to prepare sumptuous organic meals for students at the Solvang School… many of whom can't help but rejoice having savored real food… not something packaged with imitative ingredients.
" They line up, some earlier then expected because they love the food. It's really neat to see their reactions."
You won't find any processed foods. Bethany and her team cook almost exclusively from scratch.  They make all their own sauces, salad dressings, soups and they bake bread whenever possible. The menu emphasizes whole grains, low sugar and local grown, fresh produce. A vegetable and serving of fresh fresh fruit is included in every meal.  Some of the foods that many of our students have tried for the first time and they have loved include fresh sugar snap peas, kale chips, roasted cauliflower and blueberry-banana smoothies.
For years Solvang School has had a vision of serving nutritious and delicious, cooked from scratch food to our students. Thanks to the generous support of voters who passed Measure J in 2006,  they were able to build a beautiful multi-purpose room/cafeteria and kitchen.
Bethany left a lucrative job as a fine dining chef and restaurant consultant until she found her true passion; she and her team are committed to serving lunches every day that are nutritious and kid friendly.
She can't help but boast, "the smiles on the faces of our students and the positive feedback we have received has been overwhelming."
It took the intuition of notable chef and cookbook author, Alice Waters to turn dirt into golden educational opportunities for countless thousands of teachers and their students. Alice is credited for having transformed asphalt to an Edible Schoolyard
The Original Edible Schoolyard at Martin Luther King, Jr. Middle School in Berkeley, California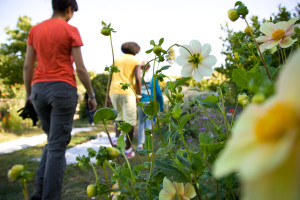 Twenty years ago, Alice Waters was quoted in a local newspaper, claiming that the school she passed every day looked like no one cared about it. Neil Smith, then principal of Martin Luther King, Jr. Middle School, contacted Alice with the acre of blighted land on the school's grounds firmly in mind. He wanted her to see the school and perhaps find a way to help. It was clear to Alice: she wanted to start a garden and build a teaching kitchen that could become tools for enriching the curriculum and life of the school community. Neil and Alice met with the faculty and the idea slowly began to take form. Teachers Phoebe Tanner and Beth Sonnenberg envisaged teaching fractions in the kitchen as a way of making math interactive, and growing heirloom grains in the garden as a way of teaching early civilizations. Parent volunteer Beebo Turman motivated the community, which, in turn, invited family and friends to begin the transformation from asphalt to an Edible Schoolyard.
For more information about
NatureTrack
to learn how you can become a volunteer contact founder Sue Eisaguirre.
Editor's Notes:
Get on track with the information you need to protect your families health. Visit www.ewg.org and www.healthychild.org to learn more.