What's a hat got to do with it?
The Kentucky Derby would never be the same without them.
Other than a royal wedding, no event is more strongly associated with the wearing of ostentatious hats than the Kentucky Derby.
Alternatively referred to as "The Run for the Roses" or "The Most Exciting Two Minutes in Sports," the Kentucky Derby is a 1.25 mile race for three-year-old thoroughbred horses. The Kentucky Derby draws an average of 150,000 visitors each year, including residents, out-of-towners, celebrities, presidents, and even members of royal families.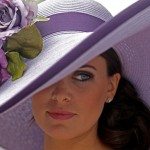 The first Kentucky Derby race occurred in 1875. Close to 10,000 people watched as 15 thoroughbred horses ran what was then a 1.5 mile course. In 1876, the length of the race was changed to 1.25 miles. By the early 1900s, owners of winning Kentucky Derby horses started sending their winners to run in the Preakness Stakes in Maryland and the Belmont Stakes in New York. In 1930, sportswriter Charles Hatton coined the term "Triple Crown" in reference to the same horses running the three races consecutively.
The official drink of the derby is the Mint Julep. It is an iced drink consisting of bourbon, mint, and a sweet syrup and is traditionally served in a commemorative Kentucky Derby glass.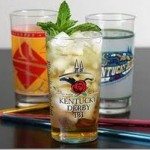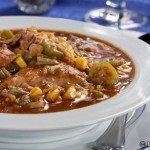 The official meal of the Kentucky Derby is a Burgoo– A thick, meaty stew.
One rule of thumb for the perfect Derby hat, according to Hats in the Belfry e-commerce general manager James Sackor: "The bigger the brim, the better," he said. "The big-brim styles have always been the go-to."
Sackor says that customers begin shopping for Derby hats earlier and earlier each year — with some purchasing them in January and February. He recommends buying the hat before the dress, since a good hat can be harder to find. Men should pair a classic straw fedora with a bow tie for a perfect Derby look, while for women, "Color is what makes the hat pop," says Sackor.