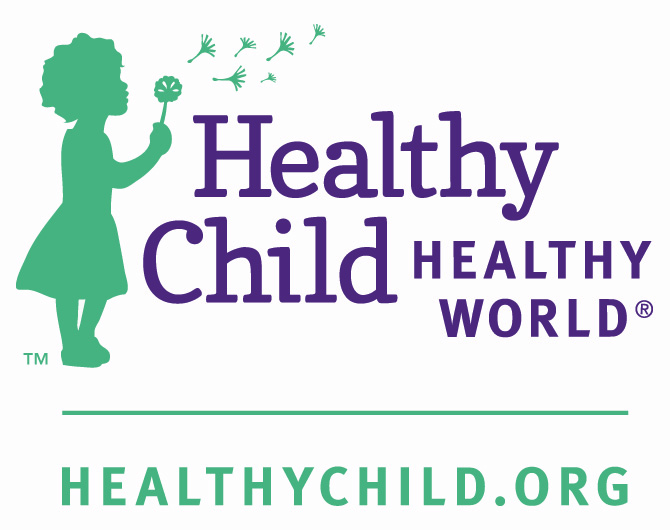 By Nancy Chuda founder of Healthy Child Healthy World and Editor in Chief of LuxEcoLiving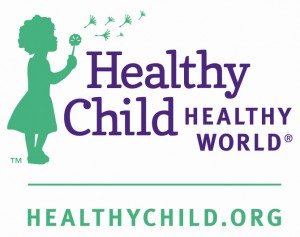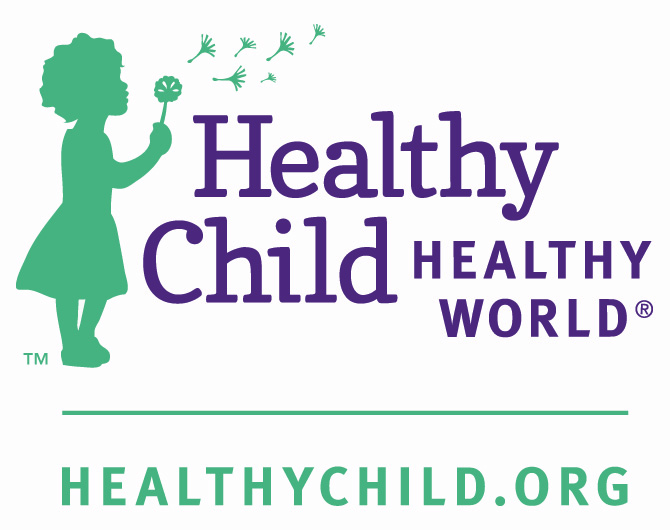 The Hamptons, Long Island New York, Los Angeles and Santa Ynez California
Sweet charity! Healthy Child Healthy World is expanding its national and global horizons…
Event host Erica Reid and Gigi Lee Chang in the Hamptons
Wake Up! Healthy Child Healthy World is in your neighborhood!

Last week Healthy Child hosted three events. The first kicked off in New York in the Hamptons. Thanks to Gigi Lee Chang former CEO/Executive Director (HCHW) and her event hosts, patrons and their guests, all were treated to a beautiful event to educate east coast moms and (dads) about the charity and its 24 year history. This was the second year for Healthy Child in the Hamptons.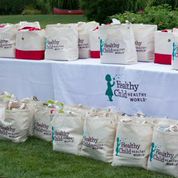 Healthy Child's mission is riveted in education through outreach. We traffic millions of moms on our website, through our blog, and through Trusted Partners, companies that produce products that are safer for children, families and the environment. Together, we comprise a force more powerful then any legislation, rule or regulation. We create the new norm.
Moms (and dads) rule the world when it comes to the choices they make in the marketplace. And there is no better way to reach them but in person. Eye to eye and heart to heart.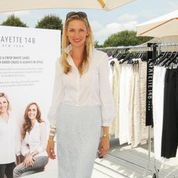 Healthy Child Board Member and Event Host Catherine McCord gave  heartfelt opening remarks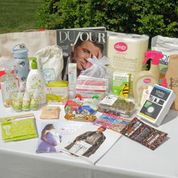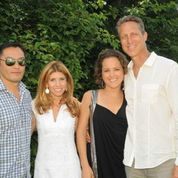 Bun Lai and Board member Samantha Ettus and panelist Ashley Koff with Keynote Mark Hyman
Sustainable salmon lunch donated by Vital Choice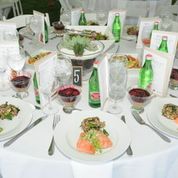 I had a chance to talk with Gigi about the success of the second Hampton luncheon.
NGC- How many people attended?
GLC-We hosted 160 women and exceeded our participation from last year by 45%.
NGC- Who helped to make this happen?
GLC- A BIG SHOUT OUT TO JEN for helping to bring together some amazing chairs, hosts, and Talon Air as one of our sponsors. And special thank you's to Catherine McCord (board member) and Nina Montee Karp (founding board member who will receive Healthy Child Healthy World's prestigious Lifetime Achievement Award at this years gala in Los Angeles on October 28th.)

Nina Montee Karp and husband Dr. Harvey Karp both founding members of Healthy Child Healthy World and members of the Honorary Board
NGC- What was the focus of the event this year?
GLC- The focus of the event was food with a keynote from Dr. Mark Hyman and panelists Chef Bun Lai and Ashley Koff, R.D.  Samantha Ettus, author and lifestyle expert moderated.
NGC- Aside from raising awareness about our vital mission how successful was the charity in raising funds?
GLC- We exceeded our 2014 goal by 20% and last year's amount by 57%…over $85,000 dollars were raised thanks to the tremendous effort and team work of board members, hosts and their friends.
BRAVO!!!!
Los Angeles California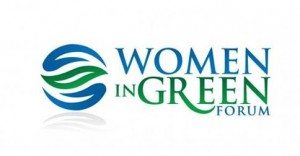 Meghan Garvey who is the Director of Development for Healthy Child attended the Women in Green Summit in LA on Tuesday and distributed the parenting kits to the attendees.  Many were from government agencies in LA who work in sustainability. The impact of risks due to environmental degradation and "hot spots," affects low-income families and their communities. One mother was deeply moved and appreciated the gifts provided by Healthy Child Healthy World thanks to Three Squares Inc. Daniela Arellano writes to Jaime Nack saying, "thank you so much for allowing me to bring some boxes for my mom, who is an elementary school teacher.  She distributed the boxes to parents at Melvin Elementary School in Reseda.  The parents were very thankful and eager to learn from the contents of the box. The kids were thrilled because they saw it as a gift for them. My mom works with many low-income families who truly benefited from this donation, so it was very much appreciated."
Courtesy Healthy Child Healthy World

Santa Ynez California, Grace Lebecca (Actor's Corner Cafe) and Christina Larner (Larner Wines) were first to arrive at the ranch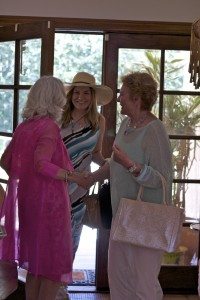 On Tuesday, I hosted a one-of-a-kind
Trunk Show from Paris
and afternoon high tea at my home in support of Healthy Child, the charity
Jim and I founded
in honor of our only child,
Colette
, who died at age 5 from a rare form of cancer. Every woman can use a little more BLING in their lives especially knowing that all that glitters isn't gold but instead monies raised will help support precious children whose health is at risk due to toxins in the environment.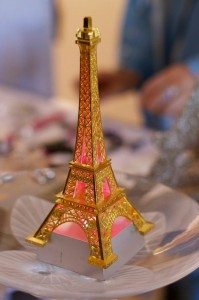 For LuxEcoLiving by Susan Silverberg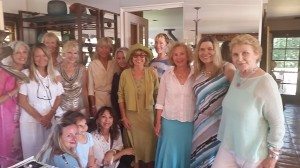 Ladies of the Valley, (standing) Nancy Chuda, Jane Ayer, Charlotte Bredahl Baker, Leigh Laymen, Carol Johnson, Alanna Tarkington, Donna Small, Sandy Mastromonaco, Linda Gordon, Grace Lebecca, Christina Larner and below, Audrey from La Suite 240 Paris and her daughter Emma, next, Carole Ann Colone producer of the fabulous Tales from the Tavern.
We raised over $2000 dollars in 20 minutes with just 16 guests…. you do the math!
I say we can rope em and ride em in… just ask Audrey Griffin ( who is an inductee of the Cowgirl Hall of Fame) standing besides other horse women, Carol and Leigh.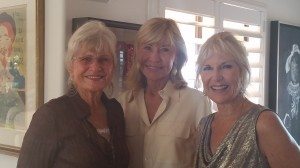 Audrey Griffin, Carol Johnson and Leigh Layman courtesy LuxEcoLiving
BLING! BLING! BLING! and everyone wanted more!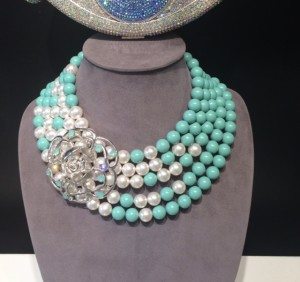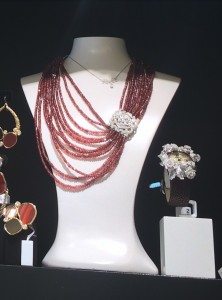 Courtesy La Suite 240, Paris France
Editor's Notes:
It's always a delicate matter when you have to serve a proper English tea and get out the china that's hardly ever used. The best part of the day came at the end…I got to play with Emma and Etan, (Audrey and Oliver's children) and they got to play with Journey.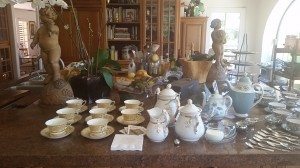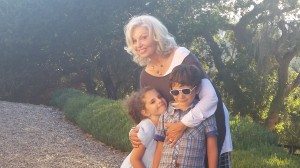 Courtesy LuxEcoLiving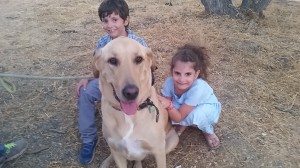 Follow Travels with Journey on LuxecoLiving