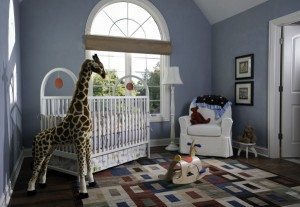 By: Leslie Harris, Interior Designer, Leslie Harris Interior Design and LuxEco Advocate
Susan Fredman, one of Chicago's most prominent residential interior designers, is the founder and CEO of her namesake firm, Susan Fredman Design Group. As one of the largest design firms in the Chicago area, Susan Fredman Design Group has earned a national reputation and established full-service offices in Chicago's River North and Michigan's Harbor Country with corresponding Susan Fredman at Home retail stores at each location. I had the opportunity to speak with Susan Fredman members, Ruth E. Delf who along with Kathy Hoffman were responsible for designing the interiors for Healthy Home 2010.
LH:  How did you get involved in designing the spaces for HH 2010?
R.D.:  I was co-hosting a networking and informational event about green design, where I was speaking about green interiors.  Victoria Di Iorio (project director for HH2010) approached me afterward and shared with me her passion for healthy interiors and the charity Healthy Child Healthy World, and we began discussing the Healthy Home 2010 project.
LH: In Los Angeles we have so many laws for fire protection where every product has to be treated and coated which goes against the standards of what HH 2010 was looking for.  In your own designs, do you try to promote the concept of a healthy environment or was it mostly for this house that you were trying to find products that met the Greenguard standards?
SF:  We've done a lot of work with green design and LEED certified buildings, but this was definitely a different direction for our practice in learning all about toxicity and what products really have that.
LH: I understood that some pieces of furniture did not meet the standards of air quality and had to be reworked in order to be placed in the house.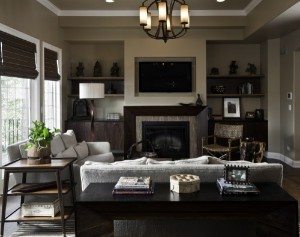 SF:  There weren't pieces that were sent back, but we had to learn what the standards were and work with our vendors to meet them.  I think that if you were beginning this project, it is not part of a regular interior design practice to know what items are healthy.  They have very specific and rigid Specifications and the first thing we needed to do was to learn and in that learning we had lots of questions. We learned that certain products did not meet the standards.
LH: What were some of the biggest things that you learned and products you were able to find?
SF:  We had a good portion of the furniture custom made for the house.  We used our regular manufacturers and showed them what they needed to use, which included no formaldehydes; no VOCs or low VOC painted finishes and stains.  While we educated ourselves we educated them on what was required and found that everyone was really interested in being part of this healthy movement.
LH:  How has working on this project changed your thinking about how you will work on projects in the future or placing products in your store?
RD:  For me personally, from now on I want to approach my clients with this as a new option.  This is a great thing and it is so important to consider your health. With as much time as we spend in our homes these days, we want to create a home that is a retreat, that is what we speak to, but we want our retreat to be safe so this is definitely going to be an option.  Certainly they don't have to take it all the way to major extremes, but they can do little things that will make a huge difference in their health, their design and in the environment.
JF:  I want to add that it isn't necessarily any more expensive to ask a manufacturer if they can do a no or low VOC finish.  There is a connotation that it is definitely more expensive but that isn't necessarily the case if you do the research and you ask about it.
RD:  The more we push our vendors and the people we work with to do this the more it becomes the natural standard.
LH:  What about upholstered items that often times use foam and down.
RD:  We want to replace the use of polyester foams with soy and natural latex.  You want to stay away from down at times because that can attract dust mites.
SF: Where we ran into limitations was with the choice of fabrics because at this point in time the fabric range is pretty narrow.  As designers, we are really used to having an unlimited fabric range.  The organic and vegetable dyes have not been integrated into all of the fabric manufacturing yet.
LH:  That has been my experience as well.  I received some fabric samples from O Ecotextiles and found that while the fabrics themselves are of a very fine quality, there was a very limited choice in colors.  In my conversation with one of the owners, she mentioned that in their experiments some of the fabrics did not take the natural dyes well and lost their beautiful sheen.
SF:  For us as designers, I think that is something we are going to see quite a bit of improvement, as there is a bigger demand.
LH:  Because of the way these dyes affect the fabrics, most of the product is left in its natural state of white or cream and as much as I like that look it is not practical for families with young kids and pets.  Part of my conundrum has been the practicality of a fabric versus the health aspect.  I have had to make the decision to use ultra-suede or these new solution dyed outdoor fabrics that do not stain and can be wiped clean, which is really what most of my clients prefer.  My question is what do we push for and what do we sacrifice?  Have you given this much thought?
SF:  I've given this a lot of thought and I think it's an interesting conversation about where we are left after this project and all of us are wondering about the fact that many of the green fabrics are not healthy and most of these outdoor fabrics are not in this healthy category.  We want to educate our clients, tell them what is available and then talk about other options.
LH:  Did you say green fabrics are not healthy?
SF:  Green by nature as a fabric or any other product is about how it is manufactured. It is not about whether it contains materials that will off-gas.
RD:  Many times green fabrics are made from recycled materials like polyester or other synthetics as well which always off-gas and are not necessarily a good thing to be next to your skin.
SF:  One of the things that we've learned in this project is that things that are green are not necessarily healthy.  Things that are healthy are almost always green.  It's great that many products are made from recycled materials, but that doesn't put them in the healthy category, it just makes them better than they would have been otherwise.
LH:  Bottom line, a client may think they want a healthy natural material, but if the fabric stains or shrinks because they can put it in the washing machine, ultimately I don't know if they are going to care if it is healthy or not.
SF:  Right.  Again, this is an educational process and decisions need to be made with your clients and whether you have a client that is hyper-sensitive, has migraines or any other types of health issues, there are many ways to deal with them including having a healthy home.
LH:  Are there a lot of interesting products to choose from these days?
SF:  If you've seen the photos of HH 2010 you will see that it doesn't look any different than any other designer show house.  There is a lot to pick from.  The thing that is the most limiting, you will notice if you look closely, is that all of the sofas are the same color, variations of white and off-white.  Given all things being equal we would not do that, and I think that in the future we will have many more choices.  There was no problem with the vegetable-dyed rugs, the rug manufacturers are at a place that the fabric people are not.
LH:  Do you see this healthy trend becoming mainstream among ASID and other designers?
SF:  My belief is that green standards are going to get incorporated into regular building standards.  All of the materials that are no good are going to be gone and that green will just be part of what architects and designers have access to and that LEED certified standards will be incorporated into the standard set of requirements for receiving  an occupancy permit.
LH:  I see this happening more with architecture and buildings at this stage than I do with furniture.
SF:  I believe that we are going to see the same thing occurring possibly within the next 10-15 years where the materials that are toxic to the environment are going to be gone.  It is going to take time. There was giant discussion at a recent panel discussion at Healthy Home 2010 about compact fluorescent light bulbs (CFL's).  It was interesting because it sounded like they were talking about the weapons of mass destruction.  It was a very heated conversation about the amount of damage that CFL's cause and yet that is the solution that the world has come up with to help energy costs.
LH:  I can't stand being around fluorescent lights.
SF:  Right, none of us can.
LH:  I've been hearing mixed things about whether regular light bulbs are going to be eliminated entirely or not.
LH:  What was it like trying to match high-style design with the air quality regulations?
SF: They brought us into this project because we were creating a luxury home that is indeed healthy, not instead of healthy.  It's luxurious, well designed and healthy and it wasn't challenging other than learning some new standards. It was more interesting than anything else.
LH:  Any other comments about your experience of working on HH 2010?
RD:  It was definitely a very interesting process in the educational growth that we all have gotten just from learning about all of these new materials and what is out there and what we can do differently.  There is so much more that we can do and offer to our clients.
SF:  I think that we will incorporate this into our work regularly.  It is the responsibility of designers to teach people how to live, what is possible in their home.  We want to show them everything about how to create a healthy environment and to make really healthy choices together.
RD:  If you go into this home, it's amazing, there is no new house smell, there are no toxins.  Even going from my car and different places where I might have seasonal allergies, I walk into that home and my eyes don't water, my nose doesn't run.  It's a safe place.  I can imagine anyone with a family, anyone with allergies or health issues; this can be a miraculous change for them that can enhance their lifestyle.
SF:  You know how we all think the new house and car smells are such a great smells and we are so conditioned to "how cool is that"; I hope that new car smell never leaves?  All of that is toxic.  The Healthy Home doesn't have a smell at all.  It is so interesting to be there.  It is a different experience.  It's fascinating what we are conditioned to think what is good or bad.
LH:  Any last thoughts?
SF:  One of the things I have to say is that good taste and bad taste cost the same.  Now we can add that healthy design and non-healthy design also cost the same and so there is no reason not to incorporate healthy principles into our design tools.
Below is a list of the manufacturers whose products are on view at HH2010.
Benjamin Moore " Natura" paints.  www.benjaminmoore.com
www.environmentfurniture.com ,  www.liteartlighting.com , www.indikaorganics.com ,
www.shabahanqcarpets.com ,  www.hunterdouglas.com , www.caldesigns.net , www.mariayee.com , www.restorationhardware.com , www.cambriausa.com , www.kohler.com , www.susanfredmanathome.com , www.holidaykitchens.com , www.colonialbronze.com , www.midamericatile.com , www.mieleusa.com , www.liebherr.com , www.ciscobrothers.com , www.copelandfurniture.com , www.lorts.com , www.el-furniture.com , www.oecotextiles.com , www.techlighting.com , www.shawfloors.com/greenlabelplus , www.healtheirchoice.com ,  www.framburglighting.com , www.ornamentaliron.net , www.sherizeman.com , www.hfshades.com , www.newbronzeagetile.com , www.fineartlamps.com , www.annsacks.com , www.mayaromanoff.com ,  www.palecek.com , www.dimplex.com ,  www.feiss.com , www.americanclay.com , www.qcollection.com , www.ronfisher.com , www.closetos.com