By Nancy and James Chuda founders of LuxEcoLiving and Healthy Child Healthy World
J.B. Mauney World Champion Bull Rider tops his sport and greets LuxEcoLiving's  Travels with Journey
LuxEco Living Media Group
Santa Barbara California Earl Warren Showgrounds Professional Bull Riders 
The old saying, "Let'em eat cake," was a better reward for the great Bushwacker who scored an astounding win last night against his rival J.B Mauney.
The standing room only crowd went wild when the two champions left the gate chute and entered the arena. Strapped in the cage the giant bull, best in his class according to PBR association, had only one thing on his mind. Buck and win… and that he did. Bushwacker took the lefty (J.B.) to HIS left with brute force, kicking higher and sending a visceral message that time was on HIS side. The roar of the crowd enticed him. His second more powerful jump proved what J.B. has always known. "He's smarter than most bulls and he can outsmart me if I let him."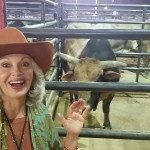 I had a chance to get up close and personal with both J.B. and Bushwacker. It was a "first" for me and for Journey. WATCH!
Bushwacker made history in just 2.56 seconds. It was his 12th career win against one of PBR's best.
Mauney's career reads like a Superman. There is nothing he hasn't achieved in this sport. At 5 feet 10 inches tall, this lefty began bull riding at the tender ago of 3. What were his parents thinking? Either they knew he had it in him or he wanted the ride that would fulfill his life's dreams. At 15 he purchased his first bucking bull which gave birth to his own family run business, Just Bad Bucking Bulls.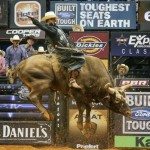 In 2009 he achieved history when he became the only man in PBR history to ride 8 bulls at the Finals. He is also well known for being the only rider to ride both Bones, the 2008 and 2010 PBR bull of the year, and Code Blue, the 2009 PBR bull of the year. He is especially well known for being the only rider to ride both Asteroid, the 2012 PBR bull of the year. And Bushwacker, the 2011 and 2013 PBR bull of the year.
Behind the scenes you could feel the excitement build. The bulls contrary to public opinion are well kept and worth millions of dollars. Their owners and handlers keep a close watch on every detail before and after each run.
Nicholas Sartor won the event with an 89-point ride on Wish This, and Strider Leverton placed second with his 85.5 points aboard Game Face. Mauney recollects that Bushwacker was in top form and that he felt a little rusty after not having competed since the Calgary Stampede. He said, "When he left there, he took that big jump and I let him get me raised up instead of staying down like I was supposed to. When he hit the ground, I caught all that power and he just snatched me wherever he wanted me to go."
I was behind the scenes watching J.B. do his ritual stretching near the back pens. It was awesome to have that opportunity. Not only to see J.B. up close moments before he would mount Bushwacker but to observe both champions, the bovine athlete and the human gaze at one another. And then, his owner, Julio Moreno came close to the chute in the final last moments of preparation. I looked at his face, got a closer look and austere glare from his most prized possession, and asked, "Does Bushwacker know whose going to be riding him tonight?"
He smiled and said, " He knows J.B., I promise you."
In just seconds, Bushwacker, one of the greatest bulls in PBR history, snaked his way through the chute, his rear end swinging from side to side, metal on hide, crowds cheering, dirt flying, and then before you could a bat a eye, he claimed his championship from the world's top rider, J.B Mauney who was left with a sore riding arm and banged up right hand.
For the kid who tasted victory, learned how to ride at 3, I guess this was another one of those….JUST BAD BUCKING BULLS experiences.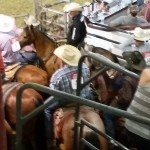 Nancy and James Chuda go behind the scenes with J.B. at Jedica's and the Earl Warren Showgrounds in Santa Barbara.
Editor's Notes:
A very special thank you to J.B. Mauney and his team. And thanks to Tim Rughetti Rodeo Director of the Fiesta Stock and Horse Show and Rodeo. And Jedicas for the best authentic western wear in the world.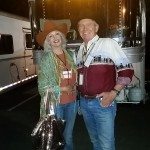 Happy Trails to you too