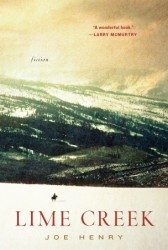 By  Nancy Chuda, Founder and Editor-in-Chief of LuxEco Living and co-founder of Healthy Child Healthy World
I couldn't put this book down. Not for a minute. In a world in which tattered souls live amongst endless garbage and recycled news predicting gloom for the planet, Joe Henry's LIME CREEK comes as a  breath of life and light,  casting long-remembered shadows of the "firsts" in our lives while becoming a mantra for human kindness and time spent reconnecting with what we  have lost, including man's oneness with nature and all living things.
Set amidst the blinding snow storms and cold of Wyoming's high country, LIME CREEK is a Faulkneresque glimpse into the lives of a family of people committed  to solidarity, simplicity, and a respect for life. The story centers around Spencer Davis and his sons. Henry captures the intimacy and connectedness of their harsh outer lives that draw them even closer together as they all bear witness to the eternal cycles of life and death; where the reveries of innocence trumpet the hard edges of experience.
Spencer's stoicism commands respect, while at the same time he is humbled by the birth of a new foal or just the dawn of  a new day. Family, for Henry, emerges from out of the lightness of being human and from out of the need of a lantern burning on a porch somewhere between heaven and earth. Trust begins in the place Henry calls home.
As a knowing observer, Henry writes about witnessing the last breath of a beloved animal's life and the lessons learned from a childhood tomato fight where a father's love overrides his instincts as a disciplinarian. How beautiful the sense of longing for what is maternal; not as human, but as rock. LIME CREEK is about the river of life that both nourishes the roots at the same time that it reveals the longing for something to hold on to- Roots that hang on with grace and dignity and time well spent.
Like Thoreau's, WALDEN, LIME CREEK pays tribute to the very nature of man. Thoreau wrote: "Spring always convinced him he could live forever on the lavish bounty of God. God was good: he knew because he listened to the song of God in the woods. Joe Henry hears the godliness and the holiness from which his words are fashioned. An act of kindness in faith and for humanity.