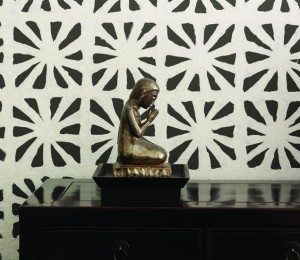 By: Leslie Harris, Interior Designer, Leslie Harris Interior Design and LuxEco Advocate
Lori Weitzner designs fabric, wall coverings, rugs, dinnerware and passementerie (otherwise known as trim) for world renowned companies such as Sahco, Calvin Klein, Jack Lenor Larsen, Carnegie Fabrics, Dansk and Missoni.  Her products have been seen on movie sets, an Olympic Village, the Wynn Resorts, prestigious stores such as Tiffanys' and even museum walls. Important design museums have been exhibiting and acquiring Lori's work for their permanent collections including London's Victoria and Albert Museum and Montreal's Musee Decoratifs.  In 2006 she was the subject of her first solo exhibition at the Institute of Arts in Minneapolis.  Lori is also the recipient of more than 20 awards and honors, including the esteemed Best of Neocon.
While in college Lori was planning on being a fine artist when a teacher, who was concerned with how she would be able to support herself, suggested that she try fabric design.  She has never looked back.  In addition to her role as a product designer, Lori is also a manufacturer of artful wall coverings.  In 2004 she launched Weiztner Limited, which offers "furnishings for the wall" that combine extraordinary design with uncommon materials to create innovative products to designers worldwide.  In her zen like all white studio in downtown Manhattan a quiet sanctuary has been created. Everyone on her team knows how to draw by hand.  Drawers are filled with found objects, twigs, photographs, paints, pencils and anything and everything else that may invoke inspiration that is then channeled into designs for wall coverings, textiles, trims and rugs.  Everything they do is not just about the product. It is also about the process, the intention and the energy. Their mission is to challenge clients perceptions of what a wall covering can be by creating innovative materials that evoke curiosity, calm and beauty while also successfully combining luxury, environmental consciousness and performance; materials that are in line with the human spirit, enhance the way people live, work, rest and play. Lori believes that whether in the home or work space, if all of our senses engage in working together as a team we will feel at peace, more dynamic and energized. The key is that everything has to be beautiful.  While there are many products on the market that may be environmentally conscious they are not always beautiful or sophisticated and that doesn't pass the test for her (or for me either).
The level of innovation in the use of some of these products absolutely amazed me when I visited my local showroom that carries Lori's wall coverings.  Weitzner Limited has developed Nimbus Solar, a beautiful and sensuous line of wall coverings made from the bark of Fig trees (which are immediately replanted) with a village in Mexico. There are openings in the pulp that allow for a custom wall color to show through.  I am still trying to figure out the technology for Stratum and Quarry, two coverings made of paper-thin flexible layers of luscious dark slate.  Magnum, another product that would be great in a child's room or office, has a very thin sheet of a magnetic material sandwiched between a natural color Linen and paper backing.  Recently Lori and her team have developed a very cool line made out of recycled newspapers called Newsworthy, which along with her fabric Mist was used to produce a wonderful and whimsical dress designed by Dorothy Willetts for the ASID Fashion Show 2010 in Palm Springs, California.
Although I haven't seen them in person, I am imagining myself wearing Lori's line of curtain tiebacks and holdbacks for Samuel & Sons.  When I first glanced at the brochure she sent me, I was sure they were necklaces and beautiful ones at that.  So it was no surprise to read that they have been inspired by jewelry. Martinique is made up of multiple strands of coconut shell beads.  Argana is made of very small tubular silver or gold links that remind me of the liquid silver jewelry from New Mexico.  Now all they have to do is to figure out a way for us to wear these gems out on the town when the drapes are drawn.
[imagebrowser id=20]