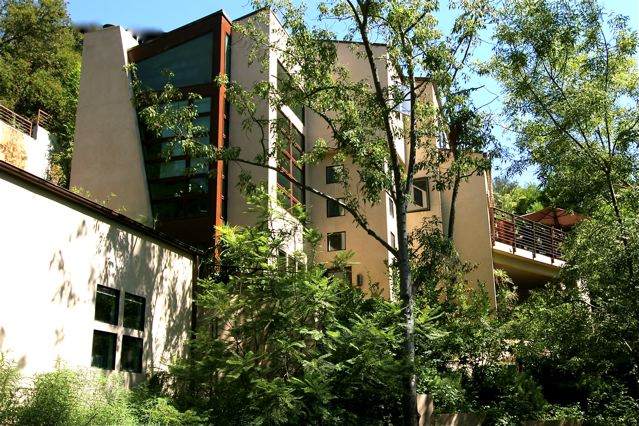 The Green Home Under the "H"
By Bethany Colson, Managing Editor of LuxEco Living and  Beauty Expert
In 2006, James and Nancy Chuda completed their labor of love: their Green Home under the "H" of the iconic Hollywood sign.  Drawing from the couple's environmental activism and Jame's prolific career as a nationally board-certified architect specializing in the creation of non-toxic living and working environments, the Green Home is a culmination of many years of the Chuda's dedication to learning, living and advocating for a natural, environmentally-safe and sustainable lifestyle.
However, going green didn't mean that their classic good taste would be sacrificed; their modern design would meet green architecture.
After having studied green architecture for years before such a field officially existed and completing two other case study environmental homes that incorporated modern sustainable design (including Olivia Newton-John's masterful Malibu digs),  James began the design concept for his own Green Home in order to create a structure where modern design meets green architecture.  He wanted to illustrate that an ordinary home could be a "green house," a healthy habitat where people could not only enjoy their natural surroundings but also live with sustainable materials, energy efficiency and lower toxicity products.
While he proved his point, The Green Home is no ordinary house. It is a state-of-the art, contemporary yet classic environmental home that is an oasis of innovative design. When featured in Los Angeles Magazine's 2005 DesignHouse: The Green Home, author Elizabeth McMillian said, "In elevation and plan, the architect's fluid angles integrate into the lush Hollywood hillside, while the Design Team's interiors meld in a fusion of complementary colors, forms and attitudes.  No other showcase home has approached this level of design and ecological integrity."
Green Architecture Starts With Nature
The Green Home started with a survey of the Hollywood hillside and was designed to harmonize with its unique characteristics for greater energy efficiency, copious natural light, plentiful ventilation, solar power and a natural water filtration system. Complimenting the grade of the hillside, the home begins with a lower level "basement" that includes a media room, laundry room, a guest bedroom and yoga/mediation room. Continuing up the stairs to the main level, the kitchen, the living room and study are almost like the heart of the home. Glass steps lead up to the loft, master bedroom and master bath. Lush gardens with water features and patios (with their own organic garden) are found on every level to comfort guests and the residents alike, making them wonder where the house ends and where nature begins.
An airy openness is a main theme through out the The Green Home. Large glass windows are encased in the home's tall structures,  catching and reflecting the sun – perfectly in tune with the natural rhythms of the surrounding hillside. "The real essence of architecture," says Chuda, "is that it should emanate from where the site is, and the house and windows should be oriented accordingly." It's these principles, says Chuda, that most people have lost. "In building this house I realized there's a very strange thing that has happened even to myself: As a culture we've lost that connection to our environment." Chuda says the trouble stems from the onset of WWII when air conditioning and refrigeration were invented. "It changed the way we grow our food, bringing chemicals into our homes and pharmaceuticals into our lives, but most of all it changed the way we built. Houses didn't have to have overhangs. Architecture has now become art for art's sake with no relationshipto the reason we evolved in the first place."
Modern Design Avoids Toxic Chemicals
Avoiding any building products that contain chemicals that produce volatile off-gassing (also known as volatile organic compounds or VOCs), toxic solvents and glues and all pesticides, the Chuda's carefully chose recycled, recyclable, reuseable and renewable raw materials and interior furnishings that accessories that not only expressed their vibrant personalities but achieved their dream of creating a safe eco-friendly home without sacrificing style or function.
A serene calming becomes a visitor as they marvel over the bamboo and papyrus walls in the media room, the cool recycled glass, raw silk linens in the master bedroom, butter-soft bamboo floors, palm wood, Venetian plaster and walls coated with non-toxic citrus-based paint, all seem to beg to be touched.  Himalayan onizing salt crystals from the Himalayas are strategically placed through out to clean the inside air. Low-flush toilets in each bathroomsave thousands of gallons yearly.  Disguised as simply a gorgeous silver odject d'art, an aptly named "angel fan" slowly moves air up and down in large volumes to increase air quality and ventilation while saving energy costs that generally accompany traditional spinning fans  – just another simple yet beautiful energy efficient design.
The Chudas' home has resulted from years of research and hard work, fueled by their passionate commitment to living in tune to the natural and spiritual interconnectedness to their environmental.  All of which lead to healthier and more vibrant lifestyle for them and those they share their environment with."People are going to make these decisions in their home not because they just want to save trees, but because they'll want to live in a much healthier way," says Nancy.
For the Chudas' own home, renowned designers were chosen to design one room each, including: Barbara Lockhart (Honorary Chair), Troy Adams (Kitchen), Lisa Adams (Master Wardrobe), Sari Ehrenreich (Family Room and Dining Terrace), Alberto Fabiano (Audio and Video throughout and Media Room), Suzanne Furst (Meditation Suite with Bath and Patio), Greg Grande (Media Room with Bath), Leslie Harris (Living Room and Dining Room), Meg Kalhammer (Master Bath), Kristine Kamenstein (Powder Room), Peter Logan (Walkway and Koi Pond), Carla Sofia (Master Bedroom), Cliff Spencer (Laundry Room), and Paula Lechman-Testa (Mezzanine and Master Patio). ValleyCrest Landscape and Design & Build provided all the landscape designing.
"The Green Home Under The H" became the subject of a widely publicized effort to reduce global warming and has become an icon attracting hundreds of visitors as well as national and international press. Chosen as Los Angeles Magazine's Design Green Home of the Year for 2005 and open for public tours, it has attracted nearly 2,000 people.  It has also been featured on Oprah as toured by Leonardo DiCaprio.  In 2008, it was profiled on Discovery's Planet Green-Worlds Greenest Homes and continues to be featured in their logo and in their promotion pieces.
To  learn more about toxicity commonly found in houses and building construction, check out Healthy Child Healthy World's website for creating and maintain a healthy home for you and your family along with a useful database of ingredients that helps determine the nefarious from the safe.
[nggallery id=9]