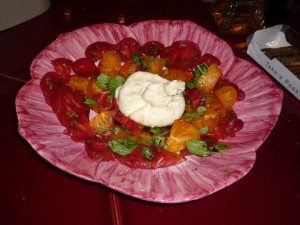 by Nancy Chuda, co-founder of LuxEco Living.com and Healthy Child Healthy World
Today's Menu
Organic Vegan Lentil Soup
Fresh Caught Wild Cod
Wild Organic Mushroom Medley
Secret Recipe for Aged Balsamic Vinegar
Family of Homegrown Heirloom Tomatoes with Imported Italian Burata Cheese
"The best fertilizer is the gardener's shadow. " ~Author Unknown
"heir-loom" [air-loom] -noun 1. A valued possession passed down in a family through succeeding generations. […] 3. A cultivar of a vegetable or fruit that is open-pollinated and is not grown widely for commercial purposes. An heirloom often exhibits a distinctive characteristic such as superior flavor or unusual coloration." —American Heritage Dictionary
With a little  research, I learned that not only are heirloom tomatoes far more flavorful, juicy, and rich than supermarket tomatoes, they are also more nutritious, packed full of vitamins and antioxidants that the more common hybrid supermarket varieties lack. They are fresher, too, almost always allowed to ripen on the vine instead of picked green.
I love my heirlooms. There are so many varieties and each one has a distinct taste, feel, and look. They are grown for flavor and ripeness and nutritional value rather than productivity and transportability. Granted, they have to be used faster, and they are much harder to grow, but the benefits far outweigh the downsides. Taste one. You'll see. You'll wish heirloom tomatoes were in season all year long.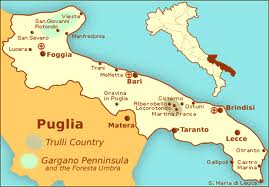 Now about the cheese. Burrata is a fresh Italian cheese made from mozzarella and cream. The name "burrata" means "buttered" in Italian. The outer shell is solid mozzarella while the inside contains the cream, giving it a delectable soft texture and taste. It is always best served at room temperature.
Mozzarella is made from cows milk, water buffalo is its modern variation, which is richer and higher in protein than that of cows. Because it lacks the yellow pigment known as carotene, found in cows milk,  buffalo mozzarella is pure white. In Italy, this is a requirement. It has to be pure and white. The other cheeses made from cows milk are called fiordelatte.
A note about the history. Burrata dates back  to 1920 raised on a farm in Andria a small region in Apulia Italy. It found its way and its roots throughout a number of factories from Andria, Bari, Gioia del Colle, Modugno, all the way to Martina Franca, and eighty-mile stretch of Puglia.
Today, we are lucky that many of the finer cheese shops that feature imported  artisan cheeses from the around the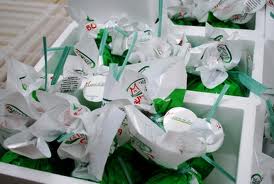 world also carry Italian Burrata. I bought mine at The CheeseStore in Silverlake Village in Los Angeles California.