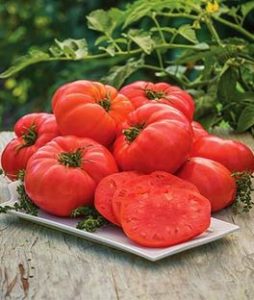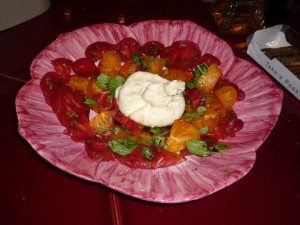 by Nancy Chuda, co-founder of LuxEco Living.com and Healthy Child Healthy World
Today's Menu
Meet the
Family of Burpee's Homegrown Heirloom Tomatoes married with Imported Italian Burata Cheese for Pizza. And watch the Invisible Gardener (Nancy's Organic Kitchen) prepare the most mouth watering sauce using a variety of these glorious home grown gems.
"The best fertilizer is the gardener's shadow. " ~Author Unknown
"heir-loom" [air-loom] -noun 1. A valued possession passed down in a family through succeeding generations. […] 3. A cultivar of a vegetable or fruit that is open-pollinated and is not grown widely for commercial purposes. An heirloom often exhibits a distinctive characteristic such as superior flavor or unusual coloration." —American Heritage Dictionary.
One of our partners for the upcoming Design Home of the Year: A Rurban Retreat in the Vineyard, is America's best. Burpee. W. Atlee Burpee, born in 1858, grew up in Philadelphia, the son of a prominent physician. As a teenager, the future pioneer in horticulture and mail order took up an unusual hobby: poultry breeding, an interest that extended to the breeding of livestock, dogs, and plants.
Today Burpee is the world's largest home garden seed and plant company, growing seed worldwide, and producing spring and fall plants in greenhouses in western Pennsylvania, and with offices and research facilities in the United Kingdom, Holland, and India.
In the 21st century, 140 years after its founding, the company remains faithful to W. Atlee Burpee's vision, and reflects his passion for innovation, quality, and customer service. The Burpee business is built not for the present only, but with an outlook to the future.
"A business that has no vision of the future or the object of which is mere money-making would not be worth a life's work."   W. Atlee Burpee.
Last summer, we began to experiment with a variety of their most touted and loved tomatoes. It took work, to build the raised beds to house multiple seedlings that ultimately produced hundreds of the best garden variety tomatoes in the world.
The results were fantastic! We were the envy of every neighbor on the block. We spent months harvesting, canning and creating the most wonderful sauces, soups and salads. Each day we literally blessed the harvest with a song of praise…. "Thank You Venelin and Burpee."
Last year's crop was an experiment of sorts for Nancy's Organc Garden. This year promises to be even more enticing. Burpee has developed the wonderful Atlas Tomato which has large and juicy taste filled with the robust flavor you would expect from a vine grown in the ground. What I love about the new Atlas… a first-ever beefsteak for developed for porches and decks in warm, sunny conditions. Here in zone 9 I can't wait to get started.
 With a little  research, I learned that not only are heirloom tomatoes far more flavorful, juicy, and rich than supermarket tomatoes, they are also more nutritious, packed full of vitamins and antioxidants that the more common hybrid supermarket varieties lack. They are fresher, too, almost always allowed to ripen on the vine instead of picked green.
I love my heirlooms. There are so many varieties and each one has a distinct taste, feel, and look. They are grown for flavor and ripeness and nutritional value rather than productivity and transportability. Granted, they have to be used faster, and they are much harder to grow, but the benefits far outweigh the downsides. Taste one. You'll see. You'll wish heirloom tomatoes were in season all year long.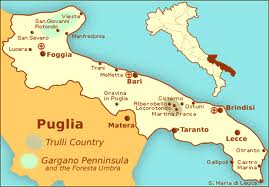 Now about the cheese. Burrata is a fresh Italian cheese made from mozzarella and cream. The name "burrata" means "buttered" in Italian. The outer shell is solid mozzarella while the inside contains the cream, giving it a delectable soft texture and taste. It is always best served at room temperature.
Mozzarella is made from cows milk, water buffalo is its modern variation, which is richer and higher in protein than that of cows. Because it lacks the yellow pigment known as carotene, found in cows milk,  buffalo mozzarella is pure white. In Italy, this is a requirement. It has to be pure and white. The other cheeses made from cows milk are called fiordelatte.
A note about the history. Burrata dates back  to 1920 raised on a farm in Andria a small region in Apulia Italy. It found its way and its roots throughout a number of factories from Andria, Bari, Gioia del Colle, Modugno, all the way to Martina Franca, and eighty-mile stretch of Puglia.
Today, we are lucky that many of the finer cheese shops that feature imported  artisan cheeses from the around the globe.
One last AhHa moment that you must try. If you can your Burpee tomatoes in the fall after you have cleared your beds… by November you can sit down and invite friends to share this special recipe using… of course your canned Burpee's.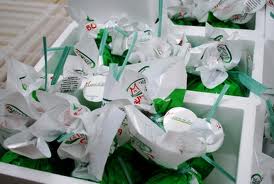 The CheeseStore in Silverlake Village in Los Angeles California.
Editor's notes:
Special thanks to Burpee for their seeds and plants. Thanks to Venelin Dimitrov for his support and contributions.
Coming up: The Carriage House: A Rurban Retreat in the Vineyard. Watch and learn how to transform a 1920's structure and a rural Victorian Garden that has gone awry. Follow our Invisible Gardener's Path to discover how you and Burpee can transform your backyard garden into a natural habitat for birds, bees, and all living things.