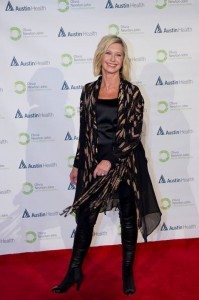 Some call her Liv, others Livvy, and if you're a close family friend and want to get her attention you say, OLIVIA. But to her fans and friends alike she is Olivia Newton-John, one of the most popular and talented singers in the world.
Drop the Sandy stuff. She's way grown up even though countless kids and adults alike remind her she doesn't look  a day older than her portrayal in the hit movie of all time, Grease. It has been estimated that other than Gone With The Wind and The Sound of Music, Grease lives on as one of the most iconic films of all time.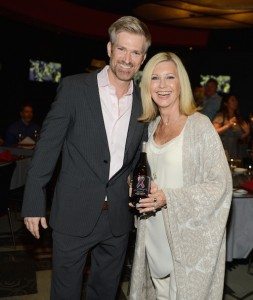 So what's a super star to do when she hits her mid sixties? Retire and play golf everyday? Not our Livvy!
She is starring in Las Vegas at the Flamingo Hotel. Her hit show, Summer Nights is beginning a third year. And in between her Vegas commitments she is working on a new album with writing partners, Amy Sky and Beth Nielson Chapman and just released a new dance version of  the original John Farrar hit, Magic, written by her daughter Chloe Rose Lattanzi.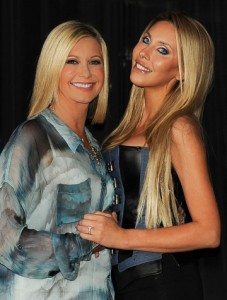 "You Have To Believe" is soaring on Billboard  and is in the top 20's making this Newton-John's first big hit single since the early 90's. It's also shedding a spotlight on Chloe whose acumen for writing lyrics has landed her a very big hit. For Olivia, who beams with pride for her only child, (Chloe's father is actor Matt Lattanzi) their combined success has become truly magical. But the real reward for Olivia is no longer about fame, success and money. It's all about her love and support for her family which means the world to her.
A few years ago, having lost her older sister, Rona Newton-John, to cancer, Olivia took a deep and insightful step forward.

It was the brainchild of Rona Newton- John's youngest son, Emerson, who invented a charitable way for both men and women to participate in an equally important series of events which benefited both breast and prostate cancers. A race car driver by design with tremendous passion, Emerson took the track to influence many of his buddies, some world famous, to donate their time and their passion for the sport and SPEED to help advance incentives for prevention for both. The love of his support combined with his love for his aunt's continued wellness gave birth to a brilliant idea called, Pink and Blue For Two.
Being the matriarch of a very large family whose roots began in Australia, Olivia still calls the land down under home. Melbourne to be exact. She has spent the better half of the last decade raising critical funds to build the Olivia Newton-John Cancer and Wellness Centre. Her special dream came true. In fact, just last week, Olivia celebrated her center's tremendous success at a magnificent gala held at the Park Hyatt in Melbourne. It was a star-studded Aussie night with lots of glam.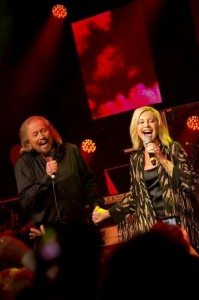 Best part was Olivia taking to the stage with her long time friend, Barry Gibb. Together their voices made magic happen not only for those who attended the invitational only event but for the world at large. The ONJ Cancer Wellness Centre provides online donation opportunities internationally. The very fact that this mistress of ceremonies spends a lot of time on stage in Vegas is for a higher purpose. A percentage of every ticket sale benefits her hospital's center for holistic well being.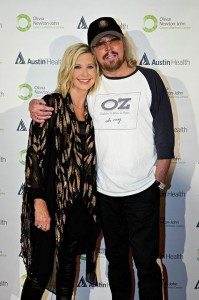 Newton-John is a cancer "thriver," (her word). She has pledged support to help countless thousands if not millions of women with her dedication to offset the  challenges many  face, after and during a diagnosis with the opportunity to experience alternatives, many of which are offered to women and their family members. It is her comfort zone. A place where patients can trust that they are being treated as a whole person… not just for the disease. This concept began many years ago when she experienced both western and eastern modalities for her own treatment. But through it all, she proclaims it is her music that keeps her going.
It is her spiritual center. Once on stage she fuses with the audience. She claims, "this is very healing for me personally and for them." But it doesn't end there. I have been a witness many times and have observed the "Green Room." After each performance, ( 90 minutes on stage) Newton-John religiously and routinely greets a multitude of guests. Many are women who come to share their personal journeys with breast cancer or someone else near and dear to them. She claims, there is a healing for both. The one that gives and the one that receives.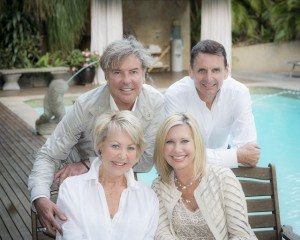 Gregg Cave, Warwick Evans, Ruth Kalin, and Olivia creators of Gaia
Taking that healing feeling into a concentric concept gave birth to Gaia Spa and Retreat which has won unanimous accolades world wide. Olivia owes a great deal of gratitude (which should be her middle name because she is filled with that emotion every single day), to Gregg Cave her co-founder and enlightened visionary. Together with a few other partners they have been able to transform, literally, the spa and resort industry, from head to toe.  And I do mean this figuratively.
In her partner's honor, Olivia flew all night to join him and friends for an amazing birthday party at Gaia. That's what friends do for friends! Watch!
I had the chance to experience Gaia Spa and Resort on Olivia's 60th birthday.Friends from near and far gathered on top of this spectacular property to celebrate not only the birth of Gaia's co-founder but the birth of something much more profound.
You have to trust the intuition of a woman whose grandfather won a noble prize. Max Born was given this prize for Quantum Mechanics in 1954. A footnote in Olivia's family history prevails. No two men of this caliber have yet to be linked.
In a letter to Olivia's grandfather, Max Born on the 4th of December 1926, Albert Einstein, his close friend made his famous remark regarding quantum mechanics:
"Quantum mechanics is certainly imposing. But an inner voice tells me that it is not yet the real thing. The theory says a lot, but does not really bring us any closer to the secret of the 'old one'. I, at any rate, am convinced that He is not playing at dice." The two were inseparable throughout their lives.
Whether it is her God given gifts and talents or the assumed DNA from her grandfather, Olivia rallies for every single member of her family and her friends. Her intuition leads her and her heart always makes it happen.
She knows herself. She is strong-minded when it comes to what she wants and how to achieve it. Both as Olivia, the dog and cat loving Granny of her daughter Chloe's two adorable adopted pets and as a world famous celebrity whose center stage presence for over 4 decades makes her immortal.
If you ask her what really brings her pleasure she will tell you she loves to wear her old beat up Birkenstocks, carrying for  the "chooks," (Aussie word for chickens) and feeding a frenzied number of guests (her home is always filled with friends and family) and on Sunday, throwing on an old T shirt and cruising into town with her husband, John Easterling, the love of her life, and her coal black beauty, a dog named Raven.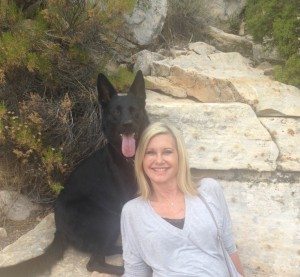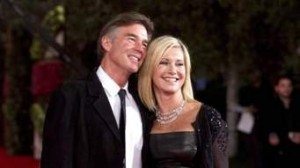 And I forgot to mention the newest and cutest member of the Newton-John Easterling family, a kitten called Magic which seems to have brought more than just warm cuddles and non-stop devotion. For Olivia and her family, life gets greater and greater but she especially knows that sharing it with others is what makes it all worth while.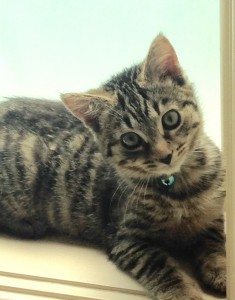 Magic
Editor's Notes:

Olivia served as the first National Spokesperson for Healthy Child Healthy World an organization she helped me and Jim found in 1992 in honor of our only child Colette Chuda. Her God daughter.