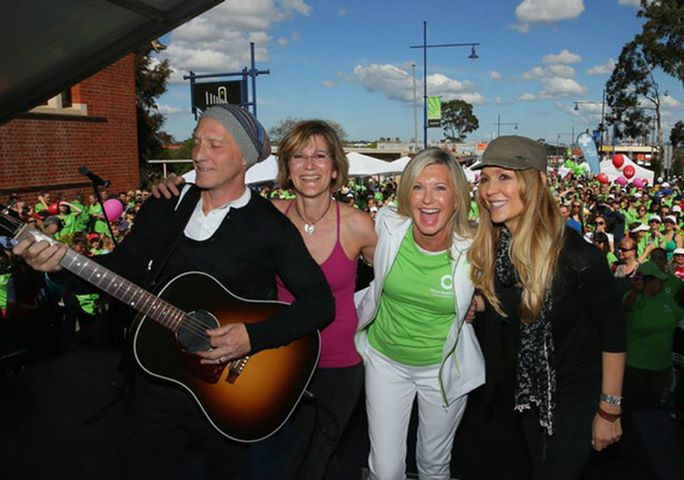 By Nancy Chuda founder and Editor in Chief of LuxEcoLiving and co-founder of Healthy Child Healthy World
Melbourne Australia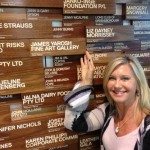 We may not be winning the war against cancer but we have won warriors to provide hope. Olivia Newton-John lives life as a "thriver" and leads the way for others to follow.
As the world turns on its axis, cancer will have claimed more lives. Still, without a cure insight. Today, in most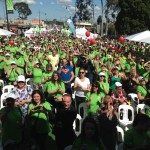 family circles, someone will have been diagnosed and depending on the severity of the disease, will most likely die not from the cancer  but from the treatment.
It takes courage to challenge a medical establishment that has been vested in a stealth vision for more than half of a century, fighting cancer with several modalities, some old and others offer greater promise. Chemotherapy, radiation and surgery are considered weapons to fight a variety of cancers. Bone Marrow Transplants and Stem Cell Therapy are added to combat more lethal forms as well as treat recurrence.
It takes conviction and experience matched with moxie to create a new paradigm shift. Olivia's goal is to help create a platform for lasting wellness that incorporates the mind and body connection. Her dream continues to thrive as she has introduced the need for tactile experiences like massage and music therapy which helps to enable human beings to let go of their fears and welcome recovery.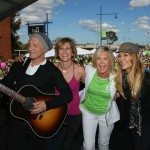 Olivia Newton-John has been crusading wellness throughout the world.  Her mission, having become a "thriver" after surviving breast cancer when diagnosed in 1992, led her on a personal journey. It's not easy being a celebrity, put on a pedestal, expected never to age or to loose stardom vitality, but when she was diagnosed instead of retreating and asking "why me?", she put herself in the center of a spotlight created to bring greater awareness, hope and wellness for millions of people.
Olivia is accompanied by family members musician and song writer Brett Goldsmith, Fiona Edelstein and actor Tottie Goldsmith on stage in Melbourne Australia
This past week, Olivia has been down under in her native Oz, Australia, paving a green brick road for a Wellness Walk. It didn't take much effort to muster a crowd of supporters knowing that each and every one who lined up to darn the color green were ready to move out and walk for wellness….for themselves and family… and for friends who are fighting to win against the odds… and for the many who who lost their battles. Sadly, statistics indicate more and more casualties of this insidious war. But for Olivia, "Not gonna give into it," a lyric she once wrote during her own cancer treatment helped pave the way for the enormous task she would someday accomplish.
Over the past decade, Olivia helped to raise countless millions to undertake her dream. To build a world class state-of-the-art medical facility.  The Olivia Newton-John Cancer & Wellness Centre opened its doors  in July 2012 to provide support for patients and their families who will undergo medical treatments  which will also incorporate holistic, psychological, and tactile opportunities to increase self-confidence, recovery and wellness.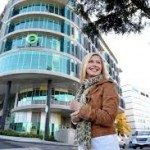 "The Wellness Walk is a day where the community came together to walk for those who have been touched by cancer, and to raise funds for the Wellness Programs. "
Olivia proudly opened the doors to the ONJ Cancer and Wellness Centre in 2012.
A spokesperson for the Centre stated, "The Cancer & Wellness Centre is honored to have Olivia Newton-John lead The Wellness Walk; it will be the first time that she has ever walked in a charity event in Australia, inspired by her enormous effort to walk 23 days across the Great Wall of China in 2008 alongside celebrities and fellow cancer 'thrivers'."
"It's important to support a person suffering from cancer with wellness. It does more than just treating cancer, it's about providing care for the whole person body, mind and spirit," Newton-John said.
This past year, cancer, once again touched Olivia when it claimed the life of her older sister Rona Newton-John, who died from a brain tumor. Determined to make a difference for others who have lost sisters, brothers, husbands, wives, parents, grandparents and yes, even children, Olivia's dedication moves on.
So why do bad things happen to good people? So they can light the way as a lasting beacon for hope. And she has done that.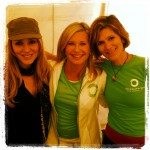 Olivia with Tottie Goldsmith and Fiona Edelstein,  her two beautiful nieces,  both daughters of her deceased sister Rona Newton-John. "We are all pearls on a chain." Olivia Newton-John, Grace and Gratitude.
In Memory of Rona Newton-John please make a donation