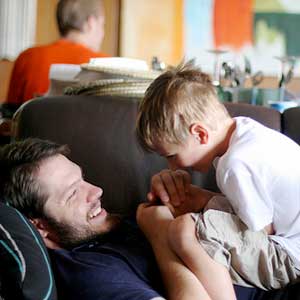 HCHW Shares 5 Tips for Choosing a Pediatrician Who Supports Your Chemical Concerns
By: Janelle Sorensen, courtesy of Healthy Child Healthy World
Looking for a pediatrician is no easy task, especially if your concerns and parenting methods aren't exactly the same as mainstream America. My husband and I scoured the city for a full year before finding the right one for our daughters. But, it totally paid off.
We found an amazingly supportive and brilliant pediatrician whose philosophy was to tell us everything she knew and then let us choose what to do. She had only one provision; if she ever thought the results of a treatment were sub-par, then she would intervene with an alternate recommendation. That never happened and I was always overwhelmed with how much she knew. She could rattle off statistics about best practices in the EU, pertinent studies regarding alternative remedies, and recent outbreaks that could put my children at risk. She was a dream come true. But, alas, we moved. Now we are on the hunt again.
Here are some tips we've found useful for finding a supportive pediatrician:
1. Make a list. Write down all of your general concerns and parental values relevant to health care. Do you want a health care provider that supports an alternative vaccination schedule? You'd better ask. Do you want someone who seeks out remedies beyond antibiotics as the first recourse for common ailments? You'd better ask. You can even ask general lifestyle questions to get a better understanding of the doctor's personal beliefs and health concerns. Does the person eat organic food? Does the person wear cologne or perfume? Preface personal questions with a description of your lifestyle choices and why you make them. And, be attentive to personal boundaries.
2. Ask others. Find like-minded parents in your community and ask who they go to and what types of experiences they've had. These could be people you already know or people from on-line community parenting groups. Type the pediatrician's name into a search engine to uncover even more information.
3. Check your insurance. Obviously, you should make sure potential candidates are covered by your insurance plan before you spend the time interviewing them.
4. Make an appointment. Set up meetings with potential candidates – and don't settle for a phone interview. You need to meet the person to really get a feel for their personality. Also, you'll want to check out the office. Is the staff friendly? How do you like the environment? Take a lot of notes, so you don't forget any details.
5. Go with your gut. Parental intuition is more often than not, spot on. Maybe someone said all the right things, but their demeanor seemed a bit off. Listening to your internal warning signals could prevent issues further down the road. You should feel absolutely comfortable talking with this person about bodily functions, emotions, and your deepest parental fears (no matter how irrational they may seem). Health professionals are most helpful and effective if you lay it all on the table. And, remember, you're not married to this person. If you end up having issues after a few visits or a few years – you can always find someone else.
How about you? What's your experience been? Any tips or advice to share with others?