By Nancy Chuda founder and Editor-in-Chief of LuxEcoLiving and co-founder of Healthy Child Healthy World
The perfect pet friendly choice for any occasion!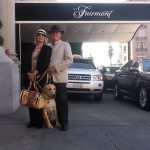 High on a hill it calls to me. The Fairmont Hotel in San Francisco remains one of the most prestigious stays in all America. Dignitaries, presidents, heads of state, celebrities even  members of the royal family have enjoyed the view.
Between the grand street entrance which overlooks the entire city,  flags flying from all nations and  all the helpful bellmen, (at least six were on duty) we were swept  back in time  into a world that once welcomed only society's upper class.
"Welcome Journey! You're about to become one of our dog ambassadors." We were greeted by Melissa Farrar, a public relations emissary. A quick tour through the magnificent lobby, onto the various gardens, one in particular where we discovered a live and thriving apiary which contained over 200,000 bees; all part of a sustainable program developed by Fairmont chef JW Foster.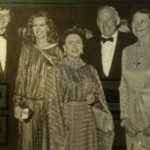 The Fairmont San Franciso boasts incredible history. Known as Nob Hill's grand dame, in 1907 it opened its doors. The iconic hotel soon became the city's venue of choice for glittering balls, presidential visits and political gatherings, making the name Fairmont synonymous with "place of occasion".
However, mother nature threw a wrecking ball and intervened on April 18, 1906 when the infamous San Francisco quake left its indelible mark. The Fairmont was not yet open, but the massive structure was already completed and its interior furnishings had been delivered and were awaiting installation in this palace on Nob Hill. After the famous earthquake, the Fairmont still stood, looking relatively unharmed (although there was some structural damage to the interior). Fires that raged after the earthquake soon claimed much of the structure.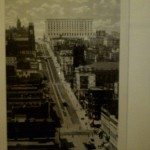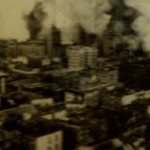 Julia Morgan, (The Hearst Castle) would later become the nation's preeminent female architect to work on the Fairmont. Exactly one year after the quake, the Fairmont Hotel re-opened and soon the property became the social hub of the city. But the finishing touches occurred in 1945 after the UN Charter was signed at the Fairmont. Dorothy Draper was hired to decorate the hotel and she visualized and later recreated a copy of a grand Venetian palace which captured the charm of San Francisco and transformed the Fairmont into the center jewel in the crown of the Golden Age of San Francisco.
Being guests at The Fairmont with the prestigious address of 950 Mason Street in a pristine location atop Nob Hill made us paws (pause) and reflect. Journey is only 10 months old and after his morning workout and all those hills he needed to take a break.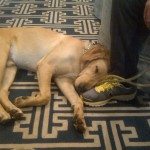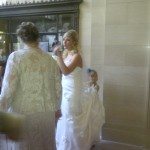 What makes this location so great is that you are literally around the block from San Francisco's famous Chinatown.
Speaking of famous, I would have to say that Tony Bennett's name is synonymous with The Fairmont. In fact, they just celebrated the 50th anniversary of his first performance of I left my heart ipn San Francisco.
And guess who got top billing during our tour?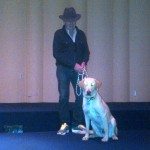 What really made our visit so magical was being in an atmosphere where people congregate from all over the world. It's an international haven for travelers from England, Ireland, France, Germany, Japan and of course a few locals who just like to sit in the beautiful lobby and watch the tourists come and go. Journey on the other hand just wanted to check in with the reservation desk. He made a few new friends and wanted to let them know he was really enjoying his stay.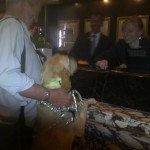 And I was finally able to discover why Journey was craving his gifts.  The Fairmont had provided a doggie bag filled with treats. And he just loved them! One of the sustainable practices of the hotel which truly is a first, was to develop a garden to bring awareness to the decline of the honey bee population and its importance to the environment. Most people are unaware of this fact. Every third bite of food is directly affected by bees!  The Fairmont's Executive Chef JW Foster created this idea to bring greater purpose to his mission and create awareness for hotel guests.
Using the honey in various dishes and beverages is also another way to feature an authentically local taste of the region!  The Fairmont features honey in their desserts, dressings, afternoon tea, beer, honey truffles, honey jars and they've even incorporated it into dog treats. No wonder why he was so excited to get back to the room.
And speaking of our room in the Fairmont tower on the 14th floor, it was magnificent! We had a stunning view, one that most people never get to see from other hotel rooms. The decorations and interior design was so comfortable. The marble bathroom was truly a Nob Hill experience.
I was a bit leery about letting Journey play with his toys as he can get quite active. He loved every waking minute. We literally slept side by side. He had his own cushy bed and we had a king size beautifully adorned with very expensive imported  linens. We all had a great nights sleep and in the morning we decided to order breakfast. Room service please!
Well, I guess you could say we all had a superb time. Journey left his heart in San Francisco at the famous
Fairmont Hotel
and for us,  his
traveling companions
, you could say, we will never forget
this
view.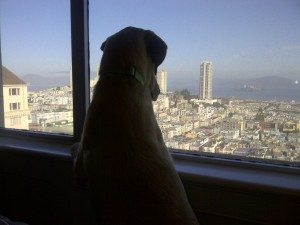 Editor's Notes:
Please plan a special occasion with your pet and book your stay of the world class Fairmont Hotel in San Francisco. Be sure to tell them Travels with Journey sent you.
The Fairmont San Francisco is located at 950 Mason Street, San Francisco, 94108
Tel- 415-772-5000
What a thrill! He got to bark center stage in the exact spot where Tony Bennett first performed, I left my heart in San Francisco.