By Nancy and James Chuda founders of LuxEcoLiving and co-founders of Healthy Child Healthy World
 The FogCatcher Inn welcomes you and your pet in Luxecoliving4U style. Pack your bags! Let's go!
Cambria's Moonstone beach is pure paradise. Pamper your pet. That's our motto.
We were hoping our room had a fireplace. Voila! It did. Journey was so happy to find his special bed and dog treats waiting for him. This is the perfect pet getaway vacation for any time of year.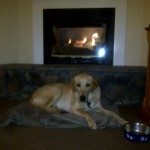 Journey got really excited seeing a furry friend come up the stairs.  In fact, we thought we were seeing double. Meet Will. He is a finely bred English Labrador Retriever with a Winston Churchill disposition. Older, wiser, and yes very keen about teaching his American bred friend the proper way to get hold of a stick. Not just any stick I might add.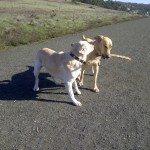 Our boys had so much fun together it was hard to separate them. And the best part of meeting Will was we got to meet his parents, both genetic research scientists from Salt Lake City, Scott and Lorise Rogers adopted Will. He's the love of their lives.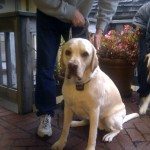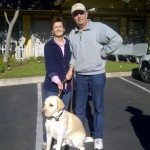 While our boys took naps in the back of our cars (most pet-friendly inns and hotels require that pets not be left alone in the room) we got to taste some fine cuisine. We had a great dinner at Robins Restaurant. Known for their handcrafted global menu they serve a wonderful variety of dishes prepared with locally grown and harvested food.
One of the best features of the FogCatcher Inn… you are just steps away from the beach. Journey's internal alarm clock ( the one that tells us he has to pee) was not on current daylight savings time. With the sound of the sea beckoning his every instinct….we were out the door at the crack of dawn.

The dramatic beauty of this northern portion of the Central Coast is one of California's best kept secrets. With pristine beaches and bluff-top nature trails, the area offers unspoiled coastlines and stunning scenic vistas. "Where the pines meet the sea," is a phrase often heard in reference to Cambria, this being the area where beautiful coastal pine forests begin to appear on the rolling hills of the central coast. The trees and the wonderful climate lend a quiet and serene ambiance to the area.
Photo Credit Nancy Chuda
Among area landmarks is the breathtaking Hearst Castle, a real treat for tourists and history buffs, just minutes from the Inn. Other popular points of interest include the Elephant Seal Rookery, fantastic  shopping spots in Cambria and many unique  dining destinations.
And speaking of the Hearst Castle we took James's advice and called Sharon Joy to dog sit Journey for one night.
What the world needs now,
Is love, sweet love,
It's the only thing that there's just too little of
What the world needs now,
Is love, sweet love,
No, not just for some but for everyone.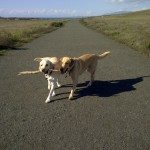 Editor's Notes:
You don't want to miss this experience. The best news is that the FogCatcher Inn doesn't have a pet size limit. They serve a wonderful hot breakfast, the beds are so comfy with a certified green mattress and all cleaning products are non-toxic. The price is right.
Make a reservation today. Call (805) 927-1400. 6400 Moonstone Beach, Cambria CA. Tell them Travels with Journey sent you.