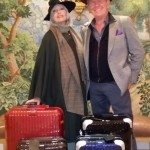 "New York is the quintessential city for every imaginable pleasure "
Step inside the chic Hotel Plaza Athenee and your first impression is a perfunctory, "I want to live here!" And I am not alone. Elizabeth Taylor and Princess Diana did!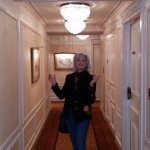 It has absolutely everything that The Four Seasons has excluding the largesse and hefty prices for hotel staff and service. What I loved about this wonderful "gem" is the unique hospitality afforded to each and every guest.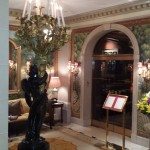 LuxEcoLiving photo credit
"In the tradition of fine European hotels The Plaza Athenee stands above many of New York's boutique but poorly improvised versions of what you would expect in Paris. In fact, we flew to Paris after our stay in New York and reminisced how special and warm the Plaza Athenee was without the affect attitude." Nancy Chuda
From the moment we entered the lobby we were surrounded by gracious kindness. We had flown from Los Angeles on the red eye and were feeling the weariness afforded to people our age…. Boomers who are paranoid about getting sick on planes and instead of snoozing distract themselves with tech toys.
Somewhat befuddled and without our daily does of ginkgo biloba we found ourselves seated comfortably in recliner like leather chairs while a very alert, young, concierge acted swiftly to get necessary information.
In less than five minutes we were shown to our suite on the 11th floor. Alas! The sound of silence.
I discovered one of the most beautiful bathrooms I have ever seen.
Plaza Athenee photo credit
The flow of warm water filling the bath ushered  a feeling of tranquility. The luxury of the marble ensconced room with its double sinks, his and hers, were so welcoming.  Even better was the feel of the cool, crisp sheets and soft plumped pillows. But even better then those two relaxing and rejuvenating experiences was the sight and sound of in-room dining delivering a wonderfully prepared American style breakfast.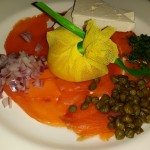 It was only 7:00 am and we were very hungry. Something about the fresh white European linens, imported jams, homemade assortment of breads and the spectacular croissants made by a very famous pastry chef, served warm and oozing with a buttery, light and flaky crust… the kind of croissant Julia Child would rave about and call authentically French! Yes!
It's my favorite pleasure in life… in-room dining… but then I read about something very unique. The Plaza Athenee boasts a fabulous, authentic, Chinese breakfast. I didn't want to miss that experience so I immediately booked our reservation in the restaurant for the following morning.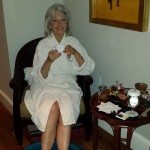 You don't want to miss this experience either! Step into a private oasis. Your own changing room and steam shower. Put on a fresh white (new) terry cloth robe and soak your feet in rose petals. Drink a warm cup of herbal tea and nibble on dried apricots and cherries without nitrates…so delicious! But wait! The best part is yet to come.
The hotel's spa features four Asian themed private treatment suites sumptuously designed with natural elements offering the comfort and splendor for which the hotel has become known. To maintain an atmosphere of privacy each suite contains a dressing room, lounge chair for relaxation and a private steam shower. All of the treatment rooms offer complete spa services – including massage, facial, body wraps, reflexology, manicure, pedicure, make up application and a comprehensive spa menu. One of the treatment suites features Thai massage treatments while another offers couples massage treatments.
Spa Valmont for Plaza Athenee  is the only luxury hotel spa in New York City to exclusively carry Valmont Cosmetics skin care lines, offering guests therapies and treatments that set new standards of excellence while delivering the utmost in relaxation, revitalization and rejuvenation. Created in Switzerland in 1985, Valmont is known for its scientifically advanced skincare products, incorporating cutting-edge Swiss technological research and Glacial Spring Water into all of their luxurious products.
This retreat, the newsest member of the elite V35 program, takes you away from the hustle and bustle of Manhattan and New York City and is devoted to providing the comfort and care for which the hotel has become known.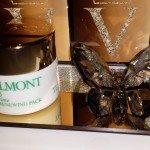 I was so very fortunate to meet Jessica Bonnetain, a Valmont Ambassador, who described every detail of the 90 minute facial. Beginning with a luxurious neck massage using the Valmont blend of oils, she explained that to get the maximum benefit you have to "plump the skin using upward motions." Circulation is key. No steaming or squeezing of pores. She added, "this dries the skin and irritates areas around the pores." With a combination of oils and serums used methodically for my type of skin (dry) I could feel the difference with each application. Also, because Valmont products do not contain fillers or parabens, your skin gets the benefit of all of the natural ingredients some of which are harbored from the sea.
I felt fantastic after my treatment! I looked in the magnified mirror and could honestly see a difference. My skin tone was even not blotchy. The usual crow feet lines around my eyes were greatly diminished and best of all, I didn't feel I needed an application of  foundation make-up.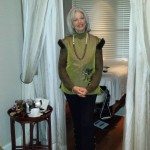 LuxEcoLiving photo credit
Dinner Out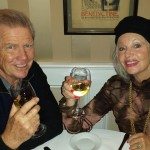 We dined at Bistro Chat Noir a local, french inspired, cafe several blocks away from the hotel. Chef Suzanne Latapie is simply sensational. Beyond your imagination. The food was so fresh and sumptuous and better yet, organic. We could hardly say no to the variety of courses they offered in their tasting menu.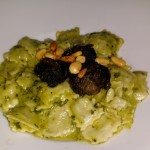 There is only one Plaza Athenee in the world that can truly live up to the tradition of caring for guests as if they were family. The service and hospitality you will experience will supersede any other stay…. so book your trip now!
LuxEcoLiving photo credit
Editor's Notes:
Hotel Paza Athenee New York
37 East 64th Street
212-734-9100