By Nancy and James Chuda founders of LuxEcoLiving and Healthy Child Healthy World
Carmel by the Sea  at The Carmel Country Inn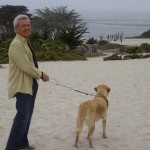 Like the candy, Carmel by the Sea is rich in taste, history and splendor. It is one of my favorite destinations along the drive up the Central Coast. The smell of the salty air mixed with other fragrances in the morning mist awakens the senses. Journey always knows best…just a few scents away from his favorite off-leash experience at Shell Beach.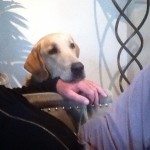 Some people say  Carmel is the most dog friendly town in America. Doris Day had a lot to do with creating that impression and we owe her a great debt of gratitude for establishing the world famous Cypress Inn …. and yes, we were hotel guests and loved every minute of our stay.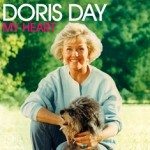 Her hospitality and good samaritan nature is so contagious that Carmel by the Sea has now turned into Doris Land. There are so many charming pet-friendly hotels but BEWARE! Not all have the charm, treats, and truly pet- friendly companion oriented luxury or hospitality that the Cypress Inn bestows on its guests.
Alas! The Carmel Country Inn is one such place and boasts without having to brag about it's wonderful location (nestled in a quiet cul de sac surrounded by a grove of trees with a quick walk to the beach) this charming one-of-a-kind cat and dog-friendly retreat offers the best treats for humans as well.
Immaculate room, spa soaking tub, quiet and so very comfortable we arrived to find Journey's dog treats, bowl and bed in their proper places. The usual welcome mat for furry friends also included freshly cut garden variety flowers for us.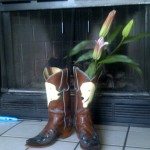 Fine Dining at Casanova is a must!
Just steps away from our cozy fireplace and complimentary glass of wine and cheese tasting is a fabulous pet-friendly restaurant that deserves a Michelin Star.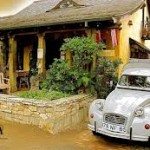 We had an outstanding, four course tasting experience paired with excellent wines thanks to the superb preparation and presentations of Executive Chef Johnny De Vivo. He is an extremely gifted young man whose passion for wild foraged and organic ingredients help to rival other restaurants for flavor, texture and most importantly, freshness and sustainability. I was very impressed with De Vivo's culinary tableau and his authentic and artistic palate. One of the best experiences we have had for Travels with Journey and the best part, Journey was by our side throughout the entire meal. WATCH!

The other three courses were delightfully served by Hannah whose culinary expertise and knowledge of the world was a fascinating addition to our meal.

Cassanova has a tremendous wine cellar. Guiliano Costagliola the Maitre d' explained that the owners treasure a beautiful table that once was the possession of artist Vincent Van Gogh. You can reserve the table and private room for service up to six persons.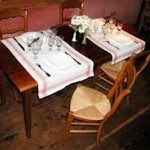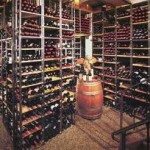 We bid a farewell to the charming Carmel Country Inn and paid a special adieu to Innkeeper Amy Johnson  sharing our memorable experiences while staying at her wonderful Inn.
Our Prius was packed to the brim leaving just enough of a view for Journey to notice a few new furry friends getting ready to check into the fabulous Carmel Country Inn.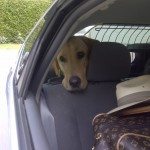 But here's someone very special who always gets a free ride!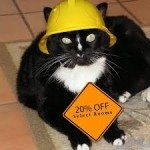 Editor's Notes:
The Carmel Country Inn ask for Amy Johnson and tell them Travels with Journey sent you
Dolores St  Carmel, CA 93923