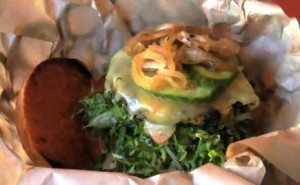 Text By: Kammie Daniels; Video By LuxEco's "On The Beat" Marcus Inglizian, Basil Vernon and Kammie Daniels
Sitting in the lively O!Burger, looking out over the bright space filled with, among others, neighborhood hipsters, middle-aged men direct from the gym, and couples in close conversation-all customers greeted by a genuinely friendly staff- Basil and I said to one another, "I like this place already."
The food, we're happy to report, is equally appealing.
From the french fries and condiments to the burgers and fresh buns, everything is organic at O!Burger, the first burger joint in Los Angeles serving exclusively 100% certified organic food.
Greeting customers from behind the counter, owner Andy Seboil's calm demeanor doesn't betray his fierce dedication to the cause of organic, locally grown food – a crusade that led him to open the West Hollywood restaurant two years ago, guaranteeing that every ingredient comes from a certified organic provider.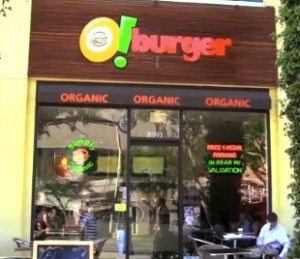 O!Burger is not a replica of any ole' burger place, nor is it meant to be. The emphasis here is on food that is fresh and, where possible, organic. Unpretentious, healthy and moderately-priced, a couple can have a delicious and healthy meal for around $20, and actually get full in the process.
The menu is simple and seasonal, while the produce is of a very high quality. They offer traditional fast food favorites like the "Classic O!burger" and the "O!dog" for around $7, while the combo including organic fries and a drink goes for around $10. If you prefer vegetarian, try the classic O!veggie burger homemade with spinach, corn, carrots and cucumber slices ($6.99), or the colorful mixed green salad (also $6.99).
This casual spot is the epitome of hip West Hollywood, with fiery orange walls, modern light fixtures, big bright windows and contemporary touches. Tables are stainless steel and napkins are paper for fast and easy eating.
Its eco-friendly atmosphere, generous portions, and flavorful menu make O!burger an ideal destination for the casual diner, as the relaxed scene invites old and new friends to re-connect over a meal they can be proud of.
This one's a keeper.