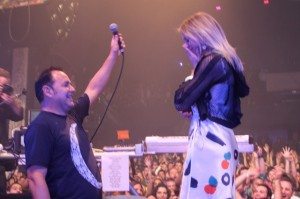 By Janine Johnson, Founder of Green Wave and LuxEco Advocate
Where do you start in telling your tale? Typically it's an introduction, and so this is my introduction. Hi, my name is Janine.  I like to write, do yoga, and dance. I love this Earth and I have a non-profit called Green Wave which I hope will help share my love to inspire others to take care of Her. My profile name on Twitter is Green Geisha as I consider myself a consort to the Earth.
I am recently engaged.  My darling fiancé, Ken Jordan, did it all right … I mean, I knew he was going to ask (we were already planning a ring) but he still managed to surprise me.  Ken proposed before the ring was complete with a mock-up ring made of silver that had no stone.  He did this against the advice of our jeweler.
Ken is in a band. The band is called The Crystal Method; they are pioneers in their field, and legends in the electronic and dance subculture.  They had not played a live show in L.A. in over 5 years. He proposed on stage before his encore, in front of a sold out crowd at Avalon in Hollywood, the Friday night before Valentine's Day of this year. He's my super star.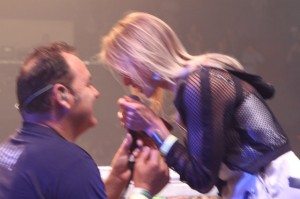 In the time we have been together, about 2 ½ years, we have made significant strides in greening our lives from ramping up our recycling, to concerted efforts in reducing waste, bringing our own items around such as tableware, water canteens to having an installation of 76 solar panels on our roof.  We have journeyed together in educating ourselves about what is going on in the world. We recognize that there is a connection between our everyday actions and the suffering we see in thee world.  We have and continue to enjoy learning together, trying to do our part, and giving back through teaching whether by example, throwing an event or working with kids. So of course, for our wedding, a day which will mark our official and chosen union, we would want to figure out a way to have a celebration that is in alignment with our eco-values.  It all fits; it's all about Love.
So our tale is about Love, as it should be. It will be my endeavor to write for LuxEco the process of our wedding.  To me that is the best way to inspire other people … educate them.  I don't just want to tell you what I chose but why.  I think we appreciate something more if we know why because I think intrinsically we all like to understand. Overall I think people are reasonable and make better decisions if they know … education, I get it know that I'm older … it's so important.
So this was my introduction.  I will write here and there about the planning process. My next entry will talk about how we arrived at our date and our venue so I won't let on now when the big day is but I can say that we are within 6 months of it.  The engagement wasn't necessarily an eco-event but there were small eco-elements to it because we have infused eco-style living into our daily lives.  Ken and I carpooled to the show together in our new Lexus Hybrid.  The ring was created by our local eco-conscious designer, Liza Shtromberg, made of 100% certified recycled platinum and a champagne diamond sourced from Austrailia (this is the ring I ended up with anyway –the proposal ring, if you remember, was just a mock-up).  Since Ken has made a personal oath to only wear sustainable brands in press and on stage, he was sporting a 7 Lightning Bolt shirt that night. 7 Lightning Bolt is an L.A. based artist collective that styles celebrities such as Ken, sources shirts from thrift stores, and creates fashion from scrap materials.  They have also started using soy inks in an ever increasing effort to be eco-friendly.  I was sporting the limited edition The Crystal Method "beerings" I had made from the bottle caps from beers and other beverages drank on the bus & green room from their 2009 live tour. In the dressing room that night before and after the celebration, we ate organic food, drank sustainable wines and organic vodka such as Ocean (thanks to Green Wave greening the catering/ entertainment rider for the band). Stay tuned for more wedding news.