By Lorri Laird, LuxEco Editorial Assistant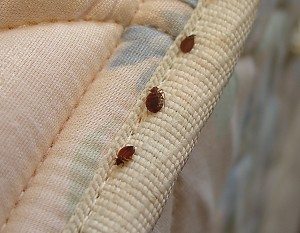 When I was a little girl, I remember my mother saying to me, "Nighty, night, don't let the bed bugs bite."  Fortunately for me, I had no idea what she was talking about, as I had never encountered a bed bug.
But that may not be the case for millions of people the world over, as more and more bed bug infestations are currently being reported.  A recent study of pest control firms conducted by the National Pest Management Association and the University of Kentucky reports that 95 percent of U.S.  companies surveyed indicated that they have encountered bed bug infestations within the past year, while just 25 percent reported encountering bed bug infestations prior to the year 2000.
"The results of the 2010 Comprehensive Global Bed Bug Study suggest that we are on the threshold of a bed bug pandemic, not just in the United States, but around the world," said Missy Henriksen, Vice President of Public Affairs for NPMA. "Because bed bugs don't discriminate between rich and poor and don't have a preference for climate or environment, public awareness, education and vigilance are key in detecting and preventing bed bug infestations."
Bed bugs, the color and size of an apple seed, are invading single-family homes, apartments, hotels, hospitals, and dorms across the U.S.  Bed bugs are also more prevalent in urban and suburban areas that are more densely populated and have people living in close proximity to one another.  According to the Centers for Disease Control (CDC),  while bed bugs do not carry disease, they are a nuisance.  Nocturnal, these little blood-suckers will come out at night to feed, and they leave itchy, red welts on their victims.
Take a look at the video from National Geographic Channel below to see what these creatures look like:
The exact cause of the growth in bed bug infestations is unknown, but experts have hypothesized that an increase in global travel, lack of public awareness regarding the pests, and changes in pest control products and methods may have contributed to the problem.  According to the Environmental Protection Agency (EPA), bed bug populations are becoming resistant to certain pesticides.
But Beyond Pesticides, a non-profit coalition against the misuse of pesticides, warns that "even pesticides registered by the EPA for bed bug use are linked to acute poisoning, cancer, hormone disruption, asthma, neurotoxicity, organ damage, and more."  According to the group, bed bugs can be effectively controlled without the use of dangerous chemical pesticides.
Here's what you can do to protect you and your family:
When traveling to hotels, inspect your room upon arrival.  Check mattress crevices (this is where bed bugs hide), sofas, chairs, and behind the headboard. If you find any bed bugs, change rooms or establishments.
Use suitcase stands in your hotel room.  Bed bugs are known hitchhikers, and keeping your suitcase off the floor may keep bed bugs from going home with you.
Check with your hotel to see if pesticides have been used to eradicate bed bugs (obtaining this information may prove difficult).
Upon arrival home, inspect all suitcases for bugs before bringing them into your home.
Prevent bed bugs from entering your home by sealing up cracks and crevices.
Eliminate clutter where bed bugs can hide in your home.
If you do find bed bugs in your home, you can use the following methods to get rid them:
Vacuum to eliminate all visible bed bugs.  Be sure to discard the vacuum bag immediately.
Wash and dry all bedding.  Use the hottest water and dryer heat settings the fabric will allow.  Bed bugs don't like heat.
Use mattress and box spring encasements.  Purchase those that have been specifically tested for bed bugs, and make sure they do not contain synthetic pesticides impregnated in the material.  (It may be hard to find an organic encasement that is certified for bed bugs, but organic cotton encasements are available.)
Steam will kill all stages of bed bugs. Many pest control companies offer this service, but customers often have to ask for it. In addition, there are cleaning companies that offer mattress steaming.  Make sure whatever company you choose is using a low-moisture steamer, as you don't want to encourage mold growth in your mattress.
Heat that is blown with a fan will eliminate bed bugs, if all areas affected reach 120 degrees Fahrenheit.  ThermaPure uses infrared heaters to heat rooms to between 120 and 140 degrees Fahrenheit to eradicate bed bugs.  You can find a service provider here.