By Nancy Chuda founder and Editor-in-Chief of LuxEcoLiving and co-founder of Healthy Child Healthy World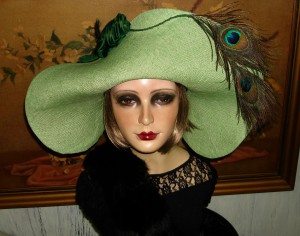 Have you ever had a center stage moment when you are the envy of every woman (and even a few men) in a room? Even if the room happens to be one of many at the spectacular and historic Hearst Castle.
Crowned in a green colored, peacock feathered, Cloche Couture hat, custom designed (in 78 hours) a one-of-a-kind by artistic millenaire Berti Borrell, my appearance not only brought raves from the lucky patrons attending the very private global screening of Citizen Kane, (first time shown at The Hearst Castle) but it, that HAT got front row viewing on CBS This Morning.
Known for her exquisite workmanship, Berti Borrell has over 12 years of design experience constructing original hats which reflect the spirit and romance of the Roaring 20's and Edwardian eras.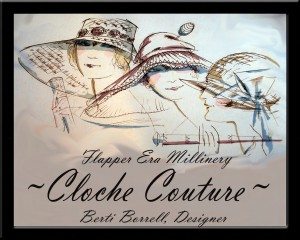 I was in a pinch! I needed a hat not quick but fast! I found Berti on Ebay under vintage hats. I searched every single jpeg under hats from what seemed like  poorly designed imitations  until I had that voila moment and found Berti's store. There it was on a mannequin. Much younger and prettier if I do say. But I had to have that hat.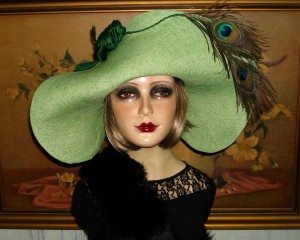 Berti went to work. She seamlessly designed my hat. And I do mean seamless. No loose threads. Every stitch is pure perfection. She knew instinctively that green was the perfect complimentary color for the vintage Patricia Lester of Wales dress I would be wearing. She also knew the really personal importance of the color green  when I shared my story of the loss of my daughter at age five to cancer.
As a cancer survivor herself, Berti knows firsthand the importance of keeping a positive outlook on life; but also to continue to feel pretty and feminine through the tough fight. The cheerful chemo hats she also designs achieve just that! Her favorite mantra, "I can't wait till tomorrow, 'cause I get prettier every day!" resonates in the smiles of the ladies who wear her hats.
Hats have always played an important role in fashion. When I was researching the fascinating history behind the making of the movie Citizen Kane for my articles on LuxEcoLiving and The Huffington Post, I found an amazing connection between Marion Davies and her green hat. It just might have been the one William Randolph Hearst gave her as a gesture of his love. What do you think?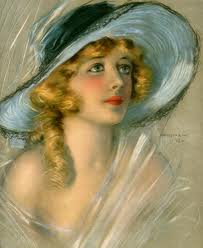 Berti's fabulous hats have been featured in several magazines, including Harper's Bazaar.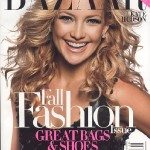 Her work also is a favorite topic among bloggers and 1920's enthusiasts worldwide.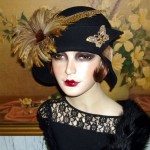 Throughout her career, Berti's favorite "hat" by far is that of being mother to two perfect sons and supplying loads of handmade hats to her little granddaughter and grandson.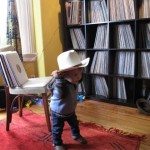 Editor's Notes:
To quote my friend Berti Borrell, "don't leave home without your hat!
The Green Hat to Envy will be donated to Healthy Child Healthy World as a gift in celebration of Colette and the charities twentieth anniversary.