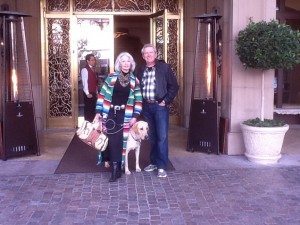 By Nancy Chuda and James Chuda founders of LuxEcoLiving and co-founders of Healthy Child Healthy World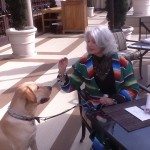 Experience ultimate green luxury, fine dining, the spa and forget the kennel fee.. treat you and your pet to the very best… Montage
 When you think of a five star hotel in the heart of Beverly Hills you would never expect they also offer first class canine accommodations and treats!
OMG! We walked into the lobby to register and JOURNEY was greeted by Justin Cua the Guest Relations Manager. After a few south paws (his way of shaking hands) she escorted him…. and us to our classic Suite. The white imported linens on the king sized bed with attached duvet caught my eye the minute we entered the room. Thank goodness Journey didn't eyeball the head rest thinking it was a toy.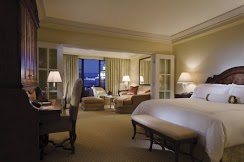 He found the complimentary spa wardrobes which included two sets of slippers. By the time the bellman left the room there was only one wearable pair.

Green becomes Gold
With a focus and commitment to caring for the planet, guests are treated to every eco-friendly practice imaginable making the Montage a leader having earned the LEED (Leadership in Energy and Environmental Design) Gold Certification under the U.S. Green Building Council's New Construction rating system.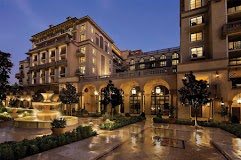 Montage Beverly Hills was the first Southern California luxury resort to earn this certification, and at the time this honor was received, was one of just 18 Gold-certified hotels worldwide.
The very best in sustainable building materials has created a model for efficiency but tantamount to that guests can reside in a healthier atmosphere. They employ a Green Housekeeping Program which includes safer cleaning products.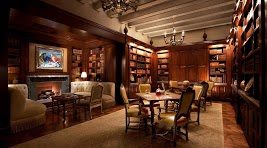 The interior spaces are elegantly attired as well as being eco-friendly; low-VOC paints, sealants and adhesives combined with efficient lighting systems and specific seasonal temperature and humidity controls.  As none of these materials are harmful, personal comfort is matched with a true feeling of well-being.
Dogs have a highly acute sense of smell. Journey felt quite at home and relaxed in this beautiful atmosphere.
Room Service Please
We had an exquisite four course tasting menu perfectly paired with wines. Journey slept through courses one and two and I think I lost Jim by course four.
Scarpetta has garnered glowing reviews, including a selection as one of the "Best New Restaurants in America" by Esquire magazine and a nomination for "Best New Restaurant from the James Beard Foundation."
Chef Scott Conant is a masterful chef. A graduate of The Culinary Institute of America, it truly was an honor to taste samples from his Mediterranean-inspired menu. It was an INVogue experience to be served a romantic dinner from  his tasting menu, with one of the most enchanting sunset views from the privacy of our own terrace.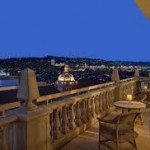 Go Get Groomed
Can you imagine! Journey was treated to his own special treatments. The SoCal Grooming Mobile pulled up and we headed for Spa Montage.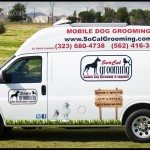 Seriously, one of the best facials I have ever had!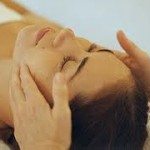 The Montage is known for it's excellent service. As a resident hotel, guests experience the feeling of a well-lived, beautifully assisted lifestyle.
There isn't anything that you can't have. For wellness and longevity the beautiful SPA Montage awaits with its organically infused amenities.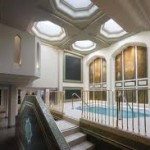 The esthetician provided a deep exfoilation as part of their signature spa facial. It was a wonderful experience learning all about the natural products used. No chemicals or parabens. The facial was a generous 90 minutes. The gentle chemistry of these natural products really make a difference. And the inspiring education I received from Heather Schuman  introduced me to Eminence and Isun, the two skin care companies she highly recommends. She has a midas touch. Ask for her and experience the customized facial. You will love it!
Step outside the Montage and you enter a spectacular water garden, a natural promenade with great restaurants and luxurious shopping literally a block away.
Our last evening we felt totally relaxed, pampered, well-fed, and yes, even well groomed. We ordered a light dinner in our room and waited to watch a final episode of Dallas. There was only one lingering question yet to be answered.  Who is the "real Rebecca Sutter?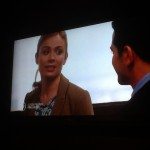 Editor's Notes:
How to book:
Montage Beverly Hills (310) 860-4840
What to wear:
Sarape Girl by Christine Dunwell Designs, www.sarapegirlstore.com is a must!
What to bring:
Journey loves his Elk Horn Bone, Adopt Me scarf, and his new Everlasting Treat FIREPLUG compliments Todd R. Warner at Tailwaggerspets.com
A very special thank you to Allison Gray Public Relations Manager Montage Beverly Hills for welcoming Journey.