By Kerin Van Hoosear, LuxEco Editorial Assistant and author of Season Cooking with Kerin
In a country where childhood obesity rates have more than tripled in the last thirty years, it is refreshing to see teachers like Mark Wagner combat that statistical nightmare. As head of the Organic Garden Club at Palmquist Elementary School in Oceanside, Calif., he's getting kids excited about gardening and eating right. "I really wanted to promote nutrition awareness. That was my main goal," Wagner says.  When he arrived at Palmquist four years ago, the school garden was a fenced-in patch of waist-high weeds. Now it's filled with ground crops and fruit trees that the students are not just excited to grow, but to eat as well.

Harvest from the garden provides snacks for the pint-sized gardeners, as well as a lucrative lunchtime business. Fruit is sold during the lunch hour, for about 25 cents apiece. Kids all over the school know where Mr. Wagner's room is and know that he's got what they want: tangerines, apples, figs, fruit! The Garden Club has done so well that they've been asked not to set up on Ice Cream Day because the fruit is more popular than the ice cream! I was shocked at how much these kids loved fruit. They went gaga over figs, and were thrilled that Mr. Wagner had brought pomegranates from his tree at home. When I was their age, I don't think I even knew what a fig was, or a pomegranate for that matter. In addition to selling at lunch, they also sell their bounty after school and twice a year at the Oceanside Sunset Market.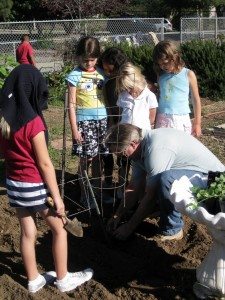 To keep the garden growing, they try to plant two to three new fruit trees every year. They are the garden's top producers and bring in the most money – their fig tree alone producing around 500 figs this year – which gets put right back into the garden as soil, tools and new seed. In true progressive fashion, they are also trying out some new techniques in their garden. One thing in particular that I was extremely impressed by was their aquaponics setup. They have a large tank filled with goldfish, whose water is pumped (powered by a solar panel) and distributed to strawberry plants in the greenhouse that absorb the nutrients produced by the fish. Then, after the plants have absorbed all the nutrients, the water goes back into the fish tank. They're still tinkering with it, but nonetheless it's an impressive system. In third grade, I grew a pinto bean in a plastic bag; this is way cooler!

They are also experimenting with using plastic to stifle the weeds. And they hope to get some raised beds so that they don't have to worry about gophers. Another cool project they're working on is a butterfly enclosure.

In a time when the education budget is being whittled down to nothing, it's surprising that this club has accomplished so much. But even though there isn't much money in the budget at Palmquist Elementary School, there is still money out there to be had in the form of fundraising and grants. And in the case at Palmquist, some amazing parent volunteers. It was parent volunteers that built their booth for the Sunset Market and set up the aquaponics system. Not to mention, they look in on the garden during school breaks, and in general help with the week-to-week tasks. It's a really solid team over at Palmquist.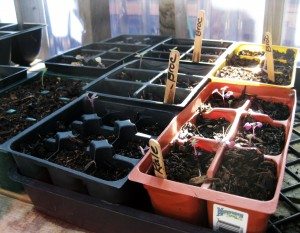 When I asked Mr. Wagner what advice he would give to other schools who wanted to start a garden of their own, he broke it down for me. You're going to need:
1.       A source of water (rain barrels, aquaponics, a spigot nearby)
2.       Money (grants, fundraising, etc.)
3.       A  sunny spot, in a fenced-in area
4.       Tools
5.       Volunteers!

He also recommends buying some fruit trees to start, at least the 15 gallon trees, because they will be the bread and butter of the garden. They produce fast and have high yields. Also, check out local businesses and inquire about them donating tools, soil, plants, etc. And if at all possible, plant in raised be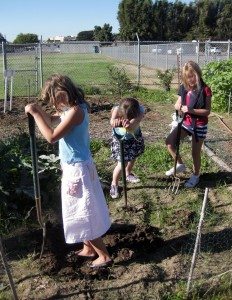 ds. Raised beds help with water and pest control, deterring the gophers that will inevitably chew away at your plants.

So if you're looking to get a garden started at your school or your child's school, talk to parents and teachers and coordinate with them about how to get the ball rolling. Discuss fundraising and location, and get the kids involved. It will be an exciting opportunity for everyone, and will help inspire good health and nutrition in not only your school, but your community as well.

Now, the kids are planting sugar snap peas and have some other seedlings starting out in the greenhouse. They've also requested that they plant a pomegranate tree. As one little girl put it as she was working the dirt, "we're like cows… no, we're like farmers."
[imagebrowser id=23]