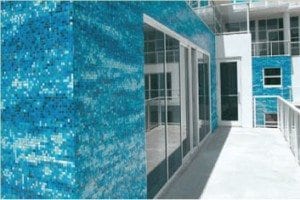 Green interiors are now innovative, elegant and easily available in every pricing category.  epOxyGreen, a 5,000-square foot showroom featuring sustainable flooring, carpeting, recycled decorative splashes, tiles, paints, plasters, countertop and cabinets, sinks, decorative panels and plys, window finishes, wallpapers and textiles, offers designers and customers an array of options for creating a healthy and earth-friendly living and work space.
All materials are produced from recycled goods, manufactured in ways that create a low or no impact on the environment, use fibers that are organically grown and delight aesthetic senses.
epOxyGreen founders, Sasha King and Deborah Guyer Greene, confront the false notion that Green is expensive and inaccessible to those on a budget.  With their innovative tiered pricing system, the entire product line is offered in one of three-categories: eco-everyday, eco-elevate, eco-elegant. From traditional to modern, customers can explore any design form and function with vast options and price point, mixing and matching levels to achieve a perfect result suited to their needs.
With 125 manufacturers represented,  epOxyGreen is focused on creating an economy of scale by providing a one-stop-shop for meeting quality and competitive pricing for green design and construction requirements.
Much of their extensive catalog is available online such as:
epOxyGreen has inspired and participated in the greening homes on CBS's "Eco-Zone Project", Discovery's "Green That House", Sundance's "Big Ideas for a Small Planet", HDTV's "Ask the Designer", and Sundance's "The Lazy Environmentalist."epOxy was voted one of LA's Top Businesses of 2007 by FoxLA and  LA's Best Green Businesses by Greenopia.
epOxyGreen is located at 2434 Lincoln Boulevard in Venice Beach CA. 310-578-2123