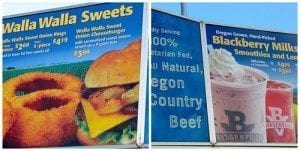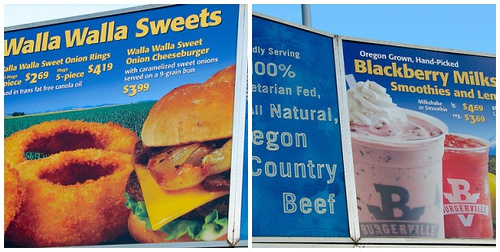 By
Jessica Borges
, LuxEco Editorial Assistant
As victims of busy schedules, we are easily seduced by the drive-thru lines of fast food traps that promise quick service for low cost and oftentimes, low-quality food. We've seen their brightly colored signs along freeways, tempting our growling stomachs, but why should we have to sacrifice quality and health in the interest of saving time and money? Many fast food chains have caught on and are modifying their business initiatives to promote healthier and more eco-friendly practices.
Well-known brands such as McDonald's, Chipotle and Carl's Jr. are among many who are joining this fast food revolution. Not only are businesses looking to bring eco-friendly items to their menus, they're also taking interest in recycling paper products, using energy-efficient appliances, and finding creative ways to cut down on waste.
In an effort to reduce pollution and excessive waste that fast food chains are notorious for, McDonald's and Wendy's recently began using products made from processed chlorine-free paper. Popular west coast burger joint Carl's Jr. has installed solar reflective roofing and LED lights in the parking lot of one of its locations, and even Starbucks is offering coffee cups made of recycled materials.
You can also feel good about your burrito purchase when you walk out of Chipotle, knowing they serve meats that were raised humanely without antibiotics or hormones. 100 percent of the pork, 80 percent of the chicken and 50 percent of the beef is raised naturally.
So if you must opt for beefy burgers or supersized meals, it's nice to know you have healthier, more eco-friendly options. For so long we've enabled these fast food giants to wreak havoc on our bodies and the planet, but these positive changes are proving we can begin to enjoy the guilty pleasures of fast food without so much guilt.
Some businesses are even making the ease of fast food even more convenient by bringing the meals to us. The Green Truck carts around local, organic, sustainably raised or vegan food in a truck that runs on a recycled form of something we all have in our kitchens…vegetable oil! The Green Truck cruises the Los Angeles area, offering customers Caribbean-style tacos with fresh pineapple salsa and mouth-watering vegan burgers. Angelinos can track down the truck by following its location status updates on Twitter (@green_truck) or on The Green Truck website.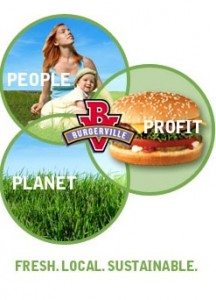 If vegan burgers don't tantalize your taste buds, you can head to Burgerville, where all 39 locations in the Northwest offer an array of locally grown menu options. The chain prides itself on local produce, particularly known for its fresh berry milkshakes. Craving onion rings? You'll have to get your fix during the select few months when Walla Walla onions are in season. To top it all off, their beef also hails from local growers with sustainable agriculture.
In today's eco-conscious world, fast food corporations are under public pressure to make environmentally sound changes. With product labels that cry "eco-friendly," skeptical customers fear marketing cases of "greenwashing." Customers may be swayed by green advertisements, but it raises concern that perhaps these businesses could be using those advertising dollars towards environmentally sound practices rather than more promotional items.
Whether or not these restaurants are touting green gimmicks to get customers to feel good about their purchases, it seems to be a better option than the fast food franchises doing nothing at all. With an increasingly eco-conscious community, perhaps we can hope for further advances towards a greener way to get food on the go.
From McDonald's to Stephanies: Fast Food Gone Healthy
Learn how two former McDonald's executives are changing their traditional greasy fast food ways to create a healthy, eco-friendly fast food chain.