By Nancy Chuda founder and Editor-in-Chief of LuxEcoLiving and co-founder of Healthy Child Healthy World
"If you aren't living on the edge, you're taking up too much space."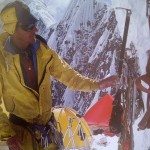 Next year marks the 5oth anniversary of the first American to summit Mt. Everest. Jim Whittaker is a true hero.
In 1963 he braved the treacherous climb surpassing other attempts, many well known and documented due to fatalities along the sheer face and cliffs that claimed lives.
But the personal path to this physical triumph began in his youth when Jim and his twin brother Louie became pioneers in the sport. Not just the sport but guides and eventually life savers.
To reach the summit of Mount Everest at 29,028 feet, surrounded by "the mightiest walls on earth," with obstacles, huge transverse crevasses in the center of glaciers that had to be bridged in order to climb,  depleting oxygen, and unexpected avalanches that would erupt and carry tons of snow and ice,  took nerves of steel.
History weaves a tapestry and in it's threads are the beating hearts of  heroes. Jim reminisces from his book, A Life on the Edge, "on July 8 our entire Everest team, including five Sherpa, stood in the sun in the Rose Garden of the White House, President John F. Kennedy presented each of us with the Hubbard Medal of the National Geographic Society."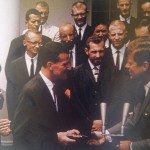 Kennedy responded with his remarks, " I am most pleased to learn of the success of the American Expedition on Mount Everest. These American climbers, pushing human endurance and experience to their farthest frontiers, join the distinguished group of Swiss and British mountaineers who have performed this feat. I know that all Americans will join me in saluting our gallant countrymen."
Words of praise did not stop the pure unrivaled motivation of the man.
Today, at 83, Jim Whittaker is back on Everest with  his beloved wife, Dianne, who is documenting his every step.
To climb  the peaks of the  "Mountain Gods" with memories of crampons flat on the surface and all points secured, with ground blizzard freezing conditions, like The Old Man and the Sea in Hemingway's novel, Whittaker treks on knowing that the real summit is the will from within.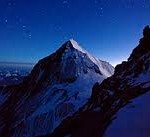 Editor's Notes:
Next week, Jim and Dianne Whittaker will share their personal reflections of their recent trip to Nepal and beyond when they visit our ranch along with longtime friend Gail Cottman.  Watch for my next article, Part 2, Fire and Ice.