Introduction by Nancy Chuda Founder and Editor in Chief of LuxEco Living and co-founder of Healthy Child Healthy World
We are honored to introduce Wendy Ross Kaplan as a contributor. Her knowledge concerning the impact of good nutrition on human health offers our readers great insight into the daily choices they make. Without knowing the true value of  foods they are consuming, as so many additives are used in combination with every choice we make, it is vitally important to understand the benefits of certain ingredients and the drawbacks to those that may make you sick. Gluten is in just about everything. Well,  everything most people enjoy and even some things people crave.
A Gluten-Free Choice for Celiac Disease Prevention and Healthy Living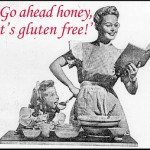 By Wendy Ross Kaplan,  LuxEcoLiving Advocate
The term "gluten-free" is becoming more mainstream these days, when a trip to the grocery store can be rewarded with more healthy choices for shoppers. But before the 1960's, only nutritionists and a handful of health nuts knew what gluten free meant.  Nowadays, "gluten-free" has almost a cult following of otherwise regular folks seeking better health benefits and those suffering from diagnosed celiac disease, its varying manifestations and debilitating effects.
In our country, celiac disease is on the rise.  In the last fifty years, disease rates have skyrocketed by 400 percent.  That astronomical number applies to those diagnosed with the condition.  There may be many more undiagnosed who suffer symptoms they consider to be "normal" and whose mortality could be dramatically shortened by a silent killer.

Celiac disease is an immune system reaction to gluten in the diet, which, when left untreated, the disease causes damage to the lining of the digestive tract and leaves sufferers at risk for various cancers and other associated conditions. When people with celiac disease eat wheat, barley or rye, a protein called gluten triggers an immune system attack, which damages the villi in the small intestine. Villi are finger-like folds in the intestine that increase surface area for nutrient absorption.
The symptoms of the disease are varied and can take on many characteristics, leading to misdiagnoses by physicians looking for causes based on a patient's complaints.  The childhood/adult forms of celiac disease create challenges for patients and physicians alike.  Many disorders sometimes have their root cause in or association with celiac disease.  From arthritis, autoimmune disorders, IBS, abdominal disorders, malnutrition, bone fractures, lactose intolerance, dermatitis, depression, lupus, weight loss, muscle weakness, neuropathy, anemia, other malabsorption conditions and more, celiac disease is serious and often the culprit.  See more information regarding celiac disease.
Some studies have suggested that for every person who has been diagnosed with celiac disease, there are likely 30 who have it, but are not diagnosed.  Given the nearly quadrupled mortality risk for silent celiac disease, getting more patients and health professionals to consider the possibility of celiac disease is important in order to effectively pinpoint the disease and eliminate the suffering it causes.  It is estimated that one out of every 100-133 people has celiac sprue, the autoimmune disorder that requires adherence to a gluten-free diet to manage the illness.
Findings in studies performed show the increase in the gluten content of commercial varieties of wheat now being grown compared to gluten levels of 50 years ago.  So actually, people are eating more gluten when they consume wheat products than ever before without realizing it and while using other over-the-counter products that contain gluten as binders. Toothpastes, tea bag sealers, lipsticks and licorice are among unexpected sources of gluten.  Looking online for products and foods that are gluten-free is revealing. Spending a bit of time researching those products that do NOT contain gluten is well worth a bit of time and can make cumulative health differences.
Until there is a gluten-free standard in this country, the responsibility of making informed choices to buy gluten-free foods lies with the consumer.
So, what is a person to eat?  Of course, wheat, barley and rye products should be avoided.  Foods that are not processed, that is, not made from other foods or worked on to make their shelf-life longer are good choices.  Preferably organic, whole, natural foods prepared as simply or combined artfully as possible with gluten-free ingredients give the best results and are quite delicious as well.  One need not feel deprived, particularly when eating gluten-free makes a difference in the improvement of one's health and the way one feels!  See this link for a long list of foods and ingredients that are gluten-free and safe.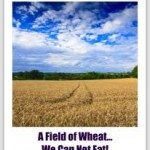 More and more cookbooks on the market cater to a gluten-free life of delicious meals.  Finding them is not the arduous task it once was and recipes abound on the internet.  Cookbooks written by celiac sufferers and chefs can remove fears about deprivation and open the door to a new world of health and happiness.  These books dispel the austerity diet myths and give "dining" a whole new meaning and for the sufferer, a new lease on life!
Shauna James Ahern's and Danny Ahern's book, Gluten-Free Girl and The Chef, 2010, is a cookbook from the celiac sufferer author's success story, written with her chef husband. As we gather around tables everywhere, good food is the catalyst for comfort, social interaction, love, and health.  It is the stuff of poetry, romance, and joy.  Making a simple switch to a gluten-free diet ensures that the beauty of life will be an enjoyable, delicious and healthy experience.