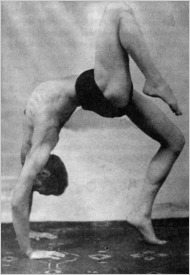 Hatha Yoga in America
By Alanna Brown, LuxEco Living Editorial Assistant
What do you know about your local history? What stories lay within the paths you walk, the walls you take shelter in, the surrounding sites and structures that decorate your immediate horizon? Have you ever wondered?
One man did. Robert Love, a resident of Nyack, NY, researched a few strange symbols etched into the walls of his neighborhood and found a thriving history—a 1920's Atlantis. Never subterranean, nor garishly adorned with precious stones and metals, this hippy version of the famed lost city was rich with other things: spiritual wellness, social controversy, and elephants. Yes, elephants; and ones with a healthier intestinal tract than most humans. The mantra of this forsaken place, named the Clarkstown Country Club by its founder, was having "physical experience as a pathway to spiritual enlightenment."
This was the dawn of hatha yoga in America.
Pierre Bernard, the unlikely pioneer from Leon, Iowa, eventually came to be known as The Great Oom. He was one of the most renowned eccentrics of the jazz age during his lifetime from 1876 to 1955. His list of accomplishments is astounding. In his 79-years, he forged the way for daily oom-ing, powerfully demonstrated the self-induced trance, founded a secret-society, was imprisoned on sexual charges, cultivated a discipleship (which happened to be mostly women from the boring ranks of high society), and led those disciples to a new place, to build them a city. Bernard's exodus created quite a stir and news reporters followed. Mr. Robert Love, who ended up writing a book about Pierre Bernard's life, described the tabloid press, "They had picked up the commingled scents of sex (yoga), society (the Vanderbilts) and scandal (the Great Oom himself) — a newsroom trifecta if there ever was one."
The Clarkstown Country Club never lacked fun, frivolous activity, or colon cleanliness—every man and animal was subject to regular enemas. But all things have their time and their end; the stock market crash of 1929 eventually took its toll on this colorful, lively place. What Bernard built began to crumble; the local little league, an accessible airport, roads and buildings, all grew vacant. However, his practice and his legacy were built to last. Looking back, we are well aware that even The Great Depression was never greater than The Great Oom. Read more about his life in the recently released book, "The Great Oom: The Improbable Birth of Hatha Yoga in America."