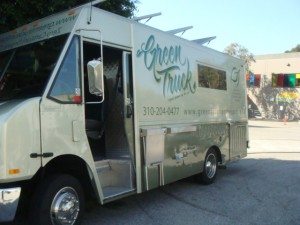 By: Linsley Oaks, LuxEco Living Editorial Assistant
Healthiest Fast Food
is now more common nowadays since people are thinking healthier everyday. Dietary restrictions and preferences have a big impact on your overall experience when dining out of the home.  Getting your dietary needs met can make or break any experience.  More and more friends and family members I know are vegetarian, vegan, lactose intolerant, gluten free, raw foodists, and more.  When you are at home with your own kitchen and your own local eateries in your own city, your dietary needs are likely to be met and met well.  Out on the road, or out in new territory, or attending a festival like Coachella, however, and your nutritional needs can me more difficult to fulfill.
Coachella is one of the biggest music festivals and gatherings of the year, and it takes a lot of food to sustain a drug and alcohol induced crowd of that magnitude for 3 days in the California desert.  This may be a place where it may be difficult to find the healthiest fast food available. Enter the food truck craze.  Luckily for the allergic, the restrictive, and the plain picky, there is a food truck catered to almost any diet.   From vegan cuisine to a large organic presence, there is something for everyone to be satisfied and full.  Working or even going to Coachella, you are on the fair grounds for a full day three days in a row- you want to make sure you keep your energy levels humming well.
On my lunch breaks, I dined on everything from grilled swordfish tacos, to vegan curry, to sweet potatoes, to grilled corn.  Beyond that, there was gourmet pizza, root beer floats,  dim sum, noodles, mexican fair, and more.  Food trucks have really raised the bar on festival food: this is not the street meet your parents warned you about.  Never before did concert goer have this much variety, this much flavor, and this much good for you food to choose from.
It just goes to show you how big of an influence consumer demand has on the market, and how many wonderful and delicious results there can be when people not only embrace the creative and healthy and sustainable aspects of their needs, but get them fulfilled.  I can say that I experienced the best healthiest fast food here than anywhere else in my life.  I am so happy that the masses have spoken, and that what they piped up for is not a mass produced mystery meat stick floating in luke warm briny water and slathered with sub-par condiments on a sickly bun; but rather something fresh, something wholesome, something truly satisfying both to the consumer and the market.  I love the food trucks of today, they enhance everything from street corners to festivals, and I hope our patronage and consumer tastes keep going along the green, local, and organic trend I have gaining momentum in my every day life.
Americans are always searching for the most healthiest fast food out there.  It is difficult to let go completely off the fast food entirely but this way of eating can be a way to merge both healthy and fast food together.  However, with the incline in the amounts of food deserts in America, it is difficult to find the healthiest fast food available.