By Nancy Chuda founder and Editor-in-Chief of LuxEcoLiving and co-founder of Healthy Child Healthy World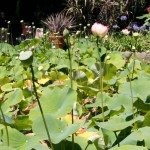 This week we are taking you on a tour of a heritage site and garden located in Santa Barbara California. Join us as we explore the magnificent floral designs and landscape architecture that has made Ganna Walska's Lotusland garden one of the most sought after "by reservation only" destinations.
Take the tour and let us know what you think?