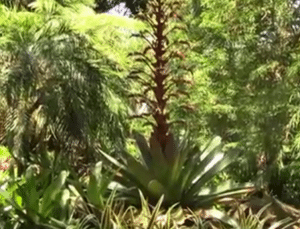 By: Molly Rovero, LuxEco Living Editorial Assistant
Follow Nancy Chuda and Gwen Stauffer as they explore Lotusland's Giants. First up is the Chilean Wine Palm – a tree that can have a diameter of five feet or more! This species is endangered due to methods of extruding sap for wine making.
They will also explore a wonderfully colorful collection of bromeliads, the largest of which is alcantarea imperialis, or king of bromeliads. This regal plant can rise to a height of almost 12 feet, towering over the average human.