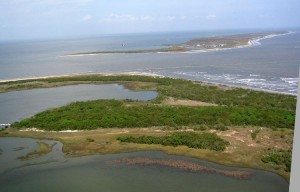 By Alanna Brown, LuxEco Editorial Assistant
The iconic Barataria Bay, a Gulf of Mexico bay located in southeastern Louisiana, is being destroyed by oil still gushing from the Deepwater Horizon blowout. The formerly thriving estuary, rich with virgin cypress trees and an array of wildlife, has been known historically—as the site of an original colony—and literarily—as depicted by Kate Chopin in "The Awakening." It is beloved by its inhabitants, who knew it, not so long ago, as some of the best fishing in the region.
In recent years the area has succumb to erosion; salt waters of the Gulf have slowly eaten away at the marsh, mangrove, mudflats, sand ridges, and cypress forest. This decline causes scientists to fear that the inundation of crude oil might be too much for the bay to survive. "There is no good estuary to spill oil in, but this estuary is particularly fragile," said Mark Schexnayder, marine biologist with the Louisiana Sea Grant program, an affiliate of Louisiana State University. Still, the waters were teaming with shrimp, crab, and trout as of early April, and they are now sick with gunky, toxic petroleum. Just two months since the oil spill and clean up teams and researchers have counted several hundred dead birds. This count is unquestionably expected to rise to thousands. "This is a battle," said Donna Hollis, an angry local resident. "Oil's our enemy right now. This is going to destroy the livelihoods of these people in south Louisiana."
This article further discusses the issue and this video, funded by Greenpeace, shows and talks more about the devastation of a once-beautiful and serene Barataria Bay.
[youtube]Qu6XFJRxd9Y[/youtube]