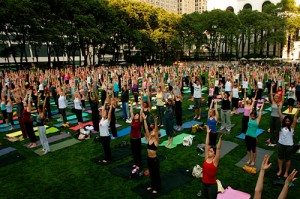 By Molly Cimikoski, Editorial Assistant
Yoga-wear gurus from the company lululemon are telling us to get ready to sweat, and saying, "Take Your Asana Outside!" This Saturday, August 7, 2010, lululemon is sponsoring Salutation Nation, an event taking place from 9:00-10:00 AM (in all time zones) across North America.
One of the things that is so nice about lululemon, is that they offer complimentary classes in every store at least once a week. Some venues even host other fitness related events, including a weekly "Run Club."
Here's a quote from their website on the idea behind Salutation Nation:
Salutation Nation is not a revolution. We are not out to change the world in one hour. If one person laughs; if two people meet for the first time; if a group of friends starts a Saturday morning bonding on their mats before breakfast, Salutation Nation will be a success. Whether you have a daily practice or have never practiced at all, everybody and every body can do yoga! What better way to celebrate this fact than to take your asana outside on August 7th and do some yoga with a few thousand people across the continent?
They claim no ownership over Salutation Nation, but simply enjoy the idea of getting people outside together, which means that even if you're not close enough to get yourself over to one of the hosting cities, you can still be a part of the event! There is a free yoga podcast being offered through iTunes, or on their website, so we strongly encourage you to join in and get that great yoga workout your body has been craving!
Where will you be practicing this Saturday?