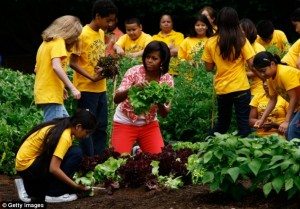 Michelle Obama and Childhood Obesity
By Bethany Colson, Managing Editor of LuxEcoLiving.com
According to the US government, One third of all children born in 2000 or later will suffer from diabetes at some point in their lives; many others will face chronic obesity-related health problems like heart disease, high blood pressure, cancer, and asthma. A recent study put the health care costs of obesity-related diseases at $147 billion per year. With rates having tripled over the last three decades and with millions effected and the percentage of obese or overweight children at or above 30% in 30 states, the childhood obesity epidemic shows no slowing in site… YET.
Enter First Lady Michelle Obama.
The Goal: Through nutrition education, healthy food alternatives, physical fitness and a coordinated effort between public, private and non-private sector, the challenge of childhood obesity will be solved within a generation so that children born today will reach adulthood at a healthy weight.
"The physical and emotional health of an entire generation and the economic health and security of our nation is at stake," said Mrs. Obama. "This isn't the kind of problem that can be solved overnight, but with everyone working together, it can be solved. So, let's move."
Mrs. Obama began this national conversation about the health of America's children when she broke ground on the White House Kitchen Garden with students from Bancroft Elementary School in Washington, DC. Using the garden as a fun and engaging tool, she began a discussion with kids about proper nutrition and the role food plays in living a healthy life. She showed them the natural beauty of growing fruits and vegetables and the garden's ability to produce tasty alternatives to processed convenience store snacks.
But now she has taken a giant leap forward, introducing the nationwide campaign, Let's Move, to confront and combat the systemic causes and habits that exacerbate the epidemic of childhood obesity. Employing a comprehensive approach that mobilizes public and private sector resources, Let's Move will engage every sector impacting children's health to achieve the national goal of motivating kids be more active, eat better, and get healthy.
Leaders in government, medicine and science, business, education, athletics, community organizations will be invited to participate in the Let's Move collaboration. Importantly, the Let's Move campaign is designed to be practical and responsive to how life is really lived in communities across the country – encouraging, supporting and pursuing solutions that are tailored to children and families facing a wide range of challenges and life circumstances.
Let's Move was kicked off by President Barack Obama signing a Presidential Memorandum creating the first ever Task Force on Childhood Obesity which will include the DPC, Office of the First Lady, Interior, USDA, HHS, Education, NEC and other agencies. Within 90 days, the Task Force will conduct a review of every single program and policy relating to child nutrition and physical activity and develop a national action plan that maximizes federal resources and sets concrete benchmarks toward the First Lady's national goal.  Michelle Obama is taking childhood obesity serious and a better future is hoped for America's youth.
[nggallery id=10]