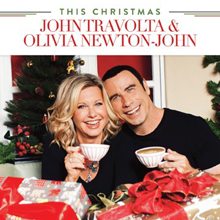 I'm dreaming of a green as in sustainable Christmas where  every major celebrity in the world gives instead of receives. I'm not talking accolades or remunerations for services. I'm speaking about sweet charity.
Most have their favorite causes and give. Some big time. Others fringe thanks to mega public relations strategies who position clients to look like they are  givers or charitable. And a few have been caught with more then philanthropic intentions.
If
Allan Carr were alive
, producer of the all time box office hit movie
Grease,
he would have had a few congratulatory words for Newton-John and Travolta having learned about their latest venture; to reunite after 35 years, produce an album and donate all their proceeds to charity.
Why not?
This Christmas,
their new album
,
is a brilliant concept for giving.  There isn't a human being alive who won't want to buy it because their investment for entertainment is supporting two of the most important charitable missions. Newton-John, a breast cancer survivor, and f
ounding member of Healthy Child Healthy World
, one of the most respected children's charities in America, set her goals to donate all of her proceeds to support her own hospital, The
Olivia Newton-John Cancer and Wellness Center
which is based in Melbourne, Australia. John Travolta, having lost his son to complications resulting from a seizure, has established the
Jett Travolta Foundation
, which works to combat children's disabilities including Autism.
The pure magic of this divine combination of talent is not just what the album offers but the sense of hope and inspiration that will directly affect countless women who are stricken with breast cancer and thousands of children who suffer from a wide range of disabilities.
The album also provides tracks from featured artists Barbra Streisand,
Tony Bennett
and Kenny G.
Always shooting for the sky, (he spends a great deal of time in his private air planes) Travolta got the idea to record the album "after receiving a  text from his dear friend Olivia noting that their 1978 smash, 'You're the One That I Want,' had just become the best-selling duet in pop music history."
Not bad for a couple of celebs whose iconic images still remain two of the most notable in the history of cinema.
Albeit Judy Garland and her Toto may prove to be competition in the long run. Or Julie Andrews in Sound of Music…which was greener than green and influenced millions before the word green found new meaning.
Speaking of sound, This Christmas is a winner for any season. The track list features classic holiday tunes and one original song, "I Think You Might Like It." That new tune was written by John Farrar, who penned the "Grease" hits "You're the One That I Want" and "Hopelessly Devoted to You."
"We all felt a wonderful, joyful energy while recording this album," Newton-John said in a statement. "We want to make a lot of people smile and happy. It's a project that we're hoping turns into a perennial, one that can continue to raise money for these causes year after year, a gift that keeps on giving."
This Christmas is due out Nov. 13. Check out the track list below:
1. Baby It's Cold Outside
2. Rockin' Around the Christmas Tree (featuring Kenny G)
3. I'll Be Home for Christmas (featuring Barbra Streisand)
4. This Christmas (featuring Chick Corea)
5. Silent Night
6. The Christmas Waltz
7. Have Yourself a Merry Little Christmas (featuring Cliff Richard)
8. Winter Wonderland (featuring Tony Bennett and The Count Basie Orchestra)
9. White Christmas
10. I Think You Might Like It
11. The Christmas Song
12. Deck the Halls (featuring James Taylor)
13. Auld Lang Syne/Christmas Time Is Here (Medley)
Get those chestnuts early, start stoking those embers because Santa is getting ready to burn millions of CD's and he wants to know you care.
No doubt! This Christmas everyone knows John and Olivia are the ones that we want.