Researchers Call For Better Awareness of Male Breast Cancer
By Lorri Ballance Laird, LuxEcoLiving Advocate
Male breast cancer is on the rise, according to researchers at the University of Leeds, yet awareness of the disease is low and most men are not aware they are at risk.
The study, funded by Breast Cancer Campaign and Yorkshire Cancer Research, University of Leeds, reviewed male breast cancer cases in four Western countries: England, Scotland, Canada and Australia. According to the researchers, the incidence of male breast cancer in England rose over a 20 year period, from 185 cases in 1986 to 277 cases in 2006.
According to the American Cancer Society, approximately 2,000 men in the United States will develop breast cancer in 2011 and about 450 men will die from it. In 2001, it was estimated that approximately 1500 men in the U.S. would develop breast cancer and that 400 would die from the disease.

Most of the risk factors for breast cancer in women are also seen in men. For women, a lifetime of exposure to estrogen and other female reproductive hormones increases their risk of developing breast cancer. Hormonal changes, especially estrogen changes, also raise the risk for men.  According to Dr. Barbour S. Warren, Ph.D. and Dr. Carol Devine Ph.D. of the Program on Breast Cancer and Environmental Risk Factors at Cornell University, a variety of body conditions, such as obesity, benign breast disease, diseases of the testes and liver, and a disease called Kleinfelter's syndrome, can increase estrogen exposure or have effects similar to increased estrogen exposure.
Pinpointing the exact causes for the rise of the disease in men is difficult, according to Dr. Valerie Speirs, who led the University of Leeds study.  "Lifestyle changes over the latter decades of the 20th century leading to increased obesity, physical inactivity and development of a binge drinking culture may be contributing factors.  Some of the inherited genetic changes that increase the risk of women developing breast cancer are also thought to influence risk in men," she said.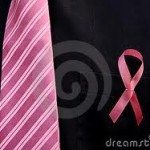 In addition, the Cornell program also reported that some occupations may have higher rates of male breast cancer.  These include machinery repairers, steel manufacturing workers, motor vehicle manufacturing workers, and jobs involving exposure to gasoline and vehicle combustion products. According to the Cornell program, there have also been a number of studies that have reported higher risk for men exposed to electromagnetic fields during work as electricians, telephone linemen, and electric power and radio communications workers.
"Many men are unaware they can be affected by breast cancer, but this work has highlighted that the number of cases is gradually increasing.  It must be stressed that the numbers are still extremely small—150 times less than in women, so we are certainly not talking about an epidemic," Dr. Speirs said. "However, better awareness is needed."