Sweet Charity for a Mom with a Mission: Health Child Healthy World Arms Parents with Information about Environmental and Chemical Pollutants
By Nancy Chuda Founder and Editor in Chief of LuxEcoLiving and co-founder of Healthy Child Healthy World
Last year First Lady Michelle Obama selected Healthy Child Healthy World as one of her favorite causes. There is no greater gift than powerful words of our First Lady. On behalf of our organization, Mrs. Obama, we want to thank you for your leadership and support. You are helping us save children's  lives by amplifying the importance of the work we do, everyday, in our homes, schools and communities: Protecting children's health from environmental and chemical pollutants.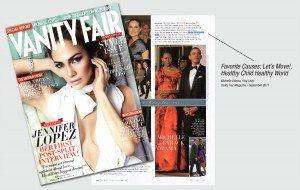 It's not an easy time. It's never easy when it comes to  decisions about money.  But when your  children's health matters most  the  choices you make today will make a difference in their health and well-being  tomorrow.
Today's moms are vigilant shoppers. They come prepared and use their dollars wisely thanks to the cornucopia of information provided by Healthy Child Healthy World (HCHW).
Twenty years ago, my husband and I founded HCHW in memory of our only child, Colette, who died of a rare form of cancer at age five.  We are proud of this legacy  knowing that every child will have the protections they deserve. No child will be left behind because every parent has the tools for prevention.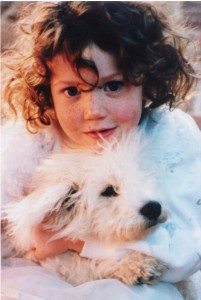 Today's environment is a toxic soup. Children are bombarded by a mixture  and multitude of cumulative chemicals, many of which  have never been tested for their toxicity. Like  a lottery, a single impact in the womb environment can create havoc with the development of a fetus. Parents today need to arm themselves with knowledge. It is  their only defense against an environment that places no priority or protection for those who are most vulnerable: Children.
I am very proud of the achievements HCHW has attained. For nearly two decades we have been leading the surge for greater protections for children's health. Our founding members, Dr.'s Philip Landrigan and Harvey Karp, both pediatricians and authors are two of the world's most trusted resources when it comes to environmental protection and early child development. Science has laid the groundwork for  precautionary principle's when it comes to laws in need of reform but parent's are the impetus for a growing groundswell that eventually creates change.
In times of uncertainty,  as we face an economic downturn that places greater restrictions on spending, one can be assured in the age of social media  that smart people are making the right choices when it comes to real wealth. Your health.
In 1986, giving birth to my daughter Colette  was  the most exciting and fulfilling experience of my life. Watching her grow and yearning to see yet another milestone was her gift. She was a totally healthy child until the age of four when we discovered a cantaloupe sized tumor growing in her abdomen. This was the beginning of what we later learned to be a preventable form of childhood cancer. Wilm's tumor. Colette was diagnosed with a rare  non-hereditary form of the disease.
Colette might have survived her cancer if I had the information Healthy Child shares today. Million's of parents wake-up to a myriad of concerns not knowing that the culprit which trigger's many childhood illnesses are contained in volatile gasses which are emitted from everyday products that are bought and brought into our homes. Genetics plays a major part in predisposing our children to chemicals that can cause cancer but scientists have confirmed the the environment pulls the trigger.
Throughout my six year tenure as an Advisory Council Member of the National Institute of Environmental Health  Science we were able to establish funding for many  children environmental health and research  centers. Dedicated researchers include  Healthy Child's  most notable Advisory Board Members.
But our story is only one of millions. Sadly, every year alarming statics reveal that more children are being diagnosed with cancer, autism, asthma, and learning disabilities which may have been prevented.
In my memoir,  For Colette: The Flower That Shattered The Stone, I write,
"The powerful intuition of a mother is strong. It can outweigh any rule of law, distill a diagnosis down to the core of truth, uncover the charlatan who is dumping hundreds of pounds of toxic chemicals, and in the process make the connection to their child's health.  This feel, this intuitive knowing is no different than the electrical charge a mother feels when conception takes place.  It is the umbilical cord that connects each of us.  We fire not from the hip but from our hearts."
Please join Healthy Child Healthy World as we celebrate our 20th anniversary dedicated to preserving the health of our children and the stewards who make it a priority and their favorite cause.
We are proud to celebrate two of our founding Honorary Board Members, Olivia Newton-John and Dr. Harvey Karp, both made news this week.