By Nancy Chuda founder and Editor-in-Chief of LuxEcoLiving and co-founder of Healthy Child Healthy World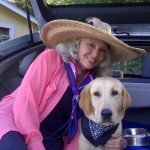 Travels without Journey…well sort of…
We traveled to this beautiful haven along the Central Coast nestled near the historic town of Avila beach. We were told that the hotel was
not

"officially registered as a dog friendly resort," but that "the owners were strongly considering making room for pets."  Say yes please!

Needless to say, have Prius will travel. The boot of our car is as comfy as Journey's crate at home. He loves his little chew toys no matter where he is. It made sense to save the kennel fees and take him with us.

We checked in late afternoon. Before we even went to our room, a short walk across the bridge which overlooks a beautiful meandering creek, we took Journey on a lovely hiking trail with views of the Pacific ocean.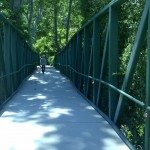 The property is bountiful. It stretches over 100 acres and is nestled in a sacred place that is part of our American heritage. The wild days of the Old West and how it was won. The Gold Rush brought wealth and many pleasures but the real liquid gold, dating back to the Spanish- and Mexican era, early American California, was the discovery of healing

waters.
Pure white-hot-sulphur mineral water has been a curative for many ills throughout  centuries and what makes Sycamore Mineral  Springs so special is the waters have not changed. Today more people suffer from degenerative issues; arthritis, bursitis, and auto immune deficiencies as well as stress related physical problems. And as a result, more are turning to holistic practitioners whose methodologies provide relief.
But the experience of sitting in pure white- hot sulphur mineral water provides instant relief to whatever ails you. Not just the experience but the location as well.

Sycamore Mineral Springs Resort has a legendary history
In 1886 two weathered prospectors started drilling for "liquid gold." To their surprise they didn't find oil, but white-hot sulphur mineral water. Because of the water's curative effects, the proprietors established a popular spa and mineral springs resort on the present location.
In the early part of the 20th century, the Pacific Coast Railway – which stopped right across the street – brought travelers from Los Angeles and San Francisco on its stunning coastal route to this increasingly popular outpost on the Central Coast. A few years later in the 1930s, the word was out and many Hollywood celebrities started sojourning at the resort on their trips to Hearst Castle.
Today, it remains as one of our countries original destinations for healing and rejuvenation and its legacy remains as an authentic and historic California mineral springs resort.
Healing waters are only part of the experience which encompasses the ability for a total renewal of mind, body and spirit.
Our room was very tranquil, comfortable and cool. Our hot summer days on the Central Coast can be somewhat oppressive. Set in the oaks and surrounded by the sound of birds and other wildlife  we just did what we needed to do. Drop out!

Not for long. There was too much to do and experience. Our first foot path led us to the resort's private garden. What a beautiful sight!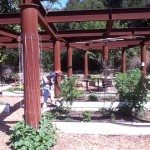 Not only does the garden provide fresh organic vegetables, herbs and fruits for Sycamore Mineral  Springs but also Sea Venture, The Cliffs Resort and several other LuxEcoLiving4U destinations.
My dream has always been to create and maintain a raised bed herb garden. At our Green Home I always managed but I was limited in terms of space.
Our first evening we dined in the lovely restaurant while Journey slept safe and sound in the boot. He had plenty of water, we removed his collar and we placed our doggie monitor device (baby monitor for the nursery) in the back seat. He didn't move or squirm one inch.

Although a bit pricey, I thought the presentation was lovely and the quality of the food excellent, but the size of the portions were very small.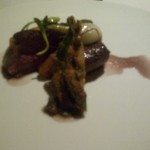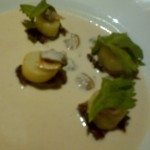 However, breakfast has always been my favorite meal. The Gardens of Avila serve two of my favorites. Stone ground steel-cut oatmeal with fresh organic berries. And Jim's favorite, Eggs Benedict.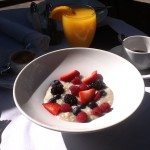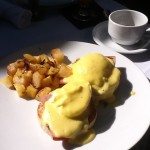 One of the highlights of the resort is the integrative approach of hands on therapy both facials and massage at the Spa. I was extremely impressed with the products used for both.
The facial was one of the best I have ever had! Katelyn Glasmeier is a superb esthetician.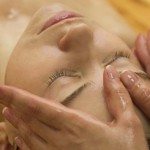 She used a Malibu based line called OSEA for the Deep Sea Custom Facial which began with a cleansing of the skin with a mixture of the the Ocean Cleanser and Ocean Cleansing Milk. She then mixed the Ocean Cleansing Milk with the Black Algae Mask as an exfoliant. A few extractions were necessary but compared to her other clients I was delighted to learn that my skin was in great condition. I loved the Essential Hydration Oil mixed with the Atmosphere Protection Cream for the facial massage. She then applied the Sea Oxygen Base mixed with the Detox Serum and layered it with their White Algae Mask. Katelyn worked her hands using an upward motion but the gentle intensity of her fingers was welcomed and appreciated. I hadn't had a facial in over three years so I really felt I deserved the best.  She finished with OSEA's Eyes and Lips Cream, Essential Hydration Oil, Anti Aging Lift Serum and Avanced Protection Cream.
Quite frankly, I had never been exposed to so many products and we spent some of our time talking about a master facialist named Raya who hailed from Kiev and only used organic ingredients. Some if her tips which we both agreed were very useful was the application of egg yolks to firm the face and diminish fine lines around the eyes. Egg whites I learned were very drying on the skin. I also told Katelyn that Raya always suggested the use of pure buttermilk as a mask and also Greek yogurt. For me, the facial was so relaxing and rejuvenating. Katelyn really has a midas touch.
The full body massage (ask for Bob) followed by a private soak in the hot mineral springs was really exquisite. Bob is a master maseuse  who trained at Esalen in Big Sur. His integrative approach  combines deep tissue relaxation along with the removal of stress stored in muscles and tendons. In my opinion, the key to receiving a great massage is just to relax. Not always easy when your neck is tied up in knots. As a writer I am prone to bad posture. Bob gave me some great tips which I have already used.
I strongly believe in the power of human touch. Sadly, we are prone to avoid tactile experiences as we age. The most wonderful and healing part of living is too experience the comfort and pleasure that comes from human touch.
And just as good (sometimes better) from our furry friends.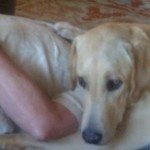 Editor's Notes:
Even though Sycamore Mineral Springs Resort hasn't officially created their pet-friendly status, they are more than happy, in fact so very pleased that people and their pets can and do enjoy the gardens and trails, especially the one that leads to Avila beach. Next week, we will travel to The Cliffs Resort in Pismo Beach which is touted as being one of  the most luxurious dog friendly hotels in America.