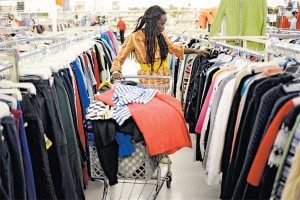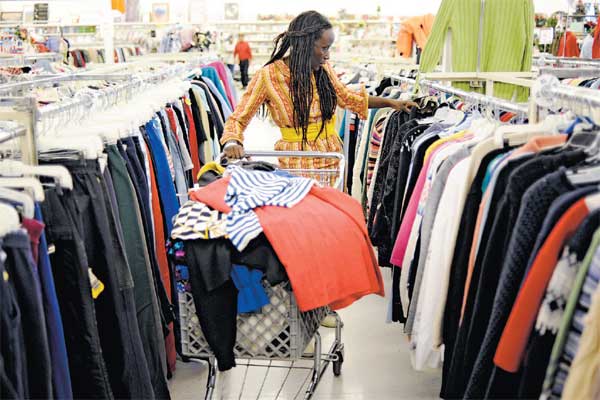 Common misconceptions about thrift stores keep many people away. Here's why they're wrong.
By Mary Elizabeth Williams-Villano, LuxEco Editorial Assistant for the Resplendent Repurposing series
At this point, I'm hoping that I've piqued your interest about thrift store shopping — if not as a lifestyle, then at least as something to check out. Is it possible that you've passed many a Goodwill or Salvation Army thrift store in your travels but have never ventured inside? Could that be because you harbor some mistaken beliefs about these mysterious establishments? If so, it's time to debunk these crippling common misconceptions about thrift stores so that you, too can enjoy this money-saving, eco-friendly treasure hunt. Along the way, I'll give you some basic how-tos to guide your path. If you'll be my Luke, I'll be your Yoda. Learn much, we will.
COMMON MISCONCEPTION #1: THRIFT STORES ARE DIRTY.
Modern thrift stores run by well-known charities may not be glitzy – there are no shiny display cases, pianists or DJs, but they're generally clean and well-organized. Some of the bric-a-brac may be a bit dusty, but I assure you there's no need to don a Level Four Biohazard suit while shopping. If you're worried, carry some hand sanitizer with you and spritz when you're done.
COMMON MISCONCEPTION #2: I'VE HEARD THAT THRIFT STORES STINK.
Okay, I'm gonna level with you: There is an odor that I have dubbed "Thrift Store Funk" that may hit you when you first walk in the door. It's kind of like a musty closet mixed with a topnote of old cologne, like the inside of Grandma's purse. Some thrift stores have it worse than others — and many don't have it at all.
It's not that people donate dirty clothes to thrift stores. It's just that in our sanitized, antibacterialized, Glade-infused culture, we've lost track of the fact that each of us has a natural scent. Even your cleanest clothes have a hint of Eau de You on them. (That's why cats and dogs will curl up on our clothes, even when they've just been laundered.) Well, when you concentrate hundreds of items of used clothing together in one room, you concentrate all their former wearer's scents together too. That's what causes "Thrift Store Funk."
If you've ever smelled expired food, a dirty diaper or New York City in the summer, you've smelled much, much worse. Unless you're such a hothouse flower that the hint of any kind of off-aroma sends you reeling, you can take it. It's very mild, and after a few minutes, you won't even notice it.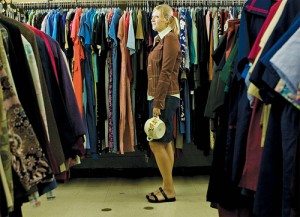 COMMON MISCONCEPTION #3: IT'S TOO HARD TO FIND THINGS IN A THRIFT STORE.
Nonsense. Clothing in thrift stores is usually displayed by type, so all the women's blouses will be in one section, the men's pants in another and so forth. Since women's tops are what they usually have the most of, they may be organized by color, so all the red blouses will be together, then the blue, etc. (Goodwill thrift stores do it this way.) Long-sleeved tops, short-sleeved tops, sweaters, dresses, skirts and pants will all have their own sections.
The sizes, however, will be mixed up. Don't expect to find all the size tens on one rack. Petites, juniors, misses and plus sizes will all be commingled, so you'll have to dig. (That's part of the fun.) But this is not that big a deal. Most of us can tell immediately if something looks like it will fit us or not.
COMMON MISCONCEPTION #4: THRIFT STORES HAVE NO DRESSING ROOMS.
Well…sometimes that's true. Thrift stores have to get the most out of their square footage, so they may not allot space for a dressing room. But many do, including every Goodwill thrift store I've ever been to.
My favorite thrift store chain in the greater L.A. area is run by the National Council of Jewish Women. None of the Council Thrift stores I've been to have dressing rooms, so I do the next best thing and slip items on over my clothes. The less bulky your shopping outfit, the easier this will be, so don't wear your thickest cable-knit pullover with nothing on underneath. I try to wear filmy blouses or t-shirts that are easy to slip tops over. Skirts, too, can be slipped on over your head and down to your waist to see if they fit. Same for dresses. If it doesn't fit, you should probably acquit yourself of it.
Pants are another matter. Here's where it's important to find out a thrift store's return/exchange policy. I recently purchased some black leather pants at the Van Nuys Council Thrift Store. I was fairly certain they'd fit, but I couldn't be absolutely sure. The clerk assured me that if they were too small or large, I could return them for store credit within three days. Since I shop there often, that suited me fine.
COMMON MISCONCEPTION #5: ALL THE CLOTHES IN THRIFT STORES ARE OUT OF STYLE.
I'm not going to tell you that you won't see some padded '80s shoulders and Brady Bunch neon polyester (that hasn't already been swept up by a vintage dealer who's actively seeking That '70s Stuff, that is). But the vast majority of a thrift store's inventory consists of current styles in good or even new condition. I can't tell you how many times I've bought items with the tags still on — and the tags weren't from stores that went out of business twenty years ago.
Let's not forget that some styles are classic. Some of the most fashionable women in the world wear vintage, including First Lady Michelle Obama. (By the way, want to hear my definition of a vintage clothing store? That's a thrift store with a high markup.)
COMMON MISCONCEPTION #6: CLOTHES IN THRIFT STORES ARE ALL WORN OUT.
Untrue. Items of clothing that are stained, threadbare or moth-eaten are simply not put on sale — no one in America will buy them. Remember, they're trying to make money. When thrift stores do get such items, they are sold in bulk to dealers who cut them up into industrial wiping rags or into fibers for paper products. Or, controversially, those same dealers resell them at a profit in the developing world, where our old clothes are unfortunately in demand. So where a few years ago you might have seen a woman in Ghana decked out in the traditional, colorful textiles, you might see see her today wearing a faded "Hard Rock Cafe Tijuana" t-shirt instead. Sad. But that's a subject for another time.
COMMON MISCONCEPTION #7: CLOTHES IN THRIFT STORES ARE UGLY — THAT'S WHY PEOPLE GOT RID OF THEM.
There are many, many reasons why clothing ends up at thrift stores.  Some people discard clothes the way Kelsey Grammer discards wives. People gain weight, lose weight, change their style, lighten their load before moving, or simply tire of things. Some people follow the "if you haven't worn it after a year, get rid of it" rule. There's also estate clearance and getting rid of what didn't sell at the yard sale. The National Council of Jewish Women thrift stores get a great many donations from upper-income women who, I suspect, don't wish to be seen in an outfit more than a few times. It's where I've found a great many of my best pieces. These clothes are beautiful, expensive and often classic in style.
COMMON MISCONCEPTION #8: THRIFT STORES ARE JUST FOR HALLOWEEN.
Sure, thrift stores are a great source of cheap Halloween costumes (and wardrobe for school plays). In fact, that's so well-known that some of the wackier stuff is often held in reserve and put out around that time of year on a special "Halloween" rack. But if you think that's all thrift stores are good for, you're very much mistaken.
COMMON MISCONCEPTION #9: THRIFT STORE CLOTHES ARE FINE FOR HIPSTERS, BUT YOU CAN'T WEAR THAT STUFF TO WORK.
Really? My bosses would have been shocked to hear that. Ninety percent of my wardrobe comes from thrift stores. Much of what I own could be, and has been, worn on the job or on job interviews in some of the most conservative office settings around.
A major part of a thrift store's mission, besides making money for charity, is to provide serviceable clothing at low prices for low-income people so they can go to work. Most of the clothing will therefore fit that parameter.
COMMON MISCONCEPTION #10: THRIFT STORES HAVE NO HIGH-END, DESIGNER CLOTHING, AND THAT'S WHAT I'M INTO.
So am I…now. In fact, it may surprise you to hear that shopping in thrift stores actually upped my game. I've found so many beautifully made, designer-label items that I've become kind of a clothing snob. Why would I go to a retail store to spend fifty, eighty, a hundred dollars or more on something that's "just okay" when I already own a beautifully made designer piece that fits the same niche? I am now thoroughly spoiled. Even though I'm kinda broke right now, my closet's full of leather, cashmere and silk — all thanks to my favorite thrift stores.
Now that I've shot down these common misconceptions, you're ready to cross the threshold of your nearest thrift store. In you must go! Next time, I'll share with you my Top Ten Thrift Store Finds.
See you at Council Thrift!
— Mary Elizabeth Williams-Villano