By Nancy and James Chuda founders of LuxEcoLiving and Healthy Child Healthy World
Travels with Journey Sausalito California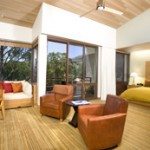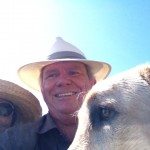 Step into our shoes…you're heading to San Francisco but… you've been there and done that. You want to take your pet but you are really tired of those hotel/motel experiences; second floor rooms without even a glimpse of a view. At best, a warm welcome sitting on a formica counter top. Plastic cups sealed in antiviral cellophane.
If your going to spend quality time with your pet why not treat yourselves to a one-of-a-kind experience.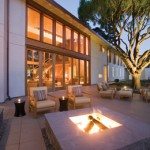 Enjoy endless mountain trails with you dog and view the San Francisco Bay from an entirely knew vantage point.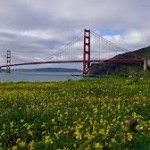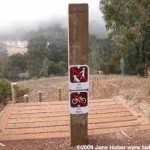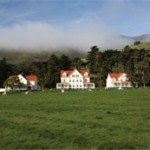 Alas! We found not just a little piece of heaven in a private cove but an entire national park. The perfect pet passport resort. Bark! And it's yours!
History
Cavallo Point- the Lodge at the Golden Gate is situated on 10 acres and remains a historical landmark in California's history.
Check it out. Our Journey will awaken your passion for a prestige VIP experience once you discover one of the worlds most unique properties and resorts. Stay, dine and relax in a 5Paw contemporary suite, equipped with every luxeco doggie amenity including a view of the bay and bridge, private terrace and more.
Horseshoe Cove was first spotted as a rocky point near Fort Baker. Coined "Punta de Caballo" by the commander of one of the first European vessels that sailed into the bay…the name "caballo" is a Spanish word for horse.
"There is something so unique about the way this property was developed. From inception, the key was to maintain  historical authenticity. The results enable guests to encounter the past while they dwell in a serene, green environment with every eco-luxurious amenity one would expect from an exceptional resort."
"The pleasure of this experience becomes enhanced once you are greeted by Cavallo Points expert staff. They run this hotel like a pristine vessel on the high seas overseeing every detail of your stay, making certain that the quality of their service merits a fond remembrance and the hopeful opportunity of a return visit."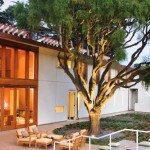 Green Initiatives Merit Rewards
U.S. Green Building Council had awarded LEED Gold Certification to Cavallo Point
Cavallo Point was proud to be named a "New Green American Landmark" by Travel+Leisure. Other prestigious awards also recognize their eco-efforts.
Cavallo Point excels when it comes  to environmental sustainability. These include dozens of activities, among them re-use of historic materials, landscape restoration with native plants, and use of green building elements. The lodge also works to meet the Green Seal Environmental Standard for U.S. Lodging Properties. Some eco-efforts create awareness among visitors, like naming  meeting rooms after local rare, threatened and endangered species, such as the Mission Blue butterfly.
Guests feel this dedication from the simple yet elegant room attire and design, to the culinary excellence awarded to Murray Circle restaurant thanks to Executive Chef Justin Everett.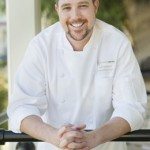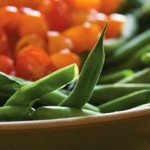 His philosophy of sustaining "the full circle of life" by growing from seed, or foraging for wild indigenous edibles, adds a harmonious balance to his own creative  efforts. Having earned a prestigious Michelin Star Rating, Murray Circle  is one of the best restaurants in America and perhaps the world.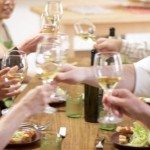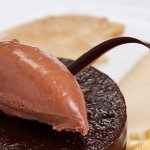 We have traveled extensively reporting on the "best places to stay with your pet," but for us our special treat at Cavallo Point was being served an extraordinary selection of courses designed created and plated by Justin Everett.
Art takes on new meaning from plate to palate.
WATCH our special dinner at Murray Circle

Spa Treatments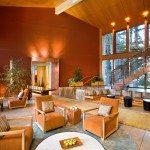 "One of the most relaxing experiences I have had in years." The spa at Cavallo Point offers a respite in the tranquil surrounds of the natural environment. The Healing Arts Center is a spectacular design. From the moment you enter you feel the serenity. A warm greeting, Tazo tea cup in hand, you are escorted to the changing room which for both men and women, offers a private hot tub set amongst a cathedral of giant eucalyptus trees. One with nature, your mind set at ease, you begin to connect with the importance of disconnecting from cell phones and computers.
Water is healing but touch is so essential. Today we understand that bodywork has many benefits for the mind, body and spirit. It relieves muscle tension, helps the healing process, improves circulation, soothes mental stress, reduces anxiety, and fosters relaxation and peace of mind.
The massage therapists at Cavallo Point Healing Arts Center are primed to understand any problems you may be presenting. We choose a 60 minute  healing massage and I was delighted to discover Cavallo Point's Eucalyptus and Arnica body oil. It really helped ease muscle tension from stress.
Overlooking the Golden Gate Bridge, from our contemporary designed suite, we soaked in our tub, candles lit, the scent of the eucalyptus body oil  mixed with the smell of the ancient trees at a historic place once called Horseshoe Cove, brought memories from the past and days gone by.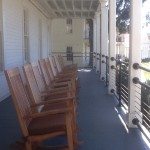 The Good Night Foundation