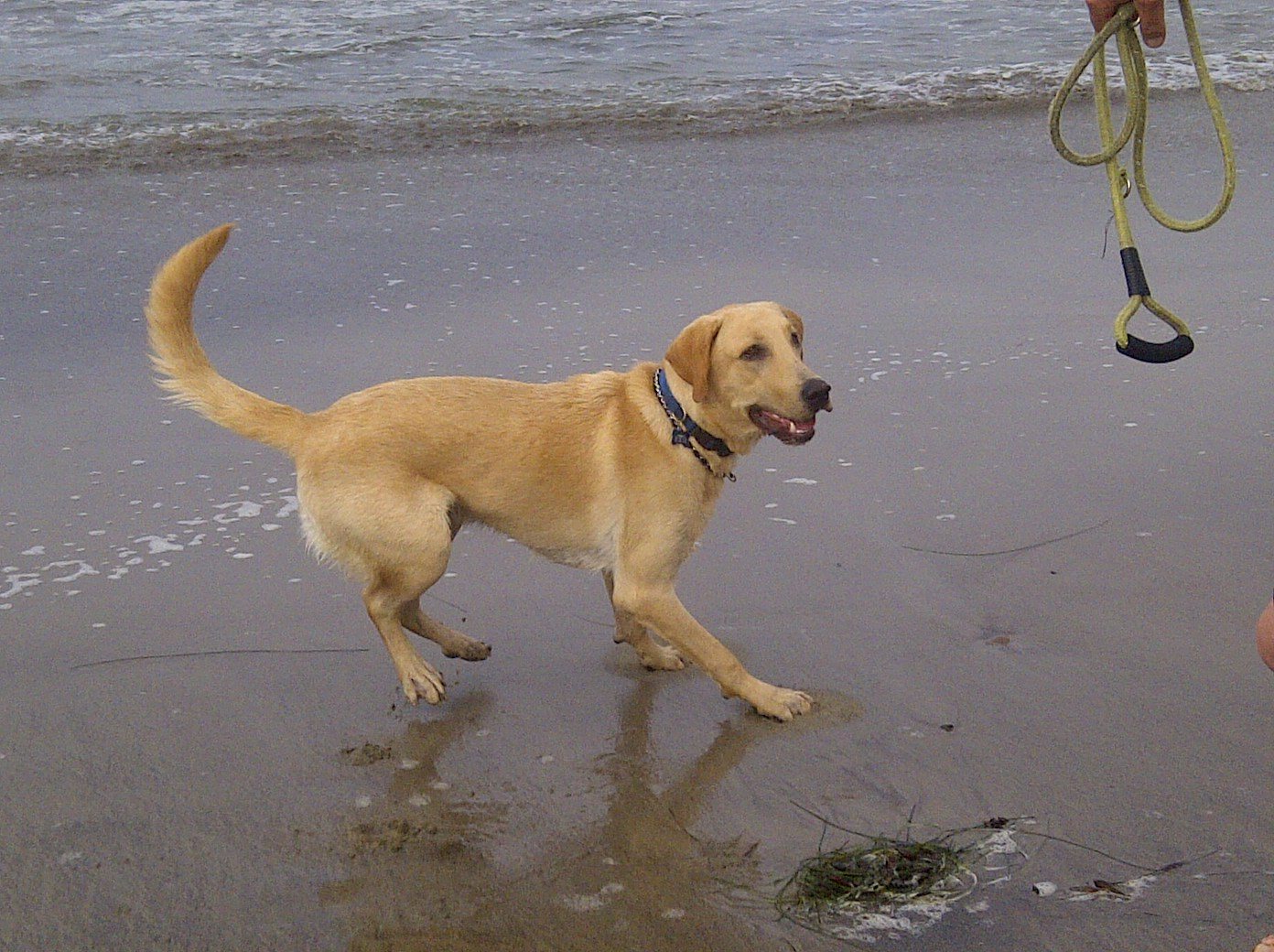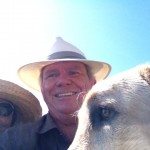 The Cliffs Resort is a 5 star Doggie Haven Hotel
It's a classic experience! The book, Eloise at the Plaza, the story about a six-year-old girl who lives in the "room on the tippy-top floor" of the Plaza Hotel in New York City with her Nanny, her pug dog Weenie, and her turtle Skipperdee.
Written in the 1950's by Kay Thompson and illustrated by Hilary Knight this charming story has now become iconic in another way. Pet-friendly hotels are popping up all across the country. And they are attracting customers in droves.  This pet friendly furry frenzy is becoming the hottest thing since wheels on luggage. Everyone wants to experience a LuxEcoLiving4U resort with their favorite pet.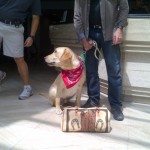 And they come with their our own custom luggage, some chauffeur driven, while others have no anticipation of where they are going and just enjoy the ride.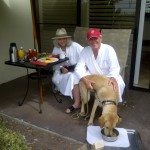 Journey, our 9 month old Labrador Retriever is adopted. He has only one issue. He hates being alone. He is tied to his alpha male companion, my husband Jim.
Recently we decided to take a little vacation. It took some research but I found what appeared to be a pretty nice hotel. Located along the Central Coast and overlooking the spectacular Shell Beach, we found THE purebred, LuxEcoLiving4U opportunity of a dog's lifetime.

The Cliffs Resort is a 5 star Doggie Haven Hotel.
From the moment you step onto the porperty you smell the ocean and experience the warm reception of the staff. Making an entrance is almost like being center stage at  Madison Gardens famous dog show.

Everyone wants to pet your pet. Tail wagging is totally appropriate if not required. In fact, I discovered they/we get better service for all those wags.
We were escorted to our room on the ocean level. When the bellman opened the door to our suite, WE, just about fell over. On a silver tray, wrapped in cellophane with a red tie bow, were a collection of gluten free doggie treats.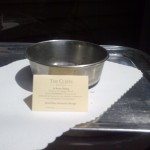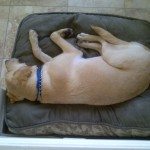 Positioned on the beautiful limestone floor in the three level room was a plush velvet embroidered  EXTRA LARGE dog bed and next to it were two beautifully polished stainless steel bowls. One even had a picture that looked just like Journey.
He noticed it too and tried to eat the pop-up paper advertizement for the signature Cliffs Resort Doggie Menu. I grabbed it just  in time. I wanted to save it as a  souvenir even though it had a few frayed edges.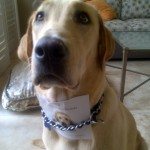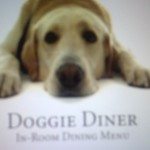 The interior design was magnificent. The bedding, ours was king sized with white Egyptian cotton sheets covered   with a beautiful duvet. I found myself doing what I do most of the day in our home, looking to vacume up Journey's obsessive amount of dog hair which he sheds minute by minute.
Best part of my discovery, knowing that other dogs have been in residence too, was there weren't any signs. Not one.  The room was impeccably clean.
I found my bit of heaven while Jim and Journey explored the grass frontage overlooking the sea. A white marble, floor to ceiling bathroom with double sinks, private lieu and bidet PLUS a sunken jacuzzi tub with overhead chromatherapy lights. Wow! Double wow wow! It was time for a soak.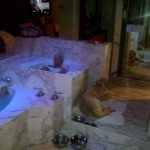 They even had a bowl for all Journey's bath amenities. Is that not the sweetest thing or what? Journey had his own rubber duckie which we immediately called Duckers. Something about adding the letters e-r-r-s to words. I think dogs really get it!
We felt as if we landed on the moon! All we wanted to do was snuggle up together on Journey's bed. And it was large enough too
Jim played with the electronic TV toys while Journey tried to remove Ducker's head (labs love to chew)  and I gave myself a facial, kicked back while relaxing  in the marble ensconced bath.
We were in heaven on three levels. What a perfect design! We each had a room within a room. I was so content with my soak until IT was abruptly interrupted by Journey's duck. So much for meditation….errr!

Oh well, it was time to hit the beach and catch the sunset. Journey grabbed his leash and made sure Jim had the rubber handle (brilliant design), plus his priority treats and poop bags. Within seconds they were the wind beneath my feet.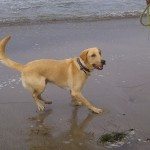 We made great friends along the beautiful pathway which led to the stairs down to the beach. Only time for short how do you do's and the emphatic remark which seem to follow us, "he's only a puppy."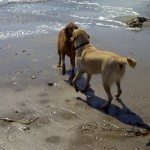 "Boy is he going to be a big dog." If I heard it once, I heard at least twenty times.
At 75 pounds, Journey weighed in at the max for most pet-friendly resorts. That's why my goal is to make him so famous that by the time he hits 90 pounds he will be a STAR and get Carte Blanche service where ever we go.
The next morning…no doubt about it, he was getting "the royal treatment" just like a celebrity.
Breakfast on the terrace anyone?

Can you believe it! Steak and eggs for Journey, a toasted bagel with nova and cream cheese for me and Jim's alpha male treat for the year. A rib eye steak with eggs over easy and roasted red rose potatoes. A meal fit for two kings.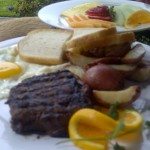 Our mini vacation was a dream! We couldn't have asked for a more beautiful resort in a picture perfect location.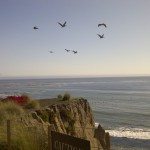 Sometimes the best laid plans are spontaneous. You throw your clothes in a bag, grab your toothbrush, doggie bones,  handy wipes, treats, scarves, leash, bowls, but you can leave the pooper scooper at home.
And just in case you are wondering what happened to Duckers… Journey made a friend for life while daydreaming about chasing  pelicans on the beach.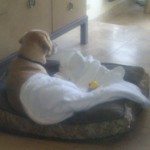 Editor's Notes:
Make a reservation today and say you read all about The Cliffs Resort on LuxEcoLiving.
We journeyed out for a meal. You don't want to miss my tip for the best cup of Pismo's Clam Chowder served at The Splash Cafe. Soup comes steaming hot in a bread bowl. So delicious.