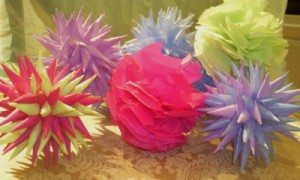 By Dow-Yung Kou, LuxEco Editorial Assistant
Have you ever been at a loss for what to do with tissue paper or wrapping paper that you get during the holidays. It usually just accumulates, and by the next year, the wrapping paper looks too tattered to reuse and you end up throwing it away. Well here is a perfect solution! Make ornaments out of them! There is never a reason to waste and these cute little ornaments will make a great addition to any tree.
For mine, I used old tissue paper from presents I got for my birthday!
To create the template:
1. With a compass draw a circle with a 2 in. radius
2. now draw a second circle with a 1 in. radius inside the first circle
3. divide the space between the circles into 8 equal parts (the lines on the inside circle are not needed)
4. Cut out template
To create ornament:
1. use template to cut out 12 equal circles
2. place template on top of all 12 circles and carefully cut the circles into 8 equal parts, but stopping at the inside circle. (do not cut through)
3. once you get the 8 equal parts, place a tip of the pencil in the middle of one of the 8 parts and roll into a cone.
4. use a dab of glue to seal
5. continue this process until you get an 8 tipped star
6. once you have done this to all 12 pieces, take all the little individual circles get a needle and string them all on, tighten into a ball, and tie.
7. lastly if you would like to add a piece of ribbon, simply place a dab of glue where you have strung the ornament through and place ribbon inside OR string the ribbon onto the thread and push the need back through the ornament and tie on the bottom.
The second ornament (round fluff ball ornament)
1. take the 12 cut out circles
2. use template and cut 8 even parts, stop at inside circle
3. take thread and string the 12 pieces
4. attach a string see step 7 of ornament 1
5. FLUFF!
[imagebrowser id=21]