By Nancy Chuda founder and Editor in Chief of LuxEcoLiving and co-founder of Healthy Child Healthy World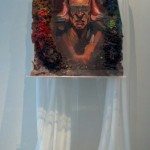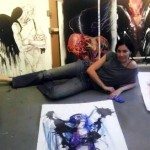 When an artist leaves their mark on a painting it usually is their signature. Sometimes it can be a symbol, even repetitive and glorified in the case of Monet's Nympheas. Still life subjects which capture the cultivation of a harvest, bowl of fruit, pen and paper or in the case of The Girl with the Pearl Earring by the dutch master Johannes Vermeer exemplifies the persona of a young woman, frozen in time itself. We have vaguely a clue as to her development later in life. Looking at that priceless image, one wonders how she would have aged. Would the priceless pearl, a work of mother nature, enable her to retain her beauty? Or was Vermeer consumed with the halo of light that surrounded her youth thus keeping her in a time warp for eternity?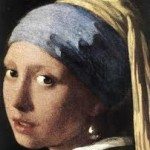 Over the past twelve years painter Zhenya Gershman and artist model Mark Snyder have been collaborating on a unique project – a living portrait changing over time. Centered around Mark as a human specimen, multiple sittings not only allow the viewer to be part of the aging process of the body, but a type of travel through time, space, and the many states and dimensions of the human soul.

These paintings are often made up from a ghost-like layering effect that reflects on the change in style and attitude of both the model and the artist. Unlike the established convention of artist-dictated expression, these images are a result of "unposed" poses that are arrived by mutual contemplations of the artist and the model. Viewers are invited to explore physical evidence of the unique process with mark-making that is achieved by continuous change and in actively deciphering this visual x-ray of time.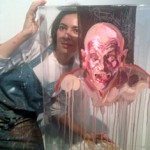 "Marks" is therefore both a literal title referring to the complexity of a single being, a type of evolving portrait, as well as a metaphor for an artist's search on an expanding visual vocabulary.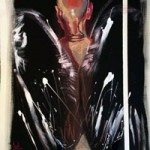 The culmination of this process is an inaugural exhibition which opens on June 8th at Hinge Modern gallery in Culver City.
Though Zhenya Gershman dislikes using props that distract from the purity of the body, in her most recent paintings she added the element of wings. Zhenya says: "In this case it made perfect sense, as soon as Mark stood on the model stand with his wings on, his anatomy was transformed – a true metamorphosis in front of my eyes. It is as if Mark's body had found a missing part." Zhenya chose wings as they conjure up an array of associations, from angels to demons, from Greek mythological creatures to birds, from levitation to gravity, from rising to falling, from sacred to profane. It is precisely this simultaneity of contradictions and plurality of meaning that makes them appealing. The work explores the issue of levitation both through the use of materials from fragile paper to transparent plexiglas to the compositions of bodies in amorphous black space at times separated from their shadows. In addition, the visionary Director of the gallery Caspar Martin, decided to create an installation that supports the art by draping the gallery walls with translucent fabric and suspending the artworks adding to the sensation of levitation. The artist chose various bird states of being to title the work such as "Land, Molt, Perch, Ruffle, Nest, Hover, and Alight". Drawing parallels with the feathered kingdom provides rumination on the immense human limitations and potential. Gershman shared: "We all carry our wings – some more visible then the others."
Editor's Notes:
HINGE MODERN
PROUDLY PRESENTS "MARKS" The inaugural exhibition featuring a new body of work by ZHENYA GERSHMAN
OPENING NIGHT RECEPTION ON JUNE 8TH, 2013, 6:00PM-9:00PM at 8545 Washington Blvd., Culver City, 90232
On view through July 13th, by appointment only
HINGE MODERN.COM
"MARKS"