The journey towards really being "Green" is a process.  For most, it is relearning everything you thought to be true which that can be overwhelming and even emotional.  Exploring this new consciousness and awareness together and learning from each other how to truly embody the Green (R)evolution is the spirit of LuxEco Living.
LuxEco Advocates bring their voice to the party to help galvanize the LuxEco Movement.  Together we will ponder the questions, devise new strategies, create the solutions and engage in the conversation that helps each one of redefine a new sense of luxury through eco-friendly and sustainable living that honors the planet and our local and global communities.
Anna Getty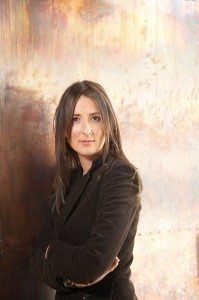 Anna has played many roles over the course of her remarkable life: Chef. Actress. Fashionista. Kundalini yoga teacher. Not to mention writer, holistic lifestyle expert, and mother. But through it all she has maintained a keen sense of self, a grounded perspective and a passion for healthy living, spiritual fulfillment and respect for the environment that she wants to share with others. Anna has been featured in InStyle, Vogue, ELLE, Food & Wine, Entertainment Weekly, People, Yoga Journal, and on many television shows. She's written two books, Anna Getty's Easy Green Organic and I'm Dreaming of a Green Christmas (both from Chronicle Books). Anna is a board member of Healthy Child Healthy World and The Environmental Media Association, and works closely with The Organic Center and Global Green. Anna also sits on the advisory boards of various green businesses including ecomom.com and ecostiletto.com. She is the founder of Pregnancy Awareness Month, a national campaign fostering empowerment and health for women as they move into pregnancy and motherhood. She is also the Eco Editor of Pregnancy Magazine. Anna is also a two-time winner of The 2010 Green Book Festival competition honoring books that contribute to greater understanding, respect for and positive action on the changing worldwide environment. Anna blogs for numerous websites including HealthyChildHealthyWorld.org, DRgreene.com, Treehugger.com among others.
Read: Anna Getty Shares Her Top Tips For Easy Organic Eating
Simple Tomato Sauce and Spaghetti From Anna Getty's Easy Green Organic
Lewis Perkins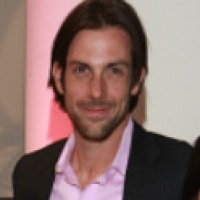 A long-time advocate for "doing the right thing," Lewis Perkins is a champion for sustainability – personally and professionally. The director of sustainable strategies for The Mohawk Group, a leading commercial carpet manufacturer, Perkins draws on this passion to help advance the company's mission of environmental and social responsibility. Coupling strong leadership skills with his fervent commitment to ensuring a positive future for the world around us, he helps drive awareness for the importance of sustainable design through strategic marketing communications, as well as The Mohawk Group's partnerships with philanthropic organizations such as Easter Seals and Susan G. Komen.
Perkins enjoys a proven reputation for implementing successful marketing communications programs for several companies dedicated to sustainability. Most recently, Perkins served as director of marketing and development for The Clean Air Campaign where he was responsible for creating sponsorship proposals, maintaining and managing foundation relationships, and developing long-term strategy for financial growth and sustainability.
Prior to The Clean Air Campaign, Perkins was a senior account manager at 360i LLC in Atlanta, a division of eXact Advertising. There he managed online marketing and search optimization campaigns for 15 major accounts, including National Geographic, McGraw-Hill, Nestle-Purina and UPS. And an entrepreneur at heart, Perkins also founded his own company Central Buenos Aires LLC, an Argentine Clothing Showroom. Involved in all facets of the business – from manufacturing to merchandising – he acquired a deeper understanding of the environmental impact of global business practices.
Perkins participates on various foundation boards including GOAL, an organization committed to promoting self-esteem, self-awareness and respect for individual differences in girls and young women, and is active in his community as a volunteer for The Captain Planet Foundation. He is also an advisory board member for Sustainable Life Media.
Perkins holds a Master of Business Administration in marketing and strategy with a focus on social responsibility and marketing from Emory University, Goizueta Business School and a Bachelor of Arts from Washington & Lee University. He is a resident of Atlanta.
Follow insight on environmentalism and corporate citizenship on his blog: Semantics of Sustainability on Fastcompany.com and Women Are Saving The World Now, a site created in response to a quote from His Holiness The Dalai Lama at the Vancouver Peace Summit 2009: "The world will be saved by western women."
Read: The World Will Be Saved By Women
Bernadette Bowman

A native Southern California chick, Bernadette Bowman was raised in San Diego, lived in Los Angeles for 26 years, and now resides in blissfully mellow Seal Beach.
After years of performing on both stage (her SRO one woman cabaret at the legendary Cinegrill) and screen (still receiving residuals for her riveting – ha – performances on such shows as "The Pretender") and working at Universal for nineteen years (beginning as a tour guide and leaving as a soundtrack producer for all of the Universal Parks, worldwide), it became time for a reinvention in 2001. And that's when she fell into the world of DVD production.
Blessed with this out-of-the-blue, wonderful new career, Bernadette worked as a producer on such classic DVD titles as "The Wizard of Oz," "Gone with the Wind," and "Walt Disney Treasures" just to name a few, as well as many more film and television DVD collections.
While learning the ropes of DVD production, she was given the opportunity to learn many aspects of the world of documentaries including honing her skills as a seasoned interviewer (Favorites: Bob Newhart, Olivia de Havilland, Richard M. Sherman…and anyone on any Disney project) and appreciating the efforts of working as the leader of many creative teams to deliver the best and most authentic product possible.
One of the most magical projects on which Bernadette had the honor of co-producing is "Poppin' Guitars: A Tuneful of Sherman" – a wonderful album of acoustic guitar versions of the songs which became the soundtrack of every Baby Boomer's life….the classic and cherished tunes written by the magical Sherman Brothers (Mary Poppins, The Jungle Book, Chitty Chitty Bang Bang).
With DVD production going the way of the Dodo bird, Bernadette looks faithfully forward at this time for yet another opportunity to re-invent herself and is currently developing not only a radio show, "Genderocracy," but also penning a book about her 28 years in show business entitled "Too Old, Too Tired, Too Pretty: My Adventures Through Hollywood and My Detour in to Reality."
Bernadette's goal in life (this one, anyway) is to show up as a positive contributor to the world and its sanity and she is thrilled to be able to contribute to LuxEco Living to set her on a new and exciting path.
Experiencing, at age 48, her own Life Going Retrograde has produced many moments worth sharing with those going through the same uncertainty….and what the hell? That which doesn't kill us gives us some great new material.
Read: Life Goes Retrograde
Revisiting Gratitude: This Much I Know…One Year Later- Part 2
Jason Wachob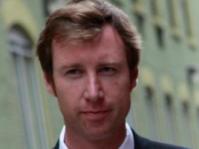 As Curator and one of the founders of MindBodyGreen, Jason's goal is to promote the idea that wellness is for everyone — and that it can be fun and fulfilling. After years of successfully trading equities on Wall Street, Jason decided to make a lifestyle change – focusing on wellness and building companies that promote it. His companies have been featured everywhere from The Wall Street Journal to Daily Candy. He has a BA in History from Columbia University, where he played Varsity Basketball for four years. Jason lives in Brooklyn, NY with his wife.
Read: 3 Yoga Poses To Help You Relax
Nina Montée Karp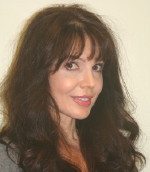 Nina Montée Karp links her passion for the environment and children's and women's causes with her skill as an accomplished philanthropist. Over the past two decades, she has orchestrated highly successful fundraisers for numerous charitable organizations including, The Cystic Fibrosis Foundation, Healthy Child Healthy World, Children's Hospital of Los Angeles, Breastcancer.org, The March of Dimes.
Nina is a member of the Board of Directors of Breastcancer.org, The March of Dimes (LA Chapter), Co-Vice President CHLA's Huckleberry Fund and Honorary Board of Healthy Child Healthy World. In addition to being an activist for children's health and environmental causes, Nina is also a successful entrepreneur and the director/producer of best selling, award-winning educational DVDs, The Happiest Baby on the Block and The Happiest Toddler on the Block. Her bestselling videos have been featured on programs including, Good Morning America, The View, Dr. Phil, CNN. Nina's favorite hobbies include hiking and flying single-engine planes. She resides in Los Angeles with her husband, Dr. Harvey Karp, and she is the proud mother of their daughter, Lexi.
Read: Breast Cancer: The Path of Wellness and Healing
Lisa Adams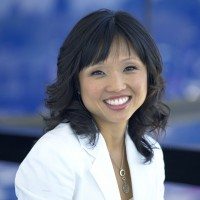 Lisa Adams is the creative force and CEO behind LA Closet Design, a full service firm offering personalized living spaces created to calm the chaos of everyday living. Lisa's vision goes beyond organization and functionality—her wardrobes are balanced, luxurious sanctuaries that combine a timeless attention to detail with a modern focus on environmentally harmonious materials, resulting in spaces that reflect a unique blend of sophistication and accessibility. Born and raised in Honolulu, Hawaii, Lisa holds two graduate degrees and an MBA from Pepperdine University. Lisa has created spaces for a varied and notable client base including Eddie Murphy, Carmen Electra, Jewel, and Billy Crystal. The launch of LA Closet Design has given Lisa Adams the opportunity to expand her design expertise and aesthetic vision, taking customized wardrobe spaces from concept to completion.
Read: Green Closet Design
LA Closet Design 8687 Melrose Ave., #B-255 Los Angeles CA 90069 US Phone: 310-289-1311 Fax: 310-289-1388 info@laclosetdesign.com
Janine Johnson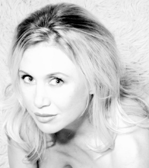 Inspired by Ghandi's iconic quote "Be the Change you wish to see in the world", she founded her non-profit company, Green Wave. She aspires to teach the world by sharing her experiences, any knowledge she has acquired, and by leading by example. Janine has studied yoga for 4 years now and teaches a form of Hatha yoga called, Anahata (which stands for the heart charka, typically symbolized by a green! lotus flower). Janine also has an EcoBroker certification and represents properties in Costa Rica such as the luxurious green master planned community, Kalia. She donates a minimum of 25% of her commissions to the Green Wave Fund for Sustainability, a fund created with the aspirations of building green communities and economies in developing nations. Locally, Green Wave gives back to the local communities by funding education initiatives including green curriculums for schools, creating awareness campaigns, workshops, and events to inspire people to live a more harmonious and sustainable life.
Read: A Match Made In Green Heaven
Website: http://www.greenwaveent.org/GREEN_WAVE/Welcome.html
Zhenya Gershman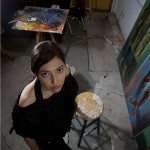 Zhenya Gershman was born in Moscow, Russia, where she took her apprenticeship from two famous academic painters, Orest Vereiski and Leonid Saiphertis. Zhenya held her first solo exhibition at the age of 14 in St. Petersburg, Russia. After moving to Los Angeles, she obtained her Bachelor's of Fine Arts with honors from Otis Art Institute and a Master's of Fine Arts from Art Center College of Design. Zhenya is an exhibiting artist, nationally and internationally, with shows including Bergamot Station, Los Angeles County Museum of Art, Jan Baum Gallery and other prestigious venues. Her work is displayed in private and public collections such as those of Michael and Katherine Dukakis, Donald and Judy Simon, and Richard Weisman. She is a recipient of numerous awards including the ALEX Award in Visual Arts, presented nationally to honored scholars and artists for excellence. Since 2001, she has been a full time educator at the J. Paul Getty Museum where she is a Project Specialist for Adult Gallery Programs. Apart from working in her studio and teaching, Zhenya has also produced and directed a multimedia stage film presentation starring Rene Russo entitled "Bonus Time" that premiered at Schoenberg Theater, benefiting UCLA's Neuro-Oncology Department.
Read: My 10 Re-Commandments
See more of her work at: www.zhenyagershman.com
Read her interview with Spraygrahic.com at: http://www.sprayblog.net/2008/03/spraygraphic-interview-with-artist-zhenya-gershman/
Watch her give a tour at the Getty Museum for the Sinai Exhibit: http://www.youtube.com/watch?v=svgcWKClosM
Rachel Sarnoff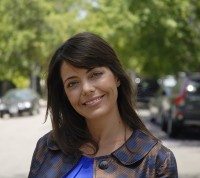 Rachel Lincoln Sarnoff, a writer, producer and spokesperson who represents eco-friendly living founded EcoStiletto in 2008.
Rachel has been a reporter for PlanetGreen.com and Treehugger.com; she wrote the "L.A. Story" column on the Washington Post's Sprig.com. Currently, Rachel is the resident "Green Guru" at Savings.com, "Queen of Green" at Shoestringmag.com and "Green Expert" at GetButtonedUp.com.
As a small-screen environista, Rachel has guested on eco-lifestyle "CNN Headline News Local Edition," "Extra," "Living With Ed," "Hollywood Green," "Good Day L.A." and TV Guide Channel's "The Fashion Team" segments, and has spoken on behalf of the national non-profit Healthy Child, Healthy World and Whole Foods' Whole Body department.
A mother of three, Rachel also blogs at MommyGreenest.com; she reuses, reduces and recycles with her husband and three children in Los Angeles, CA.
Read: Leading A Green Movement, One Well-Heeled Eco Step At A Time
Francine LeFrak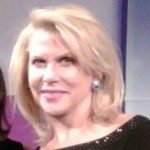 Francine LeFrak is the Founder of Same Sky, a company that handcrafts glass bead bracelets made in Rwanda by women survivors of the 1994 genocide.  Through a program of trade-not-aid, she has established a company that not only produces beautiful jewelry but a safe and lucrative job opportunity for women as well as a real future.
Read: Empowering Women Under The 'Same Sky'