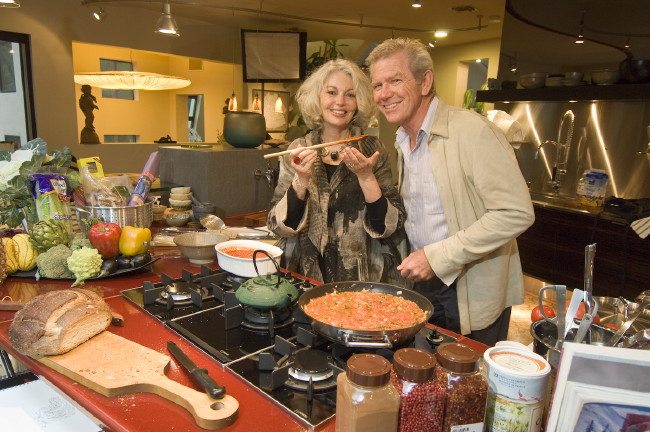 Both dedicated eco-friendly, green, sustainable lifestyle advocates and activists, James and Nancy Chuda have worked tirelessly to advance education and affect change for a safer, toxic-free and healthy environment.
After losing their only child, Colette, at the age of five, to a rare non-genetic form of Wilm's tumor, they founded Healthy Child Healthy World in 1991, one of the most respected national children's charities whose mission is to inspire parents to protect children against harmful chemicals. In Colette's memory, they have mobilized parents and caregivers, environmental groups, the scientific community and media to work together to help make the necessary changes in national policies to protect our children.  They currently serve as the Chairs on the Honorary Board of HCHW.
From their own perspective, the Chudas share their personal story and their inspiring endeavor to turn a personal tragedy into a successful and positive movement to protect children the world over: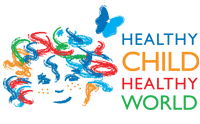 The HCHW website offers more insight into their inspiration, their mission for children's health advocacy and their leadership in a movement that educates parents, supports protective policies, and engages communities to make responsible decisions, simple everyday choices, and well-informed lifestyle improvements that create healthy environments where children and families can flourish.
Healthy Child Healthy World has collaborated with WebMD, the most trusted brand of health information, to provide a educational platform called the Health eHome.  Set up as a virtual tour, Health eHome enables users to visit each room of the home to uncover and explain potential dangers and hazards while providing tips on eliminating them to improve both personal and environmental health.
James and Nancy were honored with The California League of Conservation Voter's Environmental Leadership Award and The Healthy Schools Heroes Award, presented to by Governor Gray Davis for their legislative efforts in securing The Healthy Schools Act, which was signed into law in September 2000.

James Chuda
A graduate of the University of Southern California school of Architecture (1966), James Chuda is an independent, nationally board-certified architect specializing in the creation of non-toxic living and working environments that welcome healthful lifestyles both physically and spiritually.
Placing environmental concerns foremost in his constructions for 20 years, he has designed projects throughout the continental United States, Hawaii, Canada, Japan and Panama. His projects have ranged from residential designs for single-family custom homes to the design of a new solar town concept. Another project of distinction has been the design of an environmental water garden he created that is one of the largest, naturally filtered carp ponds in Hawaii.
James Chuda architect is best known for his pioneering work in Green Design. His 2005 residential design in the Hollywood Hills was chosen as Los Angeles Magazine's Design Green Home of the Year, toured by Leo DiCaprio for Oprah, and appeared in countless magazines internationally both online and in print.
http://www.oprah.com/own-oprahshow/leonardo-dicaprio-visits-the-green-house-video
Here is a link which describes the entire project: https://youtu.be/xpRJd0xbMOw
As inventor, Mr. Chuda has filed an international patent for a new sustainable building technology. www.sxyzicity.com
Mr. Chuda has received both regional and national awards for his environmental efforts in architecture and his excellence in design, energy conservation and overall site development.  In 1991, he was chosen as a finalist for The Los Angeles Beautification Award for his personal residence nestled in the hills of Laurel Canyon. It also became the prototype for a much larger project, a home he designed and built for singer/actor Olivia Newton-John. This Malibu residence was featured on ABC's 20/20 with Barbara Walters and published in 1994 by Rizzoli International Publications.  Beach Houses: From Malibu to Laguna, (written by Elizabeth McMilian with a foreword by Frank Gehry) is a survey of the most distinctive Southern California beachfront architecture and design in the world. The residence, known as Dolphin House on Malibu Beach Cliffs is a significant historical landmark on the Pacific Coast. One of Mr. Chuda's first environmental designs that incorporates energy conservation, non-toxic materials and today remains an optimal example of the far-reaching benefits of environmentally sound architectural design.
A compassionate speaker and educator, Mr. Chuda has also served on the Southern California Advisory Board of the Natural Resources Defense Council, and Board of Directors of the National Coalition Against the Misuse of Pesticides.

Nancy Gould Chuda
As network broadcast journalist and public speaker, Nancy Chuda's history spans nearly   two decades as a well-recognized spokesperson for environmental health science and children's health.  Since launching both the Colette Chuda Environmental Fund and Healthy Child Healthy World, Nancy has won numerous awards for her advocacy.
She serves as an associate of the Director's Council of Public Representatives of the National Institutes of Health (NIH) and was appointed by President Clinton's Health and Human Services Secretary, Donna Shalala, to serve as a member of the National Advisory Environmental Health Sciences Council for the National Institutes of Environmental Health Science (NIEHS) a position she held for four years.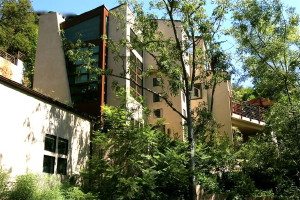 The Green House under the H
James and Nancy continue to be a source of inspiration for green living with their Green House Under the H, an innovative home that integrates healthy living, sustainable architecture, renewable sources, energy efficiency and environmental harmony with truly innovative design.
With two case study environmental homes behind him, James Chuda's next one would be his own. Finished in 2006, the Green House is located in the lush rolling hills under the legendary Hollywood Sign. Mr. Chuda designed his case study house with years of experience in scrutinizing exterior and interior building materials for compliance with the highest environmental standards while always maintaining a connection and an orientation to the environment and the natural surroundings.  The Green House became a testament to the power and beauty or sustainable green architecture and proved that any home could be a "green home, " healthy habitat where people could not only enjoy their natural surroundings but also live with sustainable materials, energy efficiency and lower toxicity products.
As a result, the Green House became the subject of a widely publicized effort to reduce global warming and became an icon attracting hundreds of visitors as well as national and international press. Chosen as Los Angeles Magazine's Design Green Home of the Year for 2005 and open for public tours, it attracted nearly 2,000 people.  Later, it was featured on Oprah as toured by Leo DiCaprio and available online on line at Oprah.com.  In 2008, it was profiled on Discovery's Planet Green–Worlds Greenest Homes.